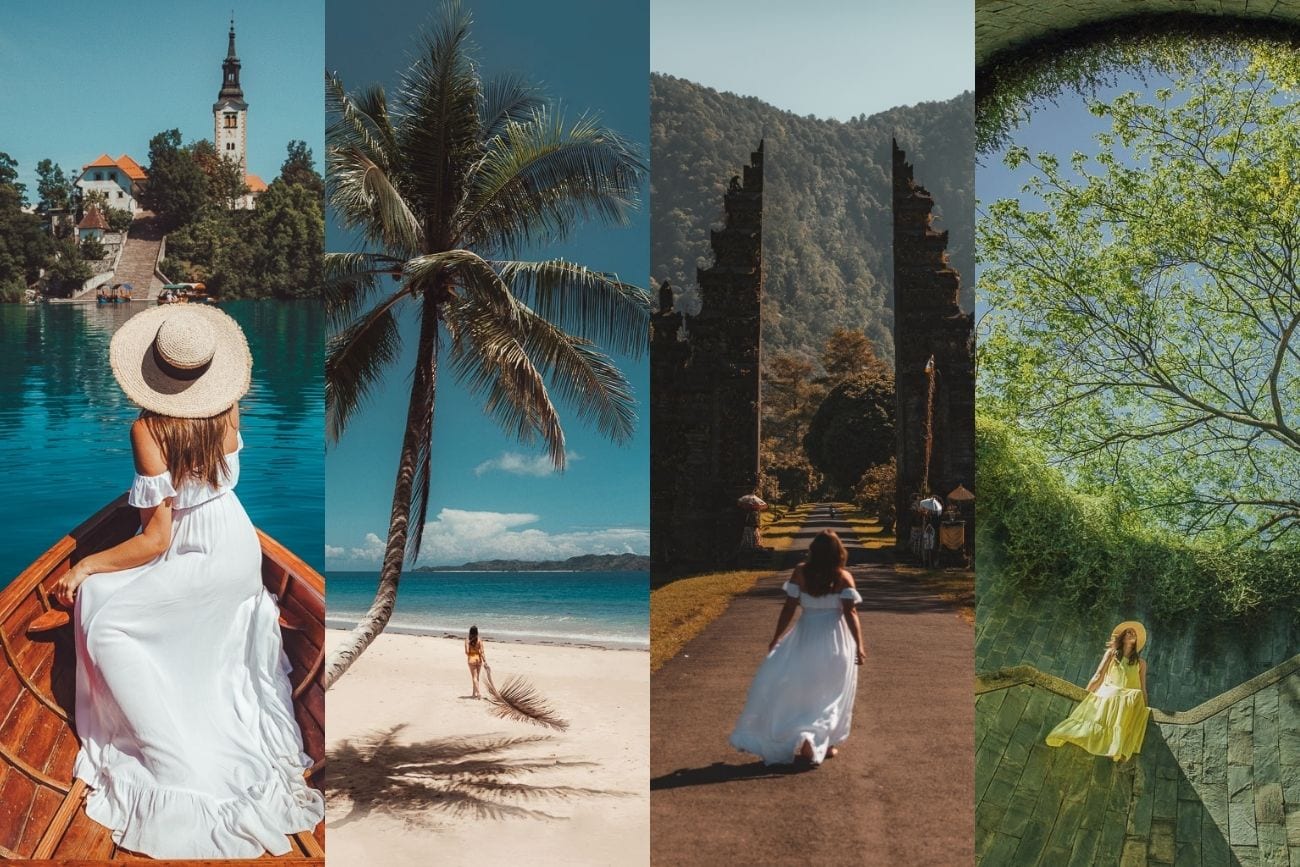 10 Cute Instagram Poses for Girls and Couples
Finding your favourite and easy go-to poses for Instagram can be a bit hard sometimes, especially if you're already doing the photo planning and the frame positioning! After 3 years of making my travel Instagram photos and spending countless hours posing for Instagram, I have finally found my best go-to cute Instagram poses for my own photos, and I wanted to share them with you! And if happen to be one of those lucky girls who can get her boyfriend to join in on the photos, then scroll a bit lower down and have a look at my favourite poses for travel couples as well.
1. The hat
My signature pose and arguably one of the most cute Instagram poses you can do. Literally, all you need is a big straw hat in the summer and a wool hat in the winter. Turn your back to the camera and lift your chin up a little – and you've got yourself the signature Wanderlista look 😉
2. The turned back
A classic travel girl cute pose for Instagram, and one of the easiest poses you can think of! It might seem strange at first to turn your back to the camera, but once you do it a couple of times, you'll find it strange to turn your face towards it again.
This one works perfectly if you're a bit camera-shy. I've also gotten a lot of feedback from people that they feel most related to photos where you can't see someone else's face – they feel like it could easily be them in the photo. And having photos that are a little more relatable and easily doable, is definitely a good thing!
Turn your back, lift one arm and back with one leg. You've got yourself the fake walk, back turned photo like a travel girl pro!
3. The dress flick
The dress flick Instagram pose is perfect in combination with a camera who has the option of shooting high speed continuous. This means that you'll be able to take photos super fast and capture those moments when your hand releases the dress and it looks like your dress just flows on its own.
I generally take about 50 shots and only choose one when doing these kinds of photos. Try to stay as still as possible and only move your arm to flick your dress.
4. The look back
The perfect pose for those of us who often have no clue what to do with their arms in the photos! Turn your body to the side or completely against the camera, and look back. It gives the photo a nice 'join me' vibe.
5. The hotel bed
You're staying in a beautiful room and have no idea how to pose inside four walls? These are perfectly cute Instagram poses you can do in any hotel room or even your own bedroom.
Try to create a cosy spot and don't be afraid to move furniture around a little (just make sure you put it back after!), so that it fits the light. Aim for a relaxed photo or include some props to make it more fun. A lot of hotels have some books or newspapers that are the best props. Or why not just do your make up or grab a glass of water. Hotel bed photo done right!
6. The props
If you really want to keep your hands busy, then props are the way to go! A vintage camera, a hat or a book will take you a long way here! It's especially useful to use props if you're taking a day just for creating content and want a good variety of photos, without feeling like you're doing the same thing over and over again.
I try to always treat accessories as props as well, so don't be afraid to hold your hat, instead of wearing it, or flicking your scarf in fall.
7. The drone shot
Beach and pool shots look amazing when taken with a drone! A drone can really show the magic of the place in a totally different way than a camera can. I love top-down photos from a higher perspective, or slightly angled from a lower height.
8. The on the ground pose
To get a good variation of cute Instagram poses and poses in general, the floor is a great option for a different perspective! This is one of my favourite Instagram posing tips, because it dares you to do something a little different and gives you a chance to create a different view of a location where everyone generally stands.
This is also why my most popular image ever is just so popular – the one in the orange dress at Tirta Gangga in Bali. I've seen a lot of people copying this photo afterwards 🙂
9. The couple holding hands
If you're one of those lucky girls who can get her boyfriend to take a photo with you, then this one will be the least awkward for both of you. Hold hands and stand or pretend to walk (by taking one step forward) and you've got yourself an easy to replicate couple pose shot. My boyfriend hates to be in the photos with me, especially if I want to kiss or hug, so holding hands is one of those couple poses he is willing to do without arguing too much about it hehe 😀
10. The travel couple
The final one is for those of us who sometimes manage to convince their boyfriends into unthinkable poses. Think kisses, hugs and uncomfortable positions with fake smiles – aka the ultimate travel couple shots! These ones are one-in-a-million so make sure you savour the moment and go all out when you can!
I hope these 10 cute Instagram poses gave you a few ideas of how to take cool travel shots! I know it may feel embarrassing and intimidating to try this as well, but trust me – you'll care less and less what others think, and that in itself is very liberating.
If you're feeling super shy, my top tip is to look up. Do not look at the people staring at you, put on a smile when you turn your back to the camera and work it! The photos I felt most awkward taking turned out to be my best ones. So just think of it this way – the more awkward it feels, the better the photo will be!
Save this article for later: