Often overlooked by tourists, Sandoy (or "Sand Island") is a beautiful sleepy island in the southern part of the Faroe Islands. Sandoy is the fifth biggest island in the Faroes and has a population of about 1200 people and 7000 sheep. Yep, you read right. There are more sheep on this island than there are people! Besides spotting sheep, the island boasts picturesque villages, sandy beaches and mesmerizing landscapes, all perfect to explore on a day trip from Tórshavn.
Best things to do in Sandoy, Faroe Islands
Sandoy might be small, but that doesn't mean you'll be bored! There are many things to see and explore here during a day trip. I comprised my favorites into this list here and you can also see them all laid out on the map below.
To give you a good feeling of how small Sandoy is, it takes less than 30 minutes to drive from Skopun (where the ferry will drop you off) to Dalur (the southernmost village).
1. Dalur
Once you drive off the ferry, head straight to Dalur village. The drive takes less than 30 minutes and don't worry, it's not scary at all (I honestly hope other bloggers are joking about it being scary). The roads are in great condition and there is barely any traffic in Sandoy. Except an occasional sheep crossing the road.
Once you reach the last curve on the hill, a scenic view of the village Dalur opens up. I recommend you make a stop by the roadside (at the designated area) and take some pictures from this viewpoint. Then drive down, park by the beach and take a stroll through the village.
2. Húsavík
As you drive back on the same road towards Husavik, make sure you stop on the right-hand side (there is a big area to park) and take a look at this village from this viewpoint. Husavik lies nestled in the valley, with a winding road behind and a scenic black pebbled beach in front. This was my favorite village on Sandoy!
You can park your car by the church and take a stroll through the village and to the collection of rocky houses by the shore. The legend of "Heimi á Garði" has it that a cruel woman once buried two servants alive there and this was her farm. Rest assured though, you won't meet a cruel woman wandering around here, you probably won't even see one single person!
Fun fact: Husavik is also the name for a town in Iceland, the one featured in the movie Eurovision.
3. Skálávik
Skalavik was planned to be our lunch stop, but unfortunately, the only café in the area, Cafein a Molini, was closed when we were there. The village Skalavik isn't as charming as the others on the island, but it does have a bigger marina you can relax at while eating packed lunch or after a coffee break in the cafe.
4. Skarvanes
Have you ever heard of a village being extinct? Well, that's how tiny Skarvanes is! In 2000 its last permanent resident passed away and since 2013 there are only 13 people using this village for their holidays. I found it rather charming and it had plenty of spots for nice pictures.
In this village, you will also find an old preserved water mill used for milling grain.
5. Sandur
Sandur is the largest village on Sandoy and home to about half of the island's population. On Sandoy you will see more sandy beaches than anywhere else in the Faroe Islands, and you'll see a rather big sandy area just before entering Sandur.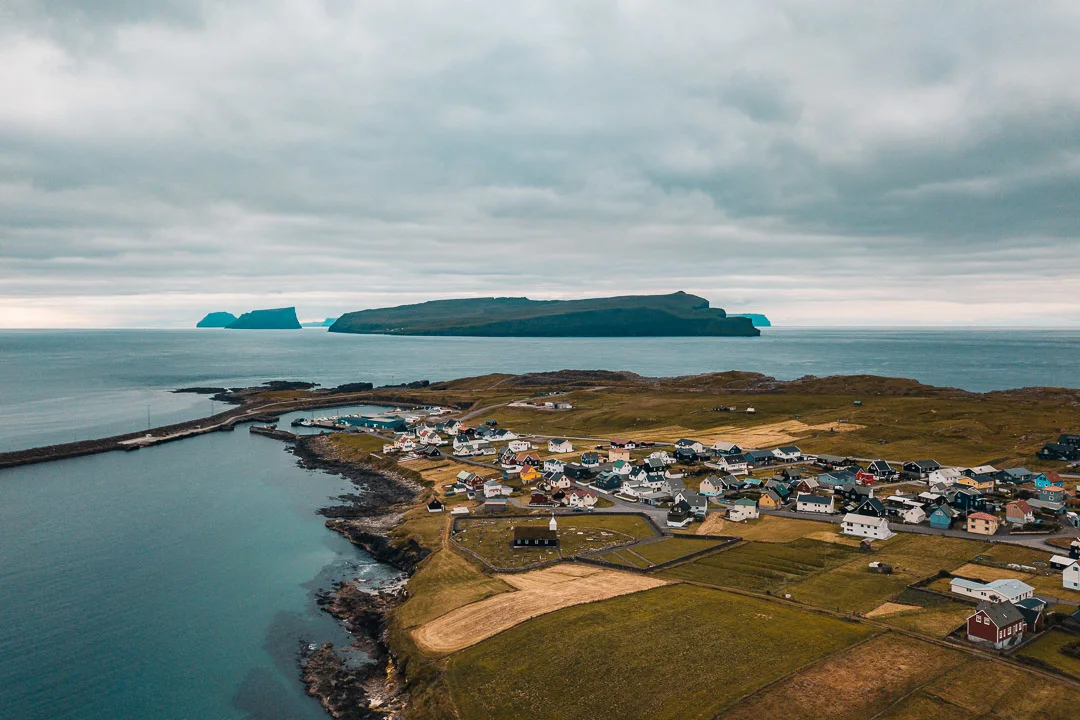 In this town, it's also where Visit Sandoy is located, so if you need more tips, make sure you make a stop here. If you didn't manage to grab a bite in Skarvanes, then buy something at the gas station Magn – their food is actually really good (and not crazy expensive).
TIP: Here you can also do a 3-hour Kayaking trip on the lake in case you're interested and have time, it costs only 200 DKK per person.
If you have time and are interested, stop by Sandur Art Museum, but make sure you time your visit well in this case.
6. The knitted stone
The yarn-covered rock is a huge rock covered with knitted fabric that the local women knitted themselves. It can be seen between May to mid-August and is inspired by a local legend about the 'Troll Woman's cave'.
A little further down the road, you can also see a table explaining the rocks and formation of the Faroe Islands.
7. Skopun
The last village on this list of the best things to do in Sandoy is Skopun. This is where you will arrive depart from. Save this village for last, because you can park your car in the ferry line (if you're early) and go explore the rest of what Sandoy has to offer.
Skopun was founded in 1833 but has also been inhabited in the middle ages. The houses i this village are built very close to each other because the first inhabitants were initially seamen who didn't own land. In 1918 the road that connects Skopun and Sandur was made, which was also the first road to connect two villages in the Faroe Islands.
8. Biggest Blue Mailbox
With 7.42 meters in height and 4.45 meters in width, the Biggest Blue Mailbox in Skopun holds the title of the world's largest letterbox. And while you can't actually mail your letter through here, it sure would be fun if you had to climb up a ladder to throw your postcards in there!
9. Trip to Skuvoy island for puffins
If you haven't seen puffins in Gásadalur, Mykines, or any other of the many puffin spots in the Faroe Islands, then you could also see them on a trip to Skuvoy island. Bear in mind though, that you might need to spend a night on Sandoy if you take a trip there late.
Stop by the Visit Sandoy office (or contact them in advance) and see when they have tours going out there and then plan accordingly.
10. Hiking in Sandoy
If you opt for staying in Sandoy overnight, then you will definitely manage to do a hike or two!
The most popular hikes are:
SANDUR – SØLTUVÍK
An easy hike that takes about 2.5 – 3 hours and is 10km long. Read about the hike on page 46 here.
HÚSAVÍK – SKÁLAVÍK
A medium-difficulty hike that takes around 1 hour and is 2.7 km long. Read all about it here.
HÚSAVÍK – SKARVANES – DALUR
A medium-difficulty hike that takes around 3.5 hours and is 7.5 km long. Read all about it here.
How to get to Sandoy
By ferry with a car
The easiest and best way to get to Sandoy is by taking your car on a ferry. Ideally, you are staying in Torshavn the day before your trip and book the ferry from Gamlaraett to Skopun, see timetable here. Once you find a day and time that suits you best, you will pre-book your ticket here. It's important to pre-book during busier seasons to ensure you get a spot on the ferry.
You will need to create a profile on the booking site and load it with credit. Only by creating a profile, you will be able to book a return ticket! Don't worry, whatever credit is left on your profile, will be refunded to you, just email SSL and they will take care of it.
We took the ferry at 7.25 am and it was far too early. If you are booking far in advance and there are many spots left, take a ferry that goes a little later.
We needed 7 hours of slow travel to see everything there is to see on the island. We didn't go on any hikes or a trip out to Skuvoy however. So, if you plan on doing both, then I recommend you come early and leave late – perhaps even stay for one night.
Ferry price: 170DKK for a car with a driver and one passenger (cheaper because I created a profile on the booking site). 120DKK deposit for car + 2 passengers on the way back (they charge to book a spot), which was then refunded since we showed up. Total cost 170DKK for return ferry with 1 car and 2 passengers.
They are also currently building a tunnel connecting Streymoy and Sandoy. It is expected to be completed in 2023.
By tour
If you are traveling solo or didn't rent a car, the second-best option is to join a tour. We drove ourselves, but the one I found to be the closest to our plans is this tour.
Tips for visiting Sandoy
Bring food and drinks with you
Make sure you bring packed lunch, snacks and drinks with you. We were there during a regular day and couldn't find a single restaurant that was open for lunch. If open when you're there, you can see if Magn has something to your liking (near Sandur). And if you forgot any necessities you can head to Á Handil in Skopun.
Do not come by bus
Don't come to Sandoy by bus. The island is not touristy (we barely even saw any locals) and you will be wasting a lot of time timing the bus trips correctly. It's a small island and the bus connections aren't great.
Hike with local guides
Unlike Sweden's 'freedom to roam', by the Faroese law, you are not allowed to wander freely unless you're on a marked village path. So, the hiking paths on Sandoy and many other islands are recommended to be done together with local guides for the best experience and safety.
If you do decide to hike on your own, then make sure you respect nature and the surroundings, let someone in the village know you are hiking in the area, and read this guide to safe hiking in the Faroe Islands.
That was all! Sandoy is a great option for a day trip from Tórshavn and if you're into photography, then you will love all the sleepy villages!
Save this article for later: