If you're looking for the best Jeju autumn road trip itinerary, then you've come to the right place! After 2 years of planning our trip to South Korea, the restrictions were finally lifted and we could head back to explore even more of this beautiful country.
I spent 1,5 months exploring the entire country and of course, Jeju was also on this list! I knew immediately that 3 days here won't do it for me – I wanted to see Udo and still manage to relax and not feel like I need to rush to see everything. It took me a lot of time to add and remove all the cafes and locations, and this itinerary is the result of all that hard work.
The best time to visit Jeju island in autumn is in October and the beginning of November. This way you will get too see the pink muhly, silver grass, and lots of beautiful autumn foliage! I really hope you will enjoy this Jeju autumn itinerary. Jeju is also worth visiting in winter if you don't mind the cold and if you would like to see the camellia bloom.
Day 1 – North to East Jeju
Arrival
Arrive to Jeju island in the morning of the Jeju autumn itinerary and pick up your rental. Getting your rental in Jeju isn't that straightforward for foreigners – you'll have to follow the signs that point to the shuttle bus that will take you to your rental agency.
But once you get to the bus platform it's very hard to know exactly where to go since it's all in Korean and there are many bus platforms. Especially if you missed the fact that the rental agencies will take you to the bus if you speak to them at the airport (we didn't see them). Here you can ask if any locals can help you locate the car rental agency. Then they can help you point it on the map and you can take the shuttle from the correct platform!
You can easily book a car rental in Jeju here.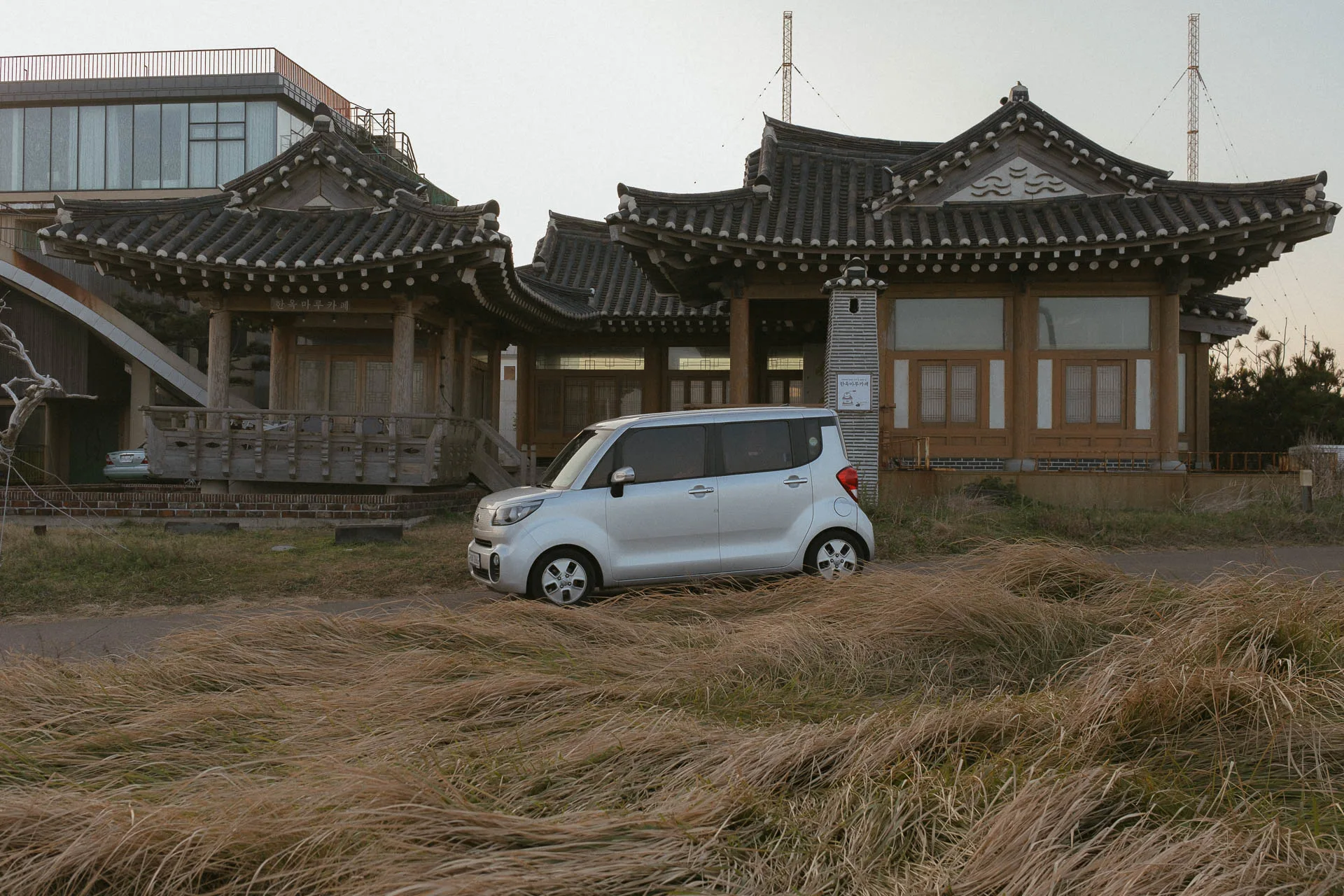 Brunch
After you get your rental car, get the Jeju autumn road trip started and head straight to a brunch place. We searched a fair bit to find one that doesn't only do desserts. If you're very hungry, opt for Eastern Part and if you're moderately hungry or just want a light meal or a drink after eating at Eastern Part, head to Cafe Delmoondo.
Hamdeok Beach 함덕해수욕장
Spend a few moments by Hamdeok beach, a beautiful sand beach just in front of Cafe Delmoondo.
Jeju Stone Park 김녕미로공원
A peaceful and interesting place with lots of Jeju statues, perfect for those of you who want to learn more about Jeju folklore.
If you are very interested in seeing this entire park, I recommend setting aside at least 4 hours since it is rather big. We decided not to visit all of the places inside the park and were there for about 1,5 hours instead.
Closed on Mondays, entrance fee is W5,000 for adults.
Kimnyeong Maze Park 김녕미로공원
A cool maze that is actually not very easy to get to the end of, with lots of kids' entertainment at the start as well. If you happen to have a drone with you, maze looks pretty cool from above as well.
Jeju rail bike 제주 레일바이크
I won't lie – the Jeju rail bike is old and rusty. But it does make for a fun and cheap activity if you want to do something a little different on this Jeju autumn road trip! We did our ride almost at sunset and had a lot of fun. You don't even need to pedal, you literally just sit and enjoy the views.
Make sure you book the ticket via Trazy since they're cheaper online, at least 2 hours in advance (if you show up and book online you need to wait for the validity because that's how they then upcharge you at entrance).
When you're done with the activities on the first day, make sure you have an accommodation booking as close to the port as possible, on day two you are heading to the magical Udo Island!
Day 2 – East to South Jeju
Udo island 우도
Udo island is a small island in Korea. It is located in the southern part of Jeju island and it is the smallest of all the inhabited islands. The population of Udo Island is less than 100 people and the area of Udo Island is only 3.2 km².
Udo Island has been called "the last place on earth" because it seems like no one lives anywhere else in all of Korea. It's the perfect place to take it easy, see some sights, eat peanut ice cream and enjoy the pretty island views.
I created a guide for Udo Island so you can see what the best things to do there are there. In the guide you will get all the tips on how to get there, as well as how to best spend your time on Udo during your Jeju autumn road trip.
You might also like
Jeju woman diver show
The Jeju woman diver show happens every day at 1.30 pm and 3pm. Walk towards Sunrise Peak (Seongsan Ilchulbong) and walk towards your left, down a flight of stairs to the beach. When we came to see the show in November 2022, this was just a 10-minute song and no diving.
So we preferred seeing them in a more authentic way on Udo island.
Seongsan Ilchulbong 성산 일출봉
After the women's diver show, you could either head up to Seongsan Ilchulbong or opt for a more relaxing way to spend the afternoon.
Seongsan Ilchulbong, also called 'Sunrise Peak', is a natural wonder on Jeju Island. It is a crater that has been around for about 7,000 years and was formed when the volcano erupted and then cooled down. The crater has become a popular tourist attraction in Jeju Island because of its beauty, but it also has many other features that make it worth visiting.
The crater is home to many different plants and animals, including the Jeju Black Pine tree, which is only found in this region of Korea.
We decided to skip the hike to the top of the crater, and headed towards a cafe nearby.
Orda cafe 오르다카페
If you don't want to hike up to Seongsan Ilchulbong but still want to enjoy the beautiful views of the peak, then walk towards Orda cafe. Here you'll find an instagrammable staircase to heaven, drink a delicious hallabong ade and enjoy the beautiful views of the peak at sunset.
After sunset, start your drive towards Seogwipo, where you will be staying for the night. When arriving in Seogwipo, do the below two things before you go to bed and get ready for a new day on the Jeju autumn road trip.
Saeseom Island Saeyeongyo Bridge 새연교
Before you check in, stop by the Saeseom Island Saeyeongyo Bridge. The reason you should see it in the evening is because the sail-like shape is lit up at night and makes for a great night-time view. The bridge is a pedestrian overpass, so you could also walk on it, but the view is much better from the location you see on the map.
Seogwipo Olle Market 서귀포 매일올레시장
After checking in and resting up a little bit, head towards the night market for some street food. I can highly recommend you find the stand with the seasoned rice in layered eggs with black pork and signature homemade roux sauce. It was super delicious!
Day 3 – South to South West Jeju
After a nice rest and a yummy breakfast, get ready for an eventful day spent in the Jeju autumn vibes.
Jeongbang Waterfall 정방폭포
The Jeongbang waterfall is 25m high and located near Seogwipo. Is the most famous waterfall on Jeju island and considered as one of the top 10 scenic wonders of the island. The entrance fee for adults is W2,000 and the walk down to the waterfall is short and easy.
Hueree Nature Life Park 휴애리 자연생활공원
A beautiful nature park and one of my favorites on this autumn Jeju road trip. The entrance fee was a little higher than a regular park (priced at W13,000 for adults), but it was worth it! We saw three different pink muhly locations and lots of beautiful photos spots.
In autumn you could also do tangerine picking here, but I wouldn't actually recommend it. It was a bit pricey and the location for the picking wasn't as pretty compared to going to the farm we went to.
Lemon Museum 레몬뮤지엄
After the park, head to Lemon Museum for a refreshing lemonade and lemon cake. I can highly recommend this cafe, especially when the sun is shining.
Bong Bong Tangerine Farm 봉봉감귤체험농장
There are many places in Jeju where you can go tangerine picking, but Bong Bong farm has a beautiful location, only W2,000 kilo price and you can also eat an unlimited amount of tangerines while picking! So I would highly recommend you choose this place for the picking during your Jeju autumn itinerary. It's open every day from 10 am to 5 pm, I recommend you arrive at the latest at 4 pm though.
Cheonjiyeon Waterfall 천지연폭포
At 22m high and 12m wide, this waterfall is one of the main tourist sights on Jeju Island. The main reason it's so popular is due to its large volcanic rocks. It's easily accessible and makes for a good short stop for all waterfall lovers.
Oedolgae 외돌개
Oedolgae, or "lone rock pillar", is a 20m high and 10m wide rock formation which was formed when a volcano erupted about 150,000 years ago. It's easily accessible from a parking lot and free to enter. I recommend you visit during sunset (like this Jeju itinerary suggests), purely for the beautiful colours at this seaside location.
After you catch the sunset at this last location, I suggest you head to Don-Eogil for some black Jeju pork and then rest up before the next day. You could opt for sleeping in Seogwipo again or somewhere in between the Innisfree Jeju house and Seogwipo.
Day 4 – South West to North Jeju
Innisfree Jeju House 이니스프리 제주하우스
I am a big fan of Innisfree (a Korean skincare brand), so I really wanted to come here during this Jeju autumn road trip to have a look at the products and have something to eat. We didn't stay very long, but we did manage to taste the lava green tea dessert and some hallabong latte. Both were okay, but nothing extraordinary. After the snack, we headed to their tea fields to take some pictures.
Once you're done here, also feel free to visit the Osulloc Tea Museum, where you can buy some tea to take home with you.
Jusangjeollidae 주상절리대
This cliff was created when the lava from Hallasan erupted into the sea and created these spectacular volcanic rock formations. The admission fee is W2,000 for adults and you can count on spending around 30 minutes here.
Cheonjeyeon Waterfalls 천제연폭포
Of all the waterfalls we visited on Jeju island, this one was based in one of the larger areas with a little more walking (nothing tough, just a little more time-consuming). Here you will be able to see three waterfalls, the Seonim bridge and a buddhist temple.
Lunch at One and Only 원앤온리
Head over to One and Only cafe and restaurant and enjoy lunch with a beautiful view by the beach.
Manor Blanc 마노르블랑
After lunch, head to the Jeju cafe called Manor Blanc for a coffee. Make sure everyone in your company wants to have one because there's a rule to buy a drink for entering the property and its gardens. So think of it like a slightly pricier admission fee.
The gardens are quite small, but very beautiful and have a few nice corners for pictures. I recommend you spend about an hour here. The pink muhly fields are pretty here and you can find a spot with no people – perfect for those Jeju autumn photos!
Stay Quidi 스테이 쿠이디
We decided to head to Stay Quidi, a Stayfolio property, right at check-in time. This Jeju stone house is located in the cozy town called Gwideokpogu and we felt right at home from the moment we walked through the gates.
The minimalist design with splashes of colour catered to our Scandinavian hearts and we were super excited to spend the night here. The living space features a spacious kitchen and dining area, as well as a bathroom and a relaxing space before it. The sleeping space features the comfiest bed in a beautiful bedroom, a bathroom and a hallway you'll actually want to spend time in.
We headed to the nearby supermarket to get some BBQ and somaek supplies. We had the best evening here just drinking, eating and chatting until 2 am. I can highly recommend this house for your Jeju road trip.
Day 5 – North Jeju
The final day of the Jeju autumn itinerary! Make sure your flight back to Seoul is booked for 8 pm or later if you want to do all of the below things today.
If you chose to stay at Stay Quidi or nearby (a popular place is also this one that you might have seen on the K-drama called Doom at your Service), make sure you leave enough space for a hearty breakfast, because you'll get a great tip for a cafe now.
Breakfast at Cafe Malona 카페 말로나
We still can't believe the feast we got in this cafe. If you've traveled around Korea a while, then you'll know they like to put sugar in everything, even bread, pizza, and hot dogs. So we struggled every day to find something savory, without sugar in it.
And Malona really delivered! If there is one thing you absolutely cannot skip, it's the shakshouka – it was so tasty!
Saebyeol Oreum 새별오름
If you're also coming to Jeju in the beginning of November, then Saebyeol Oreum (volcanic hill) will be covered in silver grass. While it's much nicer to take pictures at the base of this peak, for those of you used to hike, it will be no problem going up to see the views as well.
There is no admission and the path is well maintained. If you plan to hike up, make sure you wear comfortable shoes.
Arte Museum 아르떼뮤지엄 제주
Korea's largest immersive media art museum and the perfect place to warm up after the hike. In the Arte Museum you will be able to wander around several rooms displaying media art, surrounding yourself in beautiful sounds and scenery.
One of the coolest things here was also the possibility of coloring an animal, scanning it and sending it to the jungle. You will then see your very own creature wander the screens in the museum as well.
You will need at least an hour to see everything here. The museum is open every day and the admission fee for adults is W17,000.
Coffee at Lazy Pump 레이지펌프
If you're into aesthetic cafes with beautiful photo spots, then Lazy Pump is a must! Order an ade and a cake, sit down and enjoy the beautiful views of the ocean.
Another cozy cafe to check out here (if you have the time) is Cafe Bomnal. It's located just by the sea as well and you can take a little stroll while there.
White and Red Horse Lighthouse 이호테우해변 빨간말등대
After a coffee and a pick-me-up at Lazy Pump, start your drive toward the airport. The first stop as you make your way back on this Jeju autumn itinerary are the White and Red horse lighthouses. There's parking right in front of both so you can easily see both from one spot. If you timed your day well, you'll be here just before sunset.
Dodu Rainbow Coastal Road 도두 무지개 해안도로
The last stop before heading back to the airport is this rainbow coastal road! And don't be too stressed if it'll be crowded or not – it's actually a very long strip so you'll definitely be able to find a spot with no people. The coastal walk here has the ocean on one side and plenty of restaurants and cafes on the other. Depending on when your flight is, you could either have some dinner here or at the airport (we opted for the latter since we had to return the car rental as well).
The end of the Jeju autumn itinerary
This was all for this Jeju autumn road trip itinerary! I hope you enjoyed seeing all the autumn foliage in Jeju island. Below you can also see the map with all of the above locations. You can open the map on your laptop, or phone. If you have any questions for this Jeju road trip, just ask me below and I will do my best to help.