The Angkor Wat temples are the world's largest religious monument and Cambodia's most popular tourist spot. They are also on the UNESCO World Heritage list for being one of the most important archaeological sites in the whole of South-East Asia and just as striking in real life as in the pictures. The entire site stretches over 400 km2 and is no joke to see in one day. In fact, it's impossible to see all the temples even in three days! In this ultimate 1 day guide to Angkor Wat temples, you will find out how to see some of the best temples and how to beat the crowds.
About Angkor Wat Temples
Before I get into detail on what they are, let me just explain why you'll see the names listed only as Angkor or as Angkor Wat. Angkor Archaeological Park is the entire site with many temples and Angkor Wat is one of the temples in the Angkor Archaeological Park. Angkor Wat is the largest and most magnificent one in the park and is also where a lot of people start their sunrise Angkor Wat temples tours.
For centuries Angkor was the center of the Khmer Kingdom (Cambodia from the 9th century to the 15th century when it was a Hindu/Buddhist empire in Southeast Asia) with an exceptional civilization and temples imbued with symbolic significance. The Angkor Wat temples in the Angkor Archeological Park were built in the 12th century and Angkor was the most advanced city of its time. That is until all its residents left it and the jungle started claiming the city.
No time to read now?
No worries! Save on Pinterest to read it later.
Save

to Pinterest
There are several theories on why this happened and while it still remains a mystery the most probable cause was the intense monsoon rains, followed by a prolonged drought, that caused widespread damage to the city's infrastructure.
Today, the Angkor Wat temples receive a whopping 2.6 million tourism visitors per year and are the largest tourist attraction in Cambodia.
Where are the Angkor Wat Temples
The Angkor Archeological Park is located around 6 km north of Siem Reap, the city where the majority of the tourists start their Angkor Wat temples tour.
You might also like
When is the best time to visit the Angkor Wat temples?
The best time to visit Angkor is during the dry season between November and March. If you aren't able to come in these months you'll definitely beat some crowds, but you are more likely to have hot, humid, and rainier weather.
The best time of the day to explore Angkor is right when it opens, but do not start at Angkor Wat. If you are a photography enthusiast and really want to take pictures of the sunrise at Angkor Wat, then by all means – start your day there. But I would say it would really have to be your life's goal to subject yourself to such a tourist trap and I would strongly advise against it.
The temple is just as stunning later on in the day and unless you are there early with your tripod to secure a spot with no people in your shot, you are most likely not going to get those stunning photos you see online. Lots of editing and luck goes into sunrises like that, telling you honestly as a photographer.
How to explore Angkor Wat temples
Whether you decide to explore solo with a driver, an authorized private guide, or with a group of people – you will see the same places, but the main difference will be how much you will know about the places you see. Opting for a tour with a guide also helps support the local community and if I would visit Angkor Wat temples again I would most probably not go there without a guide!
We opted for a solo tour with our tuk-tuk driver since we planned an itinerary to beat the crowds. Now there are more tours available than when we were there and here are some I recommend.
How to beat the crowds
If you decide not to join a guided tour and opt for hiring a tuk-tuk driver, then make sure you speak to them about the order you want to visit the temples in. This is what we did and managed to see the first three temples with absolutely no one there but us!
You'll hire a tuk-tuk driver in Siem Reap and the cost will be between $20 – $30 USD depending on how long you'll have them for (a little extra if you opt for sunrise at Angkor Wat).
Itinerary to 8 Angkor Temples to beat the crowds
You will not be able to see every temple in the Angkor Archaeological Park, since there are over a thousand of them and with plenty still being unearthed every year. In this guide, I will list the top 10 Angkor Wat temples you must see and the order in which I recommend you see them to beat the crowds.
1. East Mebon
We started our trip at East Mebon, a temple with five towers that represent the five peaks of the mythical Mount Meru. This temple was built in the second half of the 10th century by King Rajendravarman II and used to be on a small island in the middle of the Eastern Baray.
Back then, the temple was only accessible by boat and now you will see it surrounded by rice fields and with much easier access.
2. Ta Som
One of my absolute favorite Angkor Wat temples and a true hidden gem, built at the end of the 12th century for King Jayavarman VII. Since this is a smaller temple with serene surroundings it often gets overlooked by tourists. It features a huge strangler fig tree that engulfed one of the gates and has plenty of beautiful photo spots that won't be packed with other people.
3. Neak Pean
Neak Pean is an artificial island with a Buddhist temple on a circular island, built during the reign of King Jayavarman VII for medical purposes The path to the temple is surrounded by water and the surroundings are very tranquil.
4. Preah Khan
Preah Khan temple is one of the largest ones at the Angkor Archeological Park and was built in the 12th century. It is both a Buddhist and Hindu temple that is still largely unrestored. Due to it being left to nature, you'll see plenty of trees growing among and on the ruins, making it a very nice location to photograph and wander around in.
5. Victory Gate
While the gate isn't exactly a temple, it is one of the 2nd most visited and most interesting gates into the ancient town of Angkor Thom. Make sure your tuk-tuk driver reminds you when you've reached this place (trust me, on a full day of temple ruin-hopping you won't remember what's what), and hop off to take some pictures!
6. Bayon Temple
Out of all the temples we saw in Angkor Archeological Park, this was by far the most decorated. It was built in the late 12th or early 13th century, in the exact center of Angkor Thom. Its name translates to "Great City" and signifies its connection with heaven and earth. This temple is huge, so be aware that it's impossible to see the whole of it without spending a few hours there.
7. Ta Prohm
Probably the most famous temple besides Angkor Wat, Ta Prohm was used as one of the locations in the film Tomb Raider. It was built largely in the late 12th and early 13th centuries and is one of the most crowded and touristy Angkor Wat temples, so get ready for lining up to take pictures here. It is incredibly dramatic though, so get ready to be immersed in the ruins and the jungle engulfing them.
8. Angkor Wat
Angkor Wat is the largest and most magnificent of all Angkor temples and is the pinnacle of Khmer architecture. You can quite literally spend the entire day here, observing the reliefs, an outer wall measuring over 3km in length, carvings of thousands of female dancers, three-tiered galleries, and five lotus-bud-shaped towers. All in all – a feast for the eyes and the mind.
Angkor Wat remained a Buddhist shrine even after other temples were abandoned after the fall of the Khmer empire in the 15th century. Dress appropriately or you will not be let in.
Angkor Wat tickets: Prices and details
When you visit Angkor Archeological Park, you'll be able to purchase three different ticket types. We took the 1-day pass since we only stopped by Cambodia on our way to Vietnam, but I highly suggest doing a 2-day guided tour or getting a three-day ticket. There is so much to see and if you want to see more than a regular tourist, then 1 day is not enough.
You can purchase the Angkor pass at Angkor Enterprise ticket office, next to Angkor Panorama Museum, on Samdech Vibol Panha Sok An road. It is open daily from 5.00 AM to 5.30 PM and you can pay by cash or card. You will need to go there in person since they take a picture of you for your pass, which you need to carry around at all times.
One-day ticket $37 USD.
Three-day ticket $62 USD.
Seven-day ticket $72 USD.
I recommend you get the ticket at 5 PM the day before you enter. Not only will you be able to drive briefly there to see Angkor Wat, but you will also be able to head straight to the entrance on the morning of your visit, making your day far less stressful.
Tips for visiting the Angkor Wat temples
Dress appropriately
Make sure you keep the shoulders and knees covered when visiting Angkor. This is a religious site and you will be denied entry if you are not dressed appropriately.
My sleeves were too short for one of the temples and even covering them with a scarf didn't please the guards. So we had to take turns to get up the Stairway to Heaven so I could borrow Mike's t-shirt. Some girls with shorts were completely denied entry, so don't think you can get away with it – they are strict no matter how hot it is outside.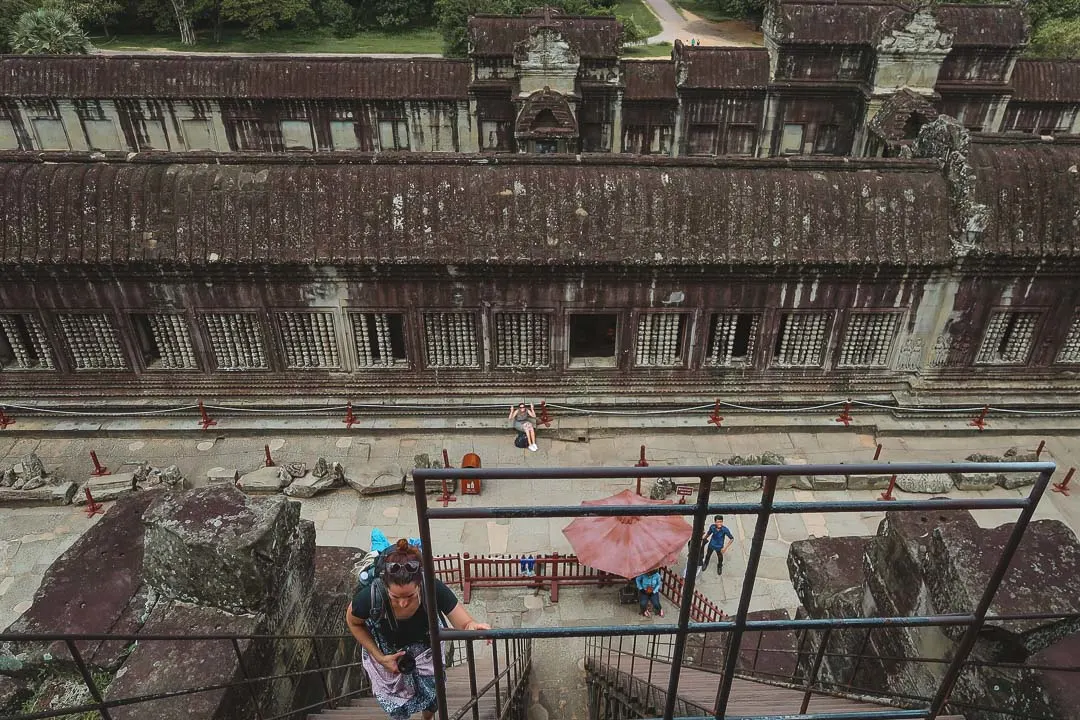 Wear comfortable shoes
A pair of comfortable sandals or sneakers will get you a long way when visiting the Angkor Wat temples. You will only be sitting down when traveling from one temple to another, so be prepared for lots of walking!
Bring water and snacks
The Cambodian heat is no joke – especially when you spend the entire day outside, walking. So make sure you bring water bottles with you and avoid buying them in the park as they are more expensive than outside.
I also suggest you bring snacks – it took us quite a while to get to the restaurants and we really needed a pick-up in between the breakfast and lunch! Bring extra food if you want to save money and avoid eating (overpriced) lunch in the park as well.
Don't bother bringing a drone
Flying a drone is forbidden in Angkor so don't bother bringing it. Do bring an extra camera battery though – especially if you plan on taking both photos and videos all day.
Don't ride elephants
There are unfortunately still many people riding elephants in Angkor and Cambodia in general. Elephants have gone through extreme suffering to be ridden by tourists and the fewer people that support this, the fewer animals will have to suffer.
Travel Insurance
Don't travel to Cambodia without travel insurance. I recommend Safety Wing and World Nomads, see below for a short comparison of the two.
Safety Wing
Pros:
Much cheaper than most other insurance providers, from $42 /4 weeks.
You can sign up even if your trip has already started.
Cons:
No coverage electrical equipment (unless lost in checked luggage or in case ransom occurs).
World Nomads
Pros:
Covers a wider range of adventure sports and activities.
Cons:
Price is quite high, around $120 USD per month.
Make sure you check the policies carefully before you choose!
Save this post for later:
Some of the links on this site are affiliate links.
If you choose to purchase through these links, I may receive a small commission at no extra cost to you. By using these links, you are directly supporting I, Wanderlista to keep exploring, and providing you with free travel content to help you on your travels.