No trip to South East Asia is complete without a stop at Cambodia's Siem Reap. Besides being the home to Angkor Wat and its beautiful ancient temple ruins, there are a few things to do in Siem Reap before you continue your journey to the neighbouring countries. We spent 2 nights in this north Cambodian city, discovering everything from culture to cocktails and loved that everything was accessible on foot or a short tuk-tuk ride. Siem Reap is a budget-friendly destination and the most popular destination in Cambodia. Here are the top 10 things to do in Siem Reap.
1. Angkor Wat Tour
The reason why many people come to Siem Reap is undoubtedly Angkor Wat. An absolutely magical bucket list destination and home to the largest Buddhist temple on earth, it is open to all visitors on 1-day, 3-day or 1 week-long tour. Angkor Wat is just one of the temples in a huge area of temple ruins and the tickets are valid for touring the entire area. You can read more about touring Angkor Wat here.
Pro tip: go to the Angkor Ticket Center the day before your actual visit and buy a 1-day ticket for Angkor Wat at 17.00. Pay with cash and make sure your shoulders and knees are covered when purchasing a ticket. After you buy them, go and see Angkor Wat at sunset. If you buy the ticket at 17.00 the day before, it means you can use the same ticket the day after since it has a 24-hour validity.
No time to read now?
No worries! Save on Pinterest to read it later.
Save

to Pinterest
2. Pub Street
If you ever find a cheaper tourist place, you'll have to let me know. Pub Street is the place to go to and definitely my favorite in the things to do in Siem Reap! Here you'll be able to wind down after a day of walking amongst temples, with beers for as little as $0.50 USD and cocktails for $1.50 USD. You'll find moving motorcycle bars and cheap eats, as well as something for the adventurous types – scorpions, bugs and snake snacks. If you decide to go all out on a night in Pub Street, then don't forget to plan for a relaxing day after – no one wants to be a tourist with a hangover!
3. Night Market
If Pub Street isn't up your alley, then you definitely won't mind checking out the night markets in Siem Reap. Here you'll find anything from amazing fakes (they beat those in Vietnam and Laos price and quality-wise) to food, clothes and handicrafts. We spent a couple of hours wandering around wishing our luggage was a little less empty so we could buy even more. This is a must-do amongst the things to do in Siem reap, so don't forget to stop by if even just for a little while.
4. Apsara Dance
If you want to combine dinner + apsara dance, then book a restaurant that does both! We booked ours at Koulen II restaurant and although this place has below average food and service, the dance was nice to see and convenient to do both at the same time!
5. Wat Preah Prom Rath Temple
If you've had it with ancient ruins in Angkor Wat, this pagoda in the city will be the perfect break! It's easily accessible, free to enter and you only need about half an hour to wander around.
You might also like
6. Fish SPA treatment
Take a break and relax your feet in a fish SPA in Siem Reap. You won't need to book them in advance, they are located everywhere in the tourist areas. If you haven't done a fish spa before, be prepared for the tickles! The fish will nibble off the dead skin in a matter of 20 minutes and it will only cost you as little as $3 USD.
7. Bamboo Train in Battambang
While Battambang isn't on everyone's bucket list, if you travel through Cambodia or have an extra day in Siem Reap, this is a great excuse for a day trip out of the city. The bamboo train is as much a unique tourist experience as it is a tourist trap (with an obligatory stop at a souvenir shop), but it's a great way to see the Cambodian countryside.
8. Kulen Nature Trails
Beautiful rainforest trails where you'll be able to get away from the heat and walk along a river, come across ancient temples and waterfalls. You can ask your hotel or tuk-tuk driver to help you find a guide and try and go in the morning to avoid coming at the same time as other tourists. If you happen to visit Siem Reap during the rainy season, then the nature trails might be a little muddy, so it's best to visit during the dry season.
9. Cooking Class
Cook like the Cambodians and learn new recipes straight from the locals! Cooking classes are very popular in both Cambodia and Vietnam and definitely one of the best things to do in Siem Reap. Often you'll be going to the market to buy the ingredients and then learn to prepare a 3-course meal that you can later even do in your home country. You can book private or group sessions and the majority will take half a day or a full day.
10. Tonle Sap Floating Villages
One of the most interesting things to do in Siem Reap is taking a tour of the floating villages at Tonle Sap Lake. The tours are available for half or full days and you can choose from the closest one to Siem Reap which is Chong Kneas or one of the three others: Mechrey, Kampong Phluk and Kampong Khleang.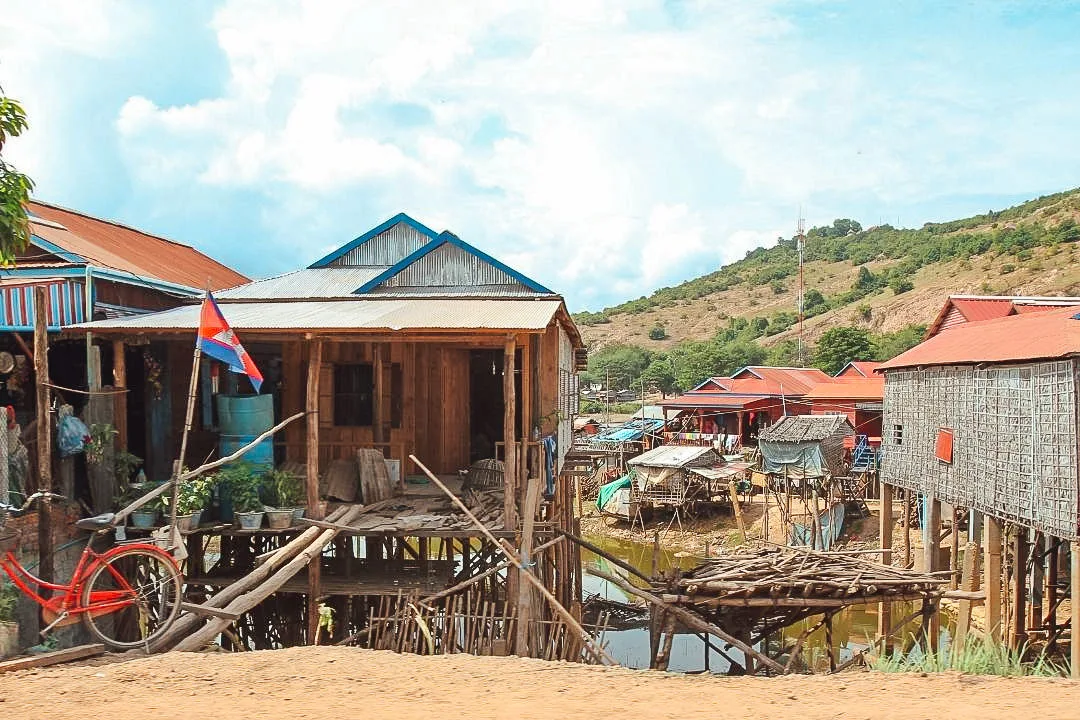 Arriving to Siem Reap
Get VISA on arrival (fill-in the form on the flight, $30 in cash and 1 passport photo – no photo = extra charge as they scan the passport photo at the airport).
From the airport: take a tuk-tuk to your centrally located hotel (about $6 USD) or taxi (about $9 USD), which takes approx 20-30min. The hotels often offer free airport transfers, so have a look at your bookings beforehand to see if yours does too.
When to visit Siem Reap
The best time to visit Siem Reap is during the dry season from November to April. May to October brings the rainy season, humidity and strong winds, making it a little harder to explore outdoors.
Where to stay
We stayed in La Da Kiri Boutique hotel and it was a walking distance from the majority of the places mentioned in this guide. I would definitely recommend you stay near Pub Street or Night Market, but not right on them. They are both quite noisy in the evenings.
I hope you enjoyed discovering these top 10 things to do in Siem Reap! If you only have 1 night in the city, then the absolute musts are the first 5 items on the list.
Save this post for later: