Gásadalur is a small village on the island Vágar in the Faroe Islands. Until 2004 it was the only village on the Faroe Islands without a road connecting it to the other villages, making it one of the most remote villages on the islands. Now, Gasadalur is accessible both by car, or a hike over the mountains. In this short guide, you will find out everything you need to know about visiting Gasadalur and its famous Mulafossur waterfall.
About Gásadalur
Surrounded by beautiful, rocky mountains and dramatic Faroese views, lies the village of Gasadalur. It's one of the top tourist destinations in the Faroe Islands, despite only being home to 11 people (Jan 2020).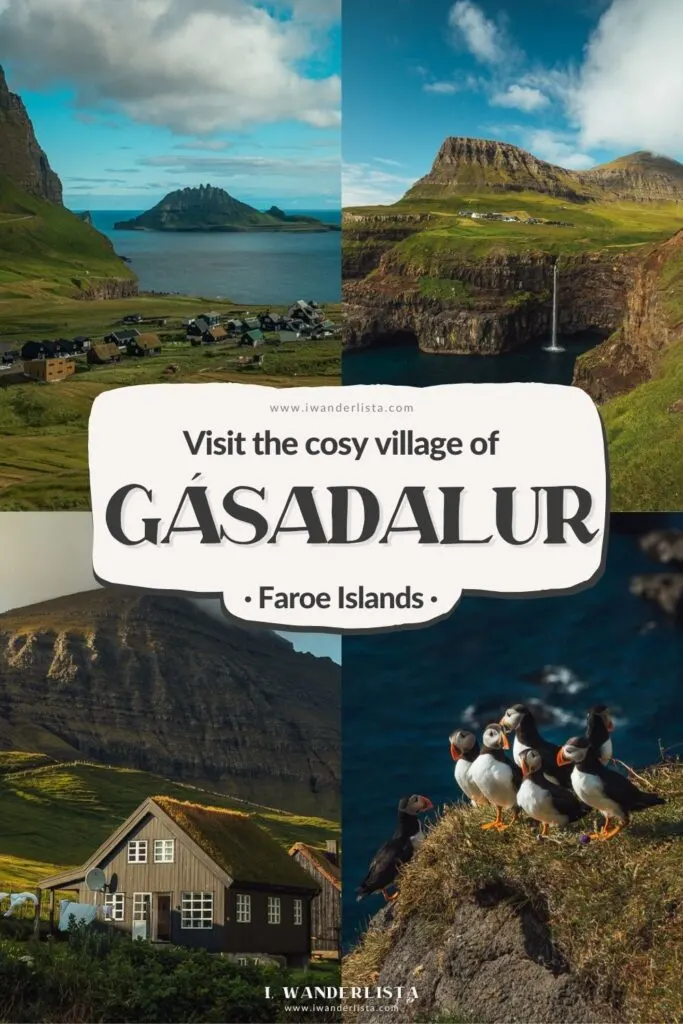 No time to read now?
No worries! Save on Pinterest to read it later.
Save

to Pinterest
Before 2004, Gasadalur was one of the most isolated villages in the Faroe Islands, only accessible via a strenuous hike over the mountains, boat, or helicopter. Once the tunnel was completed in 2004, it gave more tourists a chance to visit this picturesque village and its famous Mulafossur waterfall.
Gasadalur also has amazing views over the island of Mykines and Tindohólmur, especially on a clear day. There are plenty of things to do in Gasadalur and I highly recommend booking two nights here and discovering Vágar island with Gásadalur as your base.
TIP: make sure you have a car rental in the Faroe Islands.
Múlafossur waterfall
The reason why most people come to Gasadalur is to see the famous Mulafossur waterfall. With a dramatic drop to the ocean, the village, and the mountain as the background, it's not only a feast to the naked eye, but also to the camera. It's located a short 5-minute walk from Gasadalur and has a large viewing point from where you can take pictures and admire the waterfall from a distance. During summer you will even be able to spot puffins here!
Be careful to stay behind the fence here as it can be deadly to slip and fall into the cliffs. A photo is not worth your life and there were too many people crossing the fence when we were there. Honestly, you being in that picture will give nothing, the landscape is beautiful on its own so spare everyone and stay safe.
See puffins in Gasadalur
The best tip we got from talking to other tourists, was to hike to the sunset viewing point on top of the village to see puffins. We haven't seen on any guides that you can see puffins here and we were so lucky to get this information.
The puffin spot is here. Just wait around a little bit, we noticed they came and went since they go to the see to get food quite often.
Best time to visit
The best time to visit Gasadalur is in summer, from late May to August. The weather is much more forgiving and you'll even be able to see puffins during this time.
TIP: If you are short on time and want to see this, and many more places, how about a 7-hour ultimate see-it-all tour? It's the most popular one on the Faroe Islands.
How to get there
By car
The best way to get anywhere on most islands is by car and that includes the village of Gasadalur. Since the village is located on Vagar island, I recommend you come here right after you land at the airport. It's about a 20-minute drive from the airport and there are plenty of parking spots available by the side of the road, just 200m from the waterfall.
By bus
If you decided not to rent a car and are planning to get by with public transportation, please check ssl.fo for timetables and prices. Bear in mind that it's neither cheap nor convenient to ride public transport in the Faroe Islands, so make sure you plan carefully.
A 4-day travel card costs 500dkk and a 7-day travel pass costs 700dkk.
By hiking
There are two popular hiking paths that take you to Gasadalur; one starts in the village Bour and takes approximately 1 hour and the other starts in Sandavagur and takes approximately 7 hours. Both trails are rather difficult, so make sure you've done some hiking in the past and are in a good condition to hike.
Here is a detailed description of the hike from Bøur to Gásadalur.
Here is a detailed description of the hike from Sándavagur – Slættanes – Gásadalur.
You might also like
By guided tour
If you choose to book tours during your visit to the Faroe Islands, then that's as easy as it gets. Someone else will plan your trip for you and you can only focus on the creative parts! There are many different tours available and the ones I would recommend are these:
Wonders of Vágar Island – a small 1-day private group tour where you'll see all the best sights the island Vágar has to offer. Pick up and drop off, as well as lunch, are included!
The Photography Tour – hike with a local photographer on this day tour, who will show you all the best photography spots of the beautiful Vágar island attractions. Perfect for photography enthusiasts and with plenty of positive reviews!
The Gasadalur Winter Tour – if you're visiting the Faroe Islands during the winter, then this is the tour to book! The tour pick-up is in Torshavn and all the transfer fees are included (as well as the sub-sea tunnel fee).
Where to stay in Gasadalur
Gasadalur is very small – there are only 26 houses in the entire village! We stayed in this Airbnb and really loved it. We met 3 fellow travelers here and the location and the house were great. The Airbnb is just next to the only restaurant and cafe in the village, so in case you forgot to get food at the supermarket (which I highly recommend you have with you on all your stays), you can get a quick bite here as well.
Next door you can also get fresh eggs from the same house the Faroese clothing store is located in.
Another popular accommodation here is the Mulafossur Cottages, which come at a little higher price point but look very charming. They're a little further out of the village though, so not as convenient as the first Airbnb.
Save this article for later: