Booking a private boat tour in El Nido is the ultimate way to go if you want to experience Palawan in the Philippines without the hoards of tourists. So if exploring limestone islands, lying on an empty sandy beach, snorkelling among neon-coloured fish and colorful reefs is your idea of fun, then this is the post for you! Doing a private tour gives you the opportunity to customize the tour to your favorite places and arrive to them before the super-packed tourist boats arrive.
Boat Tours in El Nido
Before I start explaining how we booked our private boat tour in El Nido, I will share with you which tours are usually offered in El Nido. You can choose between 4 different tours. Each will have 4-6 destinations. Usually, the most popular tours are A and C. Due to their popularity, you will see a lot of people there at the same time. If I were on a limited budget, I'd choose tour B and try to see both Entalula Island and Pinagbuyutan Island. They were also our choice on the private tour and the highlight of our trip to El Nido.
Tour A: Big Lagoon, Secret Lagoon, Shimizu Island, and 7 Commando Beach
Tour B: Cudognon Cave, Cathedral Cave, Snake Island, Entalula Island (or Pinagbuyutan Island), and Popolkan Island
Tour C: Secret Beach, Hidden Beach, Matinloc Shrine, Tapiutan Island, and Helicopter Island
Tour D: Small Lagoon, Cadlao Lagoon, Nat Nat Beach, Pasandigan Cove, Paradise Beach, and Bukal Island
The best private boat tour in El Nido
We spent about half a day trying to find a place that offers private, customized tours. It was already late and as didn't find anything to fit our wishes, we decided to head for dinner at Frendz Hostel. On our way there we saw a small tourist office right next door. Figuring, if it's next to the hostel so it must be quite popular, so we walked in asked about private tours.
To our surprise, we got a great offer for 8,000 PHP boat coast, no matter how many people we are. With this cost, you can also choose 5 destinations to visit from any tour – as long as they are not too far apart (see map above to have an idea of choices). And as our luck was on a roll, the next day we also found a great couple to share the boat with! This then came to 2,000 PHP per person.
While I don't have the name for the agency we booked with and it's not on Google Maps, here is how you can find them. Go to Frendz Hostel and on the left side of it, you'll see the place. Here are the photos of what it looks like from the outside. The photos are not the best quality since I never expected to use them, but hopefully, it helps!
Best time to visit El Nido, Palawan
This island is warm all year round and it's best to travel here between November and May. While the highest temperatures are in April and May, they are also the driest months. We were there in April and while it was quite hot, it was bearable. Read more on best times to visit the Philippines in general here.
1. Pinagbuyutan Island
The first stop was truly the best way to kick-start our private boat tour in El Nido. When we arrived, we couldn't believe that we had this huge sandy beach and copious amounts of palm trees all to ourselves. Pinagbuyutan Island is absolutely stunning and the huge limestone cliffs make it very unique as well. We were the only boat on the entire island and we really took advantage of that!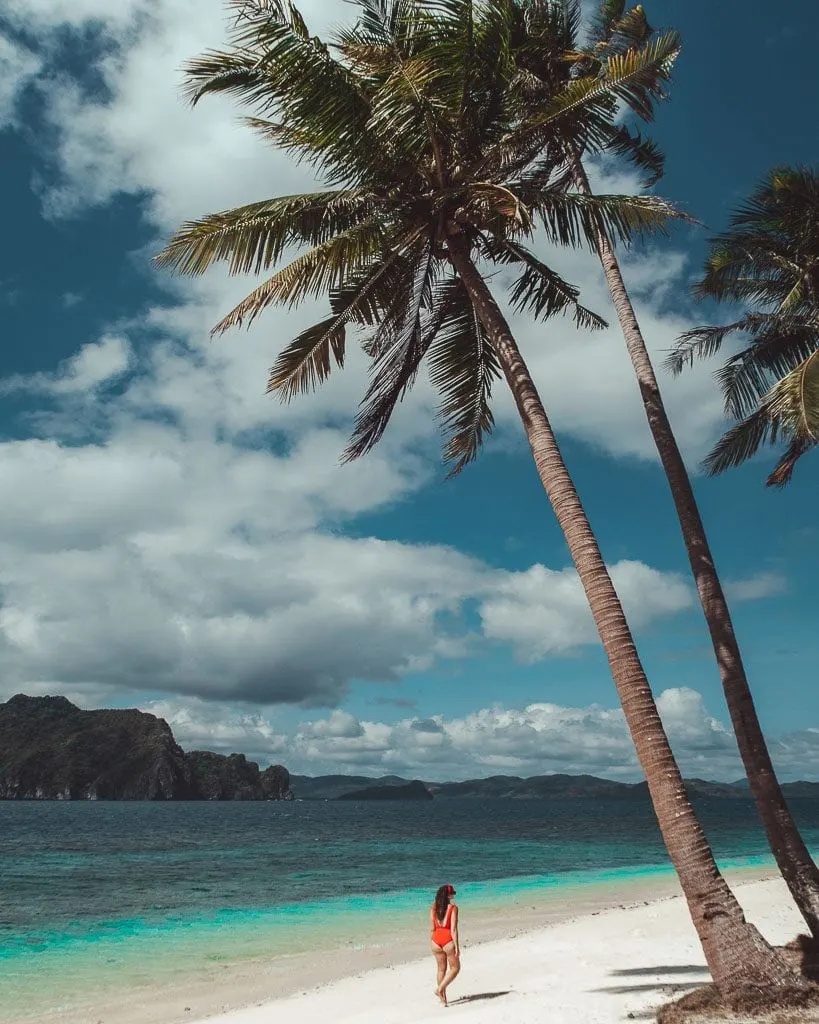 2. Snake Island
Snake Island is essentially a long sandbank, shaped like a snake. The sandbank connects the island to the mainland. It's very popular to take a walk in the sea and swim here, but beware – due to it's unique look it tends to be quite popular!
3. Entalula Island
Arriving on this island was an absolute dream. This is where our lunch was served and it really couldn't be more perfect! We spend about 1,5 hours here and a max of 2 boats parked there at the same time! We ate, swam, sunbathe, and hung out. This island is usually part of tour B and just as we were leaving the location, about 10 boats, with around 30 people in each, arrived. Wow, we were very happy to be leaving and can't even imagine how crowded that tiny beach was afterward. Yet another advantage to the private tour!
4. Shimizu Island
Originally we chose to see the Cathedral Cave as our fourth stop, but the crew told us that at this time of the year there are dangerous sea snakes swimming there, so they recommended we go to another place. So then the fourth stop was Shimizu Island. We spent the entire time snorkeling here and absolutely loved it! The visibility was perfect, the reef was colorful and there were so many interesting fish to follow around.
5. 7 Commando Beach
Our last, and least favorite stop on our private boat tour in El Nido was the famous 7 commando beach. This is also the last stop for tour A, so we definitely didn't get to experience the peace and quiet of previous islands. It was loud, crowded and at least 30 boats were blocking the shore. We wanted to snorkel, but the boats kept coming in and out and we really didn't feel like having an accident. So we decided to walk a little lower down the beach by the beach-volley place, to sunbathe. This is the only place we would skip. However, if you like a lively island party to end your private tour with, then you're in for a treat!
Disclaimer:
Combination and party boat tours are currently forbidden in El Nido. This new policy has been implemented to help minimize the negative impact of tourism in El Nido. These attempts are made to limit the number of tourists visiting El Nido's most popular destinations (Big Lagoon, Small Lagoon, Secret Beach). You will find that there are still tour offices going around this rule though.
SAVE THIS ARTICLE FOR LATER: