When it comes to the best things to do in Siargao, you will notice pretty fast that this palm tree-covered paradise has plenty to offer besides surfing. We spent a week exploring Siargao in the Philippines by motorbike and fell in love with the laid-back vibe, the friendly locals and the neverending palm tree roads. In this article, you will find the top 10 things to do in Siargao and everything you need to know before you visit.
Top 10 Awesome Things to do in Siargao
1. Palm Swing at Maasin Bridge
Undoubtedly the most popular thing to do in Siargao is swinging off the palm tree by Maasin Bridge. The palm tree swing is located just a short walk down Maasin Bridge on the Siargao Circumferential Road. The bridge is easy to spot and due to the recent popularity of the location, the palm tree swing now even has it's own location on Google maps, here. You can read a more detailed guide from our time at the palm swing here.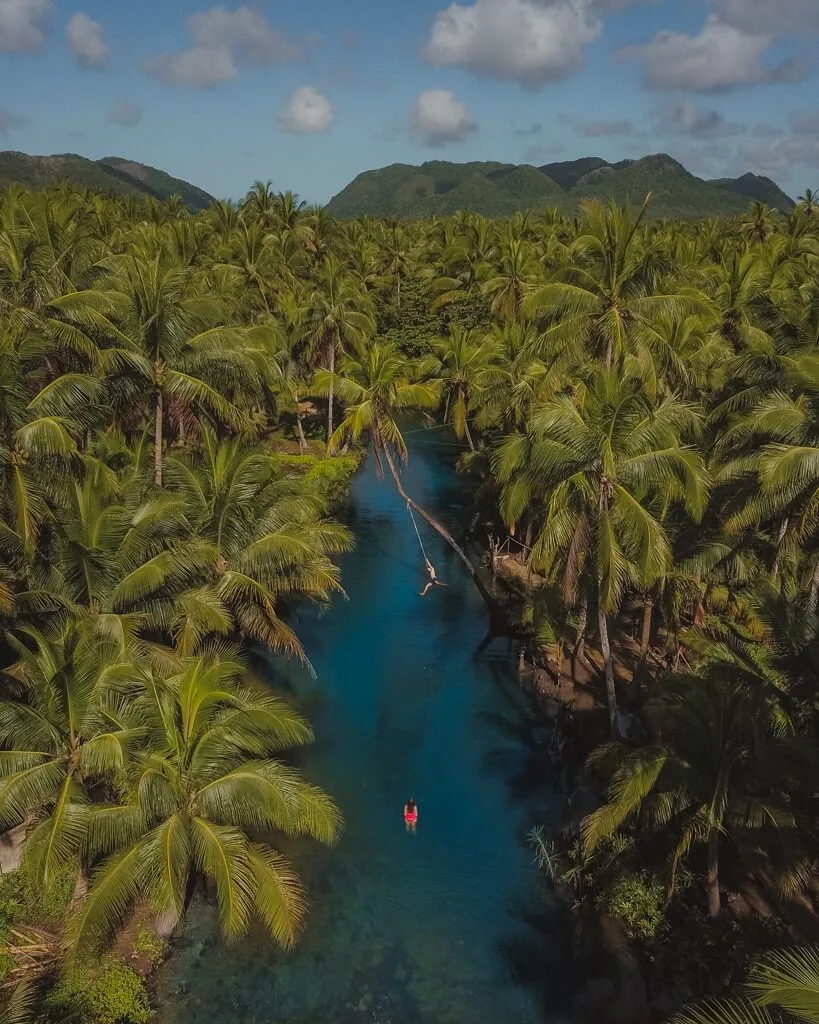 2. Magpupungko Rock Pools
Magpupungko Rock Pools could very well be defined as a hidden gem in Siargao, since they do stay hidden for the most part of the day. The rock pools at Magpupungko are revealed at low tide and are a beautiful and exciting place for swimming or cliff jumping. The pools here vary in size and depth though, so check the depth before you jump. The water in the pools is crystal clear but beware of the razor-sharp rocks that grace the bottom and the area around the pools.
I also wrote about the Magpupungko Rock Pools and you can read all about visiting here.
3. Tayangban Cave Pool
Undoubtedly one of the most fun places on Siargao island, Tayangban Cave is the perfect place for those hungry for a little adventure. But besides the adventure, you'll also see plenty of natural beauty and be able to discover the unique twin cenotes, bat caves and emerald rock pools.
You can easily visit the first three places in the same day. And – you guessed right, I even wrote about our time at Tayangban Cave Pool here.
4. Island Hopping
Island hopping in Siargao is the best way to spend the day in case a power cut happened (more on power cuts lower down). The most popular tour is the three islands tour (Daku, Naked, Guyam). But you could also book them separately if you're not interested in all three in one day. In my opinion, island hopping in Siargao is great if you want to take a swim in slightly deeper water (Siargao has very shallow, warm water at most beaches).
5. Surf at Cloud 9
We were so excited to try surfing at Cloud 9 and got in touch with an instructor per friend's recommendation. The guy answered us and we booked a time for the lesson the next day at 10 am. We show up at the pier and his wife tells us to come back later since he's surfing right now (we see him really far away, catching waves). We come back 3 hours later and guess what? He's still out there surfing. He totally ignored our lesson and hasn't responded to us on when he'll be done till the evening.
So, unfortunately, we never tried surfing there, but one good tip does come from this – make sure you book with a serious instructor. Otherwise, you could also opt for watching other people surf, while you sunbathe at the beach. Also, not a bad tip hehe.
6. Pacifico Beach
We visited Pacifico Beach after spending the morning at the palm swing and Magpupungko rock pools. We ate at Common Ground (you MUST have lunch here, it was one of the best restaurants we ever ate at – the rice bowls are to die for) and then headed to the beach. We put down our towels and fell asleep to the sound of waves. The beach here is very peaceful and very nice! When we woke up about an hour later, we saw that we even got company. Dogs are just too cute here!
7. Guyam Island
Guyam Island will most likely be included in your Siargao island hopping tour, but just in case it's not, you should really add it to your list of things to do in Siargao. Since we had no electricity and the tide on the main island was low, we decided to drive down to the port near the General Luna market.
There is where most of the fisherman boats are parked. We decided to see if anyone is willing to take us to a nearby island for some swimming and sunbathing. This is how we found out about Guyam Island. We spent a day sunbathing and drinking beer here, it was awesome! Read more about Guyam Island and the prices for going there here.
8. Eat at Shaka Cafe & Common Ground
It does feel strange to put restaurants on Siargao things to do list, but these two really are a must! Shaka Cafe is the best place for a smoothie bowl and Common Ground makes avocado toast and rice bowls that are absolutely delicious. Shaka Cafe is close to Cloud 9 and Common Ground is close to Pacifico beach.
9. Sohoton Cove
The Sohoton Cove is definitely a must-see in Siargao Island. While some tours include this island as well, it is best viewed on a day trip so you really experience the place in all its beauty. The trip here takes about 2 hours, so don't plan too many things on the same day. If you own a drone, this is the place to fly it. The views of hilltops and lush forests from above are absolutely stunning!
10. Ride Through the Coconut Palm Forest
As I mentioned earlier, Siargao is covered in palm trees. And when I say covered, I really mean covered. You'll see unprecedented palm tree views from just about every corner of the island. The best views are at the Coconut Trees View Deck (location) and on the road on the way from the view deck and towards the Maasin bridge. You'll be surrounded by palm trees here! This is another great place to fly your drone, just be cautious.
Best Restaurants and Bars in Siargao
Besides all the fun things to do in Siargao, you'll also want to know where to eat and drink. So here are my top picks for the best food and drinks in Siargao.
Pizza & Italian: Kermit Surf Resort, Bulan Villas, Kalinaw Resort
Filippino: Mama's Grill, Kitya's Place, Harana Surf Resort, Isla Cabana resort
Lunch: Bravo Beach resort, Shaka Café
Cocktails: Loose Keys Moto Culture, White Banana Beach Club, Bravo Beach Resort
When to visit Siargao
The rainy season is between November to March, but it still rains sometimes during the dry season. We visited at the end of April and barely experienced any showers.
It was quite hot and humid during the dry season though. Be also aware that there are many mosquitoes here, especially in the afternoon and evening. While dengue or malaria is not common in Siargao, bring mosquito repellent spray and carry it with you at all times. As someone who attracts mosquitoes, my spray was a life-saver.
How to get to Siargao
Getting to Siargao from Cebu or Manila is very straightforward – via a direct flight. You could opt for a budget option via ferries, but it takes a lot longer and unless your budget is very tight, not recommended.
I also wrote a more extensive and detailed guide on how to get to Siargao.
Getting to General Luna from Siargao Airport
Getting from Siargao to General Luna is very easy and straightforward. Once you leave the terminal. you could get any van from the airport, as most of them are going to General Luna town. The rate is always PHP 300 per person, and you just pay the driver directly upon drop-off.
You can also arrange van transport with your accommodation. This is especially very convenient if you're staying at a place with no address (like we did) and the driver doesn't know how to find it. They arrange the location details prior to picking you up and don't need to worry about the details upon your arrival.
ATM's and Paying in Siargao
Siargao is very unreliable when it comes to ATM's, so my best tip is to come prepared with enough cash for your duration of stay. Here are a few important tips or reminders about Siargao and ways of paying, to help you prepare better for the island experience.
– Most small and medium-sized businesses here accept cash payments only as this is still a small island.
– Credit card payments are accepted in bigger establishments like resorts; most resorts will charge between 3-5% which is a bank-imposed fee.
– ATMs are very unreliable here, especially for international debit or credit cards. The nearest ATM for foreign cards is in Dapa town (30 minutes away by motorbike). There you'll have 2 ATM's, one is in the DBP and the other in Centilan Bank.
– Money changer: Palawan Padala (located along the main road)
– For urgent needs, some foreigners get cash from Jabines Shop in general Luna or in Ronaldo's Restaurant, both charge 5% for getting cash though, so it's better to come prepared.
Power Outages in Siargao
You read right. Blackouts or power outages are very common on the entire island. Please expect up to 2-3 blackouts per week, usually lasting somewhere between 30 minutes to 1 hour. Also, about twice a month, Siargao's electricity provider makes a full-day scheduled power outage lasting about 8 hours, for maintenance purposes.
During a power outage, it might be more pleasant to be outside the house. Most of the more expensive resorts located on the main Tourism Road will have generators running especially in the evenings. We took shelter at Bravo Beach resort for device charging, some lunch and AC.
A power outage is also the perfect excuse for island hopping in Siargao as well. We went to Guyam Island and spent the rest of the day there, sunbathing and watching the locals play basketball. When we got back in the evening, the electricity was back.
PS: no need to worry about setting the alarm here, the roosters got you covered!
Siargao hospital
There is a clinic in General Luna that is open 24/7 called "Metropolitan Doctors Clinic." They can treat you for emergency response / first aid, but they cannot handle serious injuries and operations. Please always observe safety and precaution. If you rent a motorbike, please make sure you ask for a helmet and use it.
There is a hospital in Dapa town (30 minutes away by motorbike) but most foreigners prefer to fly to Cebu City or Manila City for serious injuries.
Siargao Grocery Stores
Grocery shopping is a good idea, especially if you're staying on the island a little longer. Siargao is not the most budget-friendly island in the Philippines, so getting some cereal and milk for breakfast could go a long way and help save quite a bit of money. We generally had breakfast and lunch at our Airbnb (unless we were out & about) and always ate dinners out.
Groceries: Tag Grocery, Marc & Lawrence grocery, Sam's Pharmacy, Saver's Plus
Fruits & veggies: Puyot Dry Market. There are also many small fruit sand vegetable stands along the main tourist road, close to the church.
Deli meats, cheese, wine: Deli Street, Italian Food Specialists
Fish, chicken, pork: the main market of General Luna is just beside the pier. They have fresh fish usually available early morning or late afternoon. For chicken and pork, we went to Chicken Depot.
The Best Laundry Place in Siargao
The place we did our laundry at is called Island Tropical Laundry Service, which is only a couple of minutes motorbike drive from General Luna tourist area. The price is 35 pesos per kg and they require a minimum order of 4 kg. They did a great job doing the laundry and they do free pickup and delivery to your accommodation as well.
Their Facebook page: here
Contact number: +63-907-0906833
I hope you enjoyed this extensive Siargao travel guide and the best things to do in Siargao. I wrote a few more detailed guides to the Philippines and you'll find everything you need for your travels there here.
Save this article for later: