Siargao is by far the most palm-tree covered island I have ever seen in my life. And there is one particular palm tree in Siargao that has gained the love and admiration on the internet. So how do you get to this Siargao palm tree swing? Where exactly is it located? How much does it cost to swing from it? Here is everything you need to know about visiting the famous Siargao palm tree swing in the Philippines!
Maasin Bridge – Palm Swing Location
Where is the Siargao palm tree swing located? The palm tree swing is located just a short walk down Maasin Bridge on the Siargao Circumferential Road. The bridge is easy to spot and due to the recent popularity of the location, the palm tree swing now even has it's own location on Google maps, here. The palm tree swing is named 'Baliko' on the map.
On the top map, you can also see where to park your scooter for a small fee. Once you park at the parking lot, walk down the road to the bridge and take the path that goes under it. There you'll pay an entrance fee of PHP 25 per person. This entrance fee is only for walking into the area. If you want to swing off the palm tree, you'll have to also give an (obligatory) donation. We gave PHP40 for one person.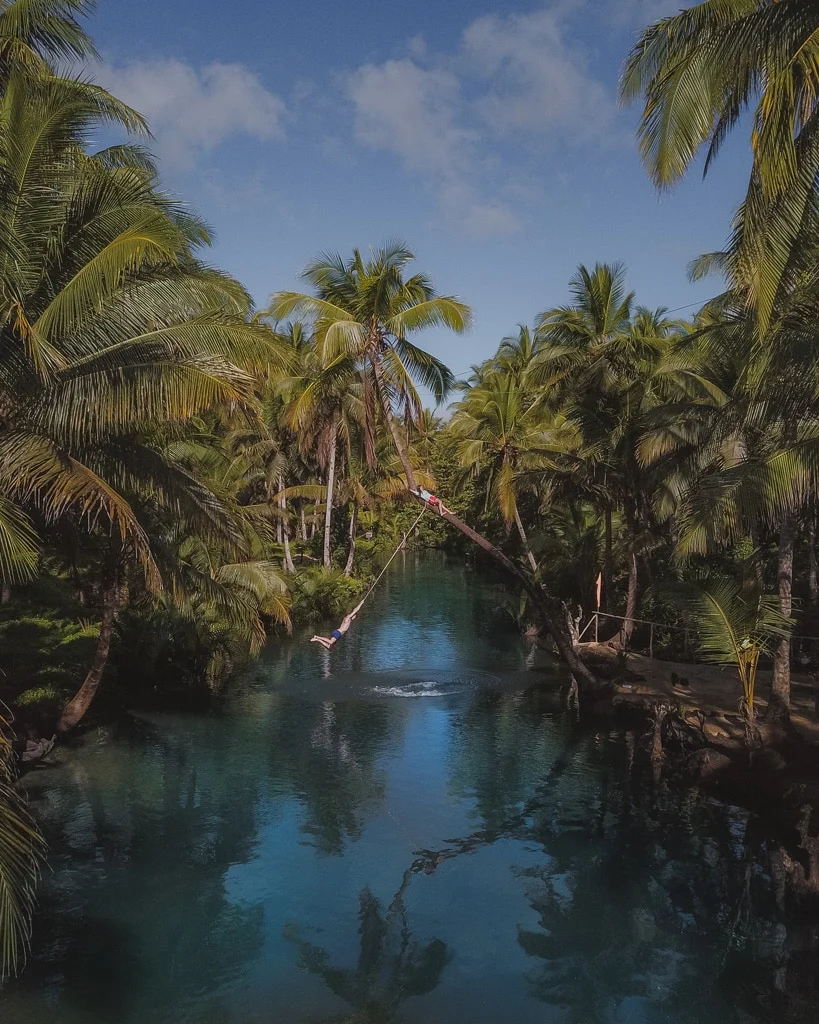 Siargao Palm Tree Swing
Once you arrive at the palm swing, you can also opt to rent a boat near the entrance. The cost of these boats is very hefty, at PHP500 per person. The price was the same if you wanted to rent it for 10 minutes or 1 hour. Which is why we decided to skip it.
A good expectation to manage is that swinging off a palm tree is anything but easy. I've done it once in Sri Lanka and must admit I got pretty scared. On this Siargao palm swing, only Mike dared to climb it and swing off. I just watched and took pictures 🙂 You'd be surprised how many people attempted, only to splash right in the water without even swinging once. Definitely requires a bit of upper body strength! But if you're in great shape and a little bit of a dare-devil, then this palm swing adventure will be just what you need when you visit Siargao!