There is quite literally an abundance of unique cafes in Seoul, so if you're a coffee lover looking for a cool place to sip your coffee in, then Seoul definitely is the way to go.
From animal themed cafes (cats, dogs, sheep and raccoons all featured in this article) and hidden cafes tucked away in narrow alleys to modern and minimalistic spaces with unique interiors, there's something for everyone in this list of the best cafes in Seoul. I have personally visited all of the cafes below and am happy to admit I have an (un)healthy obsession with just about any Korean cafe.
Since I know not everyone manages to visit more than one or two cafes a day, I decided to narrow down my extensive list of the best cafes in Seoul to 25 for you to easily choose from. In this article are also a few TikTok viral Korean cafes that I am certain a lot of people will recognize. And most of these best cafes in Seoul are even on my TikTok account!
1. Thanks Nature Cafe – Sheep cafe in Hongdae
In the heart of Hongdae, a popular Seoul district, right next to a busy street lies one of best themed cafes in Seoul – a sheep cafe. There are two sheep in this cafe (or just outside of it) and you can pet them as much as you want! There is no admission fee, but you do have to make a purchase to get in with the sheep.
I ordered a croffle and a latte here and they were delicious! I pet some sheep before getting my order, as well as after I finished, and I gotta say – my day was made!
Check out my TikTok video from the Sheep Cafe.
2. Greem Cafe – 2D Cafe in Seoul
The cafe's name, Greem, comes from a Korean word which means a "cartoon" or a "painting". This particular cafe is one of the best cafes in Seoul. Why, you ask?
Well, this is a 2d cafe in Seoul and when you step inside of it, it looks like you're in a cartoon! From the drink lids to the furniture, everything about Greem cafe is cool and you'll definitely want to snap lots of photos here!
Check out my TikTok video from Greem Cafe.
3. Nuldam Space – Send a letter to yourself
Looking for something special to make your trip to Seoul extra memorable? Check out Nuldam Space – this unique cafe in Seoul offers a truly one-of-a-kind experience. Here, you can send a postcard or letter to yourself from the future! Grab a drink and the letter kit, write your message, use wax to seal it and then place it in the box for your chosen date of when you would like it delivered.
You can purchase both international and domestic stamps right at the counter. The letters will be held safely until that chosen date, when they'll be sent directly to your mailbox. No wonder its so popular on TikTok and so high on the list of the best cafes in Seoul.
4. Onion Cafe – Hanok house cafe
This Seoul cafe is viral on TikTok, and for a good reason – it's absolutely adorable! Located in a traditional hanok house, Onion Cafe is the perfect spot for an afternoon of tea, coffee and pastry. You'll find a couple of Onion Cafe's in Seoul, but the one that's in a hanok house is in Anguk.
5. Cat's Playground Myeongdeong – Cat Cafe with over 50 cats
If you love cats, then Cat's Playground in Myeongdeong is the place for you. This cat cafe has over 50 cats and they charge an entry fee to all visitors. But don't worry, it's only $10 and it includes a drink! All cats are very friendly and you can easily spend a few hours here just hanging out with them.
Check out my TikTok video from Cat's Playground.
Tongue Planet is another one of the best cafes in Seoul's area of Seongsu. They have a wide variety of unique drinks, snacks and desserts, but their most popular items are their tongue cookies and distressed face cake.
The cafe itself is very big and even has beds for sitting, as well as lots of out-of-the-box furniture design. I loved this place and since Seongsu is my second favorite area in Seoul, I highly recommend a visit here.
Check out my TikTok video from Tongue Planet.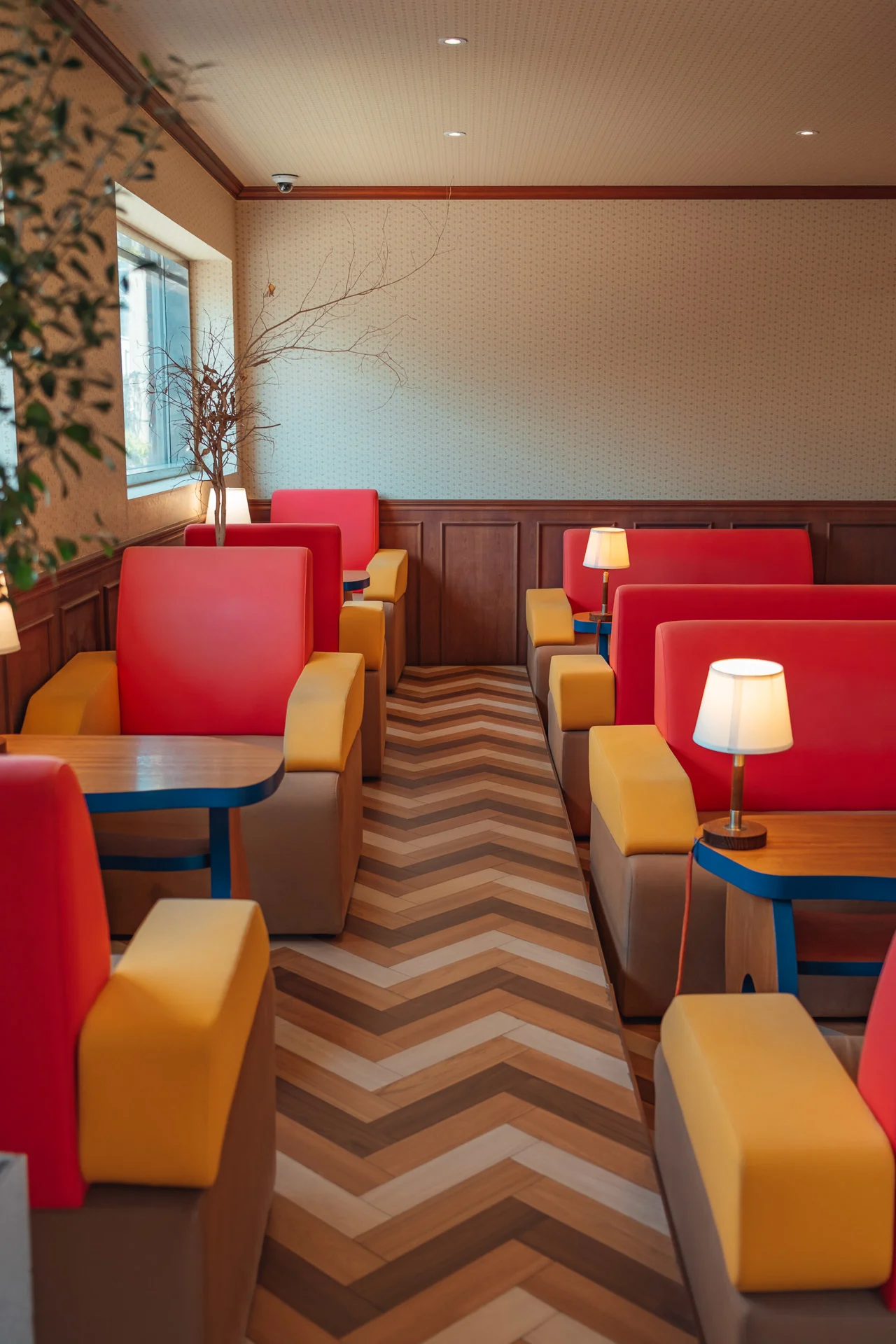 7. Daelim Changgo – Industrial cafe, coworking
Almost right next door to Tongue Planet is Daelim Changgo. An industrial cafe with beautiful pastries, this is one of the cafes in Seoul that is also great for coworking. So if you need to get some work done while sipping on a latte, this is the place!
Check out my TikTok video from Daelim Changgo.
8. Nudake Haus Dosan – Unusual desserts and coffee
Nukade has a couple of locations in Seoul, but I love the one in Haus Dosan. They have all the unique pastries, desserts and drinks here, but the bonus is that it's in the basement of the house where Gentle Monster (sunglasses) and Tamburins (perfumes) are located as well. But beware, it's very easy to spend money here, especially if you like the last two Korean brands.
Check out my TikTok video from Nudake.
9. Moment Hannam – Minimalist haven
Moment is one of those cafes where you enter and just feel at ease – and this is why it's on this list of the best cafes in Seoul. The soft jazz playing in the background, the minimalist design and the absolutely amazing coffee – you can't go wrong with this place. They even have a few cool photo spots here so make sure you come with a camera!
Check out my TikTok video from Moment Hannam.
10. Cafe Munei – Cake sandwich
One of my favorite cafes in Seoul is Cafe Munei. Partially because it was 1 min walk from my Airbnb and partially because their drinks were really good. But for the most part, it was because of their cake that is actually a sandwich. So if you're in the mood for a sweet sandwich, I highly recommend you try it out.
Check out my TikTok video from Cafe Munei.
11. Wonhyeongdeul – Crazy cake designs
Just a couple of minutes away from Cafe Munei is Wonhyeongdeul, a cafe known for its made-by-order crazy cake designs. The cafe has a hipster vibe and decor and the cakes and coffees they offer are very tasty. We shared the most popular pink one and it's 100% worth the order. They also do cakes by order so don't forget to add it to your list of the best cafes in Seoul if you happen to be celebrating a special occasion during your visit to Korea.
Check out my TikTok video from Wonhyeongdeul.
12. Time to Tune – Small and cozy cafe with amazing coffee
And my third favorite cafe in the same area as Munei and Wonhyeongdeul is Time to Tune. The cafe is very small and super cozy and their coffee and donuts taste beautiful. The coffee here is in my top 5 of everywhere I've been in Seoul!
PS: the cafe is now a brunch spot with the name Hoook Euljiro.
Check out my TikTok video from this cafe.
13. Pink Pool Cafe – Pool cafe with lots of pastries
Stylenanda Pink Pool Cafe was one of my first outings when it comes to unique cafes in Seoul. The pool area is incredibly Instagrammable and I love their choice of drinks and desserts. It's located in the trendy Hongdae area and on the top floor of the Stylenanda store (which you also need to browse). I wrote an article from my visit to this cafe and you can find it here.
PS: I believe the pool is not the same anymore, but still worth a visit!
Check out my TikTok video from the Pink Pool Cafe.
14. Type Hangang – View of Seoul with a tasty Einspänner
If you haven't had an iced Einspänner in any of the above Korean cafes yet, then this is the place you'll order it. Type is conveniently located by the Han River and makes for a great refreshing stop if you happen to be cycling along the river.
Check out my TikTok video from this cafe.
15. Check Grow – Library cafe
Whether you're looking for a peaceful place to read a book, work or study from, Check Grow is the right place to go! The cafe spans over several floors and there's a beautiful library part that you cannot miss there.
Check out my TikTok video from this cafe.
16. Samoyed Cafe – Dog cafe
Of course Korea has dog cafes! And this one in particular is TikTok famous. It's located in Hongdae and is packed with big, white fluffy dogs. You'll get lockers to put your items in and then you can give them treats. In the end you can even take a photo with all the 12 dogs.
17. Raccoon Cafe – Raccoon cafe
Just a few meters down the road from the sheep cafe is Raccoon Cafe. This cafe has a cafe section where you'll have to get a drink and then you can enter the raccoon area. You can play with them or feed them and
18. Seoul Angmusae – Kouign Amann and cinnamon rolls
Near Seoul Forest in the area of Ttukseom is Seoul Angmusae, a Seoul cafe that went viral on TikTok due to its delicious Kouign Amann and cinnamon rolls. When going there expect to stand in a line to place an order. You will only be able to sit inside if you order a drink.
19. Soha Saltpond – Salt bread cafe
Ikseon-dong is small yet packed with cosy hanok cafes. I walked past Soha Saltpond one evening and noticed almost all their pastries were gone. So I figured we have to come back earlier one day, and we did! The cafe is small and cosy and their coffee and pastries tasted amazing.
20. Cafe Tape – Space cakes and theme
I didn't cafe-hop in Itaewon so much, but Cafe Tape is one of the best cafes in Seoul if you're looking for Instagrammable cakes and drinks. The interior is pretty cool too and they have a rooftop area where you could also enjoy a craft beer.
Check out my TikTok video from this cafe.
21. Appiforet 아삐뽀레 – Animal sculptures in a hanok
If you're looking for a cafe in Ikseon-dong with a great selection of cakes and ice-cream than this is the place! The inside is also very beautiful and there's lots of people taking pictures here. I opted for a carrot cake and it was delicious!
22. Hyemindang – Secret spot cafe
Coffee lovers unite – this secret cafe has drip coffee and the taste and flavors are so good you'll feel like you won't be sleeping for a week. It's a little harder to spot so make sure you keep your eyes peeled to a tiny space between two buildings to enter.
23. Cafe 1인1상 – View of Eunpyeong Hanok Village
If you happen to be going to Eunpyeong Hanok Village (which you should!), you can't give Cafe 1인1상 a miss. With a beautiful view of the village from the top floor, make sure you arrive just before they open to secure a spot just by the window. We ordered a variety of drinks and traditional desserts and everything tasted very delicious. This cafe is located a little further out from the city, but it's definitely one of the best cafes in Seoul!
Check out my TikTok video from Eunpyeong village.
24. Poop Cafe – Poop themed cafe
Ever dreamt of drinking coffee from a toilet bowl? Yeah, me neither. But you can at Poop Cafe in Seoul! So if you find yourself shopping in the Insadong area, take a break at this popular cafe.
25. Cafe Layered – Abundance of sweet choices
Hongdae area is packed with amazing cafes and who am I to not include Cafe Layered in my list of the 25 best cafes in Seoul? Gone viral several times on TikTok, this cafe has an abundance of choices for cakes and pastries and you must order a drink if you want to eat it there (same goes for just about any cafe in that area).
I hope you enjoyed reading this list of the 25 best cafes in Seoul!