Jeju Island, South Korea's largest island, is a breathtaking destination known for its natural beauty and adventurous experiences. One of the best ways to explore Jeju Island is by taking a road trip, which allows you to see the island's hidden gems and experience its unique charm. In this article, I'll be sharing my Jeju road trip itinerary and the best things to do on this enchanting island.
During my road trip in Jeju Island, I was able to visit a variety of attractions, from the famous Seongsan Ilchulbong Peak to the lesser-known Oedolgae Rock. Whether you're a nature lover, a foodie, or a history buff, there's something for everyone on Jeju Island. So, if you're planning a trip to South Korea, make sure to add Jeju Island to your itinerary and take a road trip to experience all that this beautiful island has to offer.
Planning your Jeju Road Trip
If you're planning a road trip to Jeju Island, it's important to do some preparation beforehand. Here are some things to consider before hitting the road.
How many days should I spend in Jeju?
I highly recommend you spend at least 3 nights on Jeju Island. The island is not as small as it may seem and it takes a few hours to drive from one end to the other. If you want to visit Udo island, then add another day to whatever your Jeju itinerary is. This way you will have an unforgettable Jeju road trip.
Is 7 days in Jeju too much?
I would say 7 days is the perfect amount of time for any first-time visitors to Jeju island. Staying for longer than 3 days will allow you to explore all the sides of Jeju island, as well as Udo – which is very charming! We did an autumn Jeju road trip for 5 days and I can highly recommend those extra days for relaxing.
Best time to visit Jeju Island
Jeju Island has a mild climate all year round, but the best time to visit depends on your personal preferences.
If you want to avoid the crowds, it's best to visit during the shoulder seasons of spring (March to May) and autumn (September to November). If you want to enjoy the beaches and the water activities, summer (June to August) is the best time to go. However, keep in mind that it can be very hot and humid during this time. Winter (December to February), on the other hand, is cold and often snowy, making it a less popular choice for a road trip but a great choice if you're looking to relax and visit cozy cafes and restaurants.
We visited Jeju in the beginning of November and the weather was perfect. Sunny and warm, without being too hot to wander outside.
Car rental in Jeju airport
Renting a car is the best way to explore Jeju Island. There are several rental car companies available at Jeju International Airport – we opted for Lotte Rental and got their cheapest option which was the KIA Ray. A cute little car that was perfect for the two of us!
When choosing a vehicle, consider the size of your group and the amount of luggage you have. Also, make sure to check the rental policies and insurance coverage before signing the contract. I highly recommend you rent your car well in advance (at least 2 months). Jeju is a popular destination amongst the locals and they all rent cars while road tripping through Jeju. By choosing the right time to visit, the right vehicle for your needs, and packing the essentials, you'll be well-prepared for an unforgettable adventure.
You can easily book a car rental in Jeju here as well.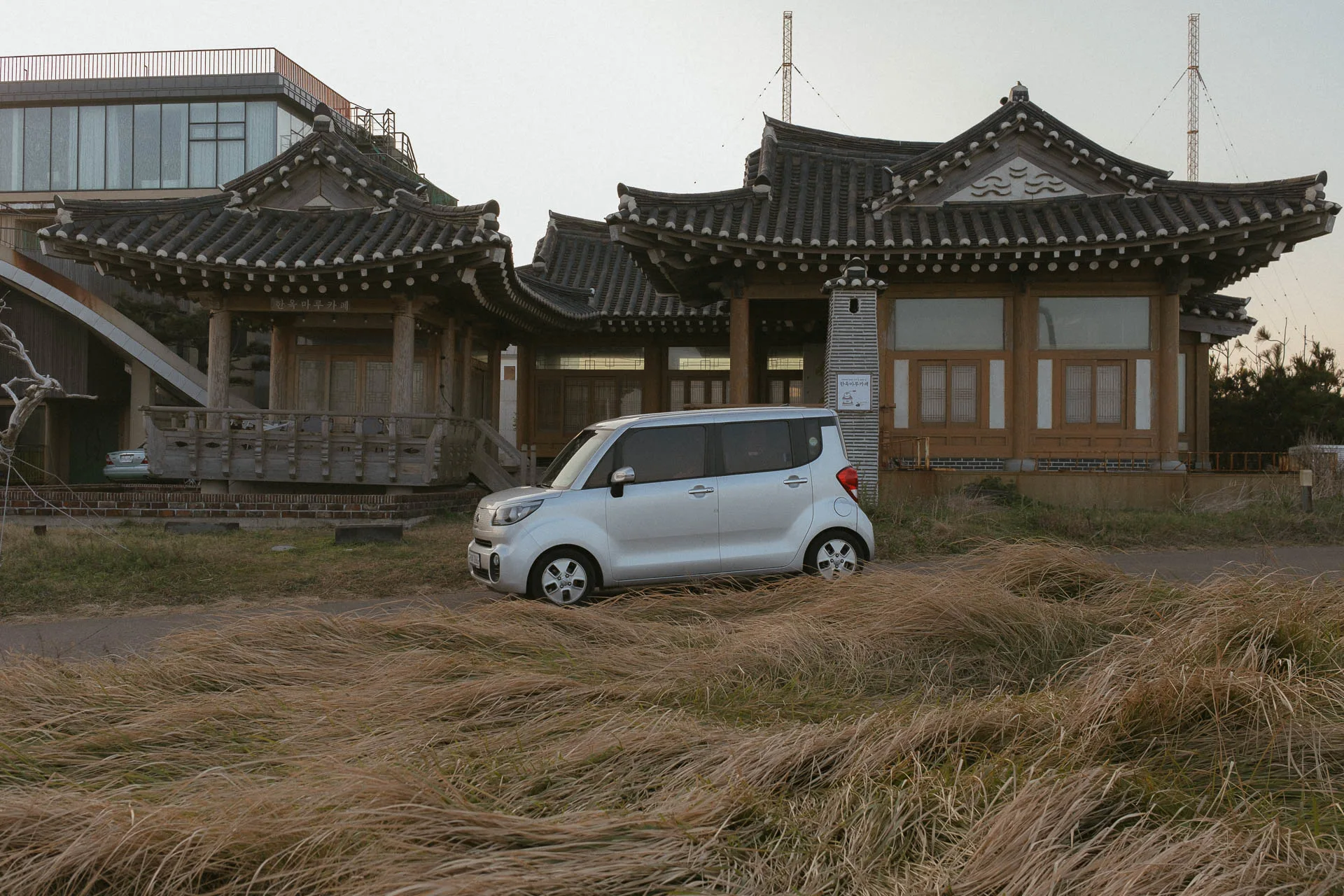 Is driving in Jeju hard?
Driving in Jeju is very easy. The roads are well maintained and wide and people are generally a lot calmer than the streets of Seoul or Busan.
Budget and expenses for 3 Days
For a comfortable 3-day road trip, my Jeju Island budget would include the following expenses per person:
Accommodation: Roughly $90 per day for a double room in a guesthouse or hotel. For a more traditional house expect to pay around $200 a night.
Car rental: $40 per day (for cheaper vehicles)
Food: $50 per day
Attractions: $4.50 – $18 per site
Miscellaneous (parking, fuel, etc.): $9 – $18 per day
Total budget for 7 days: roughly $200 a day or $600 for 3 days.
Keep in mind that this budget can vary depending on individual preferences and travel style.
What to Pack
For your Jeju road trip, I recommend packing the following essentials:
Comfortable clothing appropriate for the climate and season
Waterproof jacket, especially during the rainy season (June to July)
Hiking shoes for outdoor activities, such as exploring Hallasan Mountain
Swimwear and beach essentials for the summer months
Camera and extra batteries
Adapter and portable charger for your electronic devices
Basic first aid kit
International driver's license
Remember that the key to a successful Jeju road trip is being well-prepared for the diverse experiences this remarkable South Korean island has to offer!
Best Things to Do in Jeju Island
There is quite literally an abundance of things to do in Jeju Island. In this Jeju road trip itinerary I will give you some ideas based on the kinds of activities you prefer and you can choose what you want to explore further. From hiking to lounging on a beach, Jeju really caters to every type of traveler.
Top 3 Hiking Trails in Jeju Island
The top three hiking trails in Jeju Island are Hallasan Trail, Yeongsil Trail, and Eoseungsaengak Trail. I highly recommend a hike up Mount Hallasan, the tallest mountain in South Korea and a UNESCO World Heritage Site.
Hallasan Trail: This is the longest and most challenging of the three, but it offers spectacular views of diverse landscapes and various flora and fauna.
Yeongsil Trail: A slightly shorter option, this trail provides breathtaking views of Hallasan's vast crater and surrounding areas.
Eoseungsaengak Trail: For a shorter and more accessible hike, Eoseungsaengak is perfect for experiencing the unique volcanic landscape without taking up too much time.
Best Beaches in Jeju Island
My top three favorite beaches during my visit to Jeju Island are Hyeopjae Beach, Woljeongri Beach, and Udo Island:
Hyeopjae Beach: Its turquoise waters and white sands make it a great spot for swimming, surfing, and diving.
Woljeongri Beach: With picturesque views of the volcanic coastline and crystal-clear waters, this beach is perfect for a leisurely stroll or a quick swim.
Hamdeok Beach: A beautiful white sand beach close to Jeju city and the airport. You can do several activities here or grab a coffee at the popular Cafe Delmoondo.
Natural Landscapes and UNESCO World Heritage Sites
The natural landscapes that can be found on Jeju Island, South Korea:
Hallasan National Park – Hallasan National Park is a must-visit destination for hikers and nature lovers. Featuring Hallasan, the highest mountain in South Korea, this park offers stunning views and unique flora and fauna.

Seongsan Ilchulbong Peak – Seongsan Ilchulbong Peak is a natural wonder that rises out of the sea, offering breathtaking views of the surrounding waters and the nearby islands. This volcanic cone is a popular spot for hiking and photography.

Jeju Olle Trail – Jeju Olle Trail is a network of walking paths that takes visitors on a journey through Jeju's scenic countryside, offering a glimpse into the island's rich culture and history.

Cheonjiyeon Waterfall – Cheonjiyeon Waterfall is a picturesque waterfall that is illuminated at night, creating a magical and romantic atmosphere. Visitors can enjoy the natural beauty of the waterfall during the day and the enchanting ambiance at night.

Manjanggul Cave – Manjanggul Cave is a unique attraction that showcases the island's volcanic landscape. This lava tube cave stretches for over 7 kilometers and offers visitors a chance to explore the underground wonders of Jeju.

Udo Island – Udo Island is a small island off the coast of Jeju that is known for its beautiful beaches and scenic landscapes. Visitors can enjoy a relaxing day on the beach or explore the island's rich history and culture.

Seopjikoji – Seopjikoji is a cape on the eastern coast of Jeju that offers stunning views of the sea and surrounding cliffs. This picturesque location is a popular spot for photography and relaxation.

Jeju Stone Park – Jeju Stone Park is a park that showcases Jeju's unique volcanic landscape and traditional stone culture. Visitors can learn about the island's history and culture while enjoying the natural beauty of the park.

Jungmun Daepo Coast Jusangjeolli Cliff – Jungmun Daepo Coast Jusangjeolli Cliff is a cliff formation created by volcanic activity that is popular for its unique hexagonal columns. Visitors can marvel at the natural wonders of the island while enjoying the fresh sea breeze.
The UNESCO World Heritage Sites located in Jeju Island, South Korea:
Jeju Volcanic Island and Lava Tubes – Jeju Volcanic Island and Lava Tubes are a UNESCO World Heritage site located in South Korea. The site comprises three lava tube systems and a shield volcano, which are a testament to the island's volcanic history. The lava tubes are a fascinating natural wonder, with unique geological formations that attract visitors from all over the world.

Seongsan Ilchulbong Peak and Surrounding Volcanic Landscape – Seongsan Ilchulbong Peak and the surrounding volcanic landscape are also located on Jeju Island. The peak is a volcanic crater that rises up from the sea and offers stunning views of the surrounding landscape. The area is known for its unique geological features, including volcanic cones, lava tubes, and volcanic rocks.

Gochang, Hwasun and Ganghwa Dolmen Sites – Gochang, Hwasun, and Ganghwa Dolmen Sites are three ancient burial sites located in South Korea. These dolmen sites are believed to date back to the prehistoric era and are a testament to the region's rich cultural heritage. The dolmen structures are made of large stones and are considered to be some of the best-preserved examples of their kind in the world.
Quirky Museums in Jeju
If you're looking for something a bit different on your Jeju road trip, I recommend visiting these three quirky museums on your Jeju itinerary:
Hello Kitty Island: Hello Kitty Island is an indoor theme park located in Jeju Island, South Korea, dedicated to the popular Japanese character, Hello Kitty. The park features various attractions, including a 3D theater, a Hello Kitty museum, a gift shop, and a cafe.

Teddy Bear Museum: The Teddy Bear Museum is dedicated to showcasing a wide variety of teddy bears from around the world. The museum features a range of exhibits, including historical teddy bears, celebrity bears, and bears dressed in traditional costumes from different countries. Visitors can also enjoy interactive displays, such as a teddy bear photo studio and a teddy bear making workshop. The museum is a fun and educational destination for families and teddy bear enthusiasts alike.

Love Land: Love Land is an outdoor sculpture park located in Jeju Island, South Korea, dedicated to showcasing various erotic and sexual art pieces. The park features over 140 sculptures, paintings, and installations, all with a focus on love, sex, and relationships. Visitors can explore the park's various themed zones, including the Garden of Venus, the Love Castle, and the Erotic Sculpture Zone.

The park also offers educational exhibits and interactive experiences, such as a 4D cinema and a photo booth. Love Land is a unique and controversial destination, attracting visitors from all over the world.
Moomin Land: Moomin Land is an indoor theme park located in Jeju Island, South Korea, based on the beloved Finnish children's book series, The Moomins. The park features various attractions, including a Moomin museum, a gift shop, and a cafe.

Visitors can enjoy a range of activities, such as taking photos with life-sized Moomin figures, exploring Moomin Valley, and participating in Moomin-themed workshops. The park is a must-visit destination for fans of The Moomins and those looking for a fun and whimsical experience.
Jeju traditional food
Jeju Island has a unique cuisine that is influenced by its geography and climate. Some of the traditional foods that are popular and you can try on your Jeju road trip are:
Black Pork – Jeju black pigs are known for their tender meat and distinct flavor, and are often served grilled or in stews. We had it and can confirm it was delicious!
Seafood – Jeju Island is surrounded by the sea, so seafood is a staple in the local cuisine. Some popular seafood dishes include abalone porridge, grilled cuttlefish, and raw fish.
Jeju Tangerines – Jeju Island is famous for its sweet and juicy tangerines, which are often used in desserts and drinks.
Jeju Gamgyul – a type of orange that is grown on Jeju Island and is known for its sweet and tangy flavor.
Jeju Mandarins – another type of citrus fruit that is grown on Jeju Island and is often used to make marmalades and jams.
Heukdwaeji – a type of black pork that is marinated in a mixture of soy sauce, garlic, and other spices, and then grilled.
Jeonbokjuk – a porridge made with abalone and rice, often served as a nutritious breakfast dish.
Kongguksu – a cold noodle dish made with soy milk and noodles, often served with vegetables and meat.
Where to stay on Jeju Island
When planning your Jeju road trip itinerary, consider the type of accommodation you prefer, your budget, and the island areas you plan to explore. With countless hotel, hostel, and Airbnb options available throughout Jeju, you're sure to find the perfect place to stay.
We stayed in a variety of regular hotels, Airbnb's and beautiful traditional Jeju stone houses during our Jeju road trip.
We booked places to stay in three different areas of Jeju and they were perfect for our week-long road trip in Jeju Island. My best tip is to browse around Stayfolio – a (much better) version of Airbnb. We chose Stay Quidi and had a beautiful stay!
Is it Worth Visiting Jeju?
Jeju is 100% worth the visit, especially if you are planning to come to Korea for more than a week. I hope you enjoyed this article about how to have the best Jeju road trip! If you are looking for more inspiration on where to travel in Korea, then make sure you have a look at all my Korea articles.