When you travel to just about any safari destination in Africa, you're bound to spend countless hours in the car. So, when we saw a lodge in Uganda that also does a horse safari, we didn't hesitate one bit to get in touch with them! Doing a horse safari is a great way to experience the wildlife in nothing but the sounds of nature and not scare off the wildlife with a vehicle. Here is everything you need to know about an African horse safari in Uganda.
About horse safari
I'll say it again – make sure to book far in advance. If you're going to Uganda you should book your plane tickets, gorilla trekking, and horse safari at the same time. We actually booked gorilla trekking before the plane tickets, since you never know if you will get a spot confirmed for the more limited experiences.
Anyone, regardless of their riding ability, can do a horse safari. If you've never been on a horse you should perhaps only opt for 1 or a max of 2 hours though. Depending on the kind of horse they have, they might have to weigh you before you ride as many horses can't take on a rider weighing over 85 or 100kg. Don't be offended if they ask you to step on a scale though, this is just to protect the horses and their backs.
They will also provide you with a helmet, and if you're not wearing long pants even leg protectors. You'll be able to take your camera with you and the staff that accompanies you will be more than happy to take pictures of you as well. They will also give you some water, but bring your own just in case they don't have it.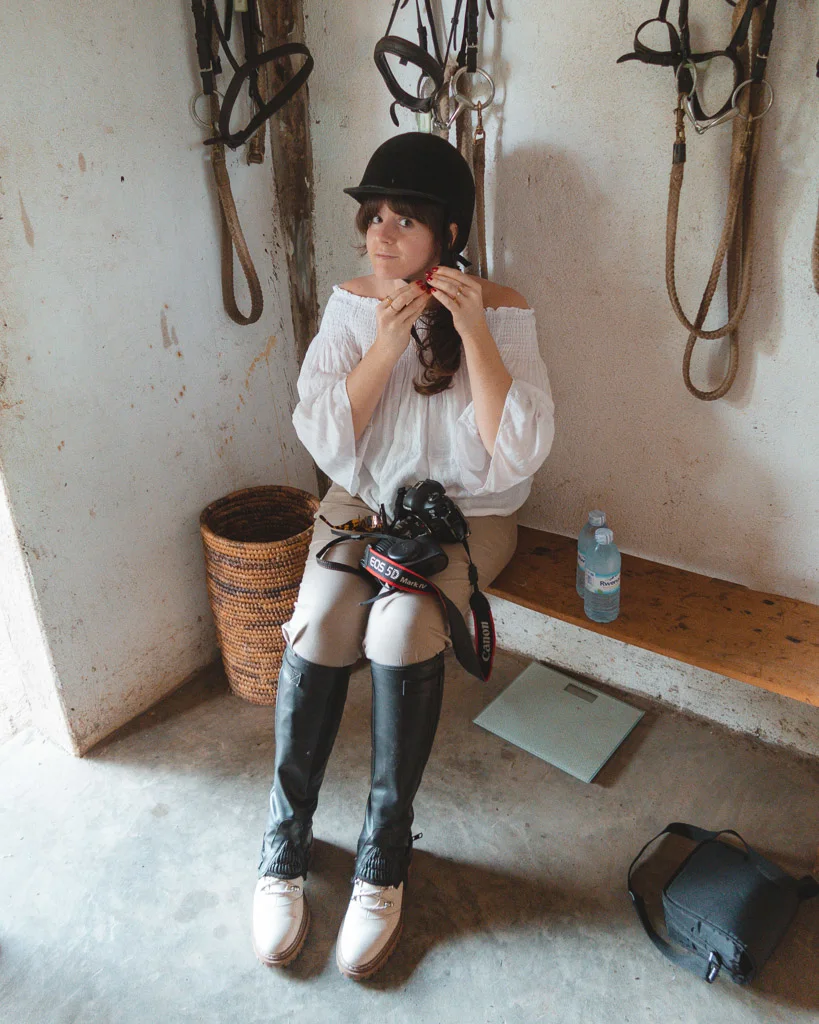 Is it safe?
I know the first thought you might be having when it comes to a horse safari is 'but what if a lion attacks me?'. Well, the horse safaris in Africa are usually only in parks where there are no (or very few) predators. We did ours at Lake Mburo and this park has so few predators you are even considered lucky to spot one. And lions don't tend to be active during the day, they hunt at night.
The most amazing thing about doing the horse safari is getting up close to the wildlife, without scaring them away. They're not as frightened of horses as they are of people, so you'll be able to observe them as they go about their daily lives from up close.
You might also like
African horse safari price
An African horse safari is by no means a budget experience. It's catered very specifically to tourists and is a popular experience that must be booked far in advance. For 1 hour on the beautiful horses at Mihingo Lodge in Uganda, you will spend $60 per person. If you opt for an even more special experience of 4 hours of horse riding and a picnic breakfast, then expect to pay $160 per person.
Horse safaris in Africa, in general, can even cost you even up to $4000 USD though, so Uganda might just be the cheapest to choose when it comes to this luxury experience.
If you happen to be going to Uganda and want to book with Mihingo Lodge, then expect them to prioritize their own lodge guests first. They have a limited amount of horses and external visitors are usually not so lucky to even get a response from them. Make sure you book far in advance and call them if necessary! We couldn't get them to respond to emails at all.
This is a beautiful and very unique experience. You can also check out my Instagram for more stories from Uganda. Remember to put away your camera after you're done with the pictures and truly enjoy the surroundings and the wildlife.
Save this post for later: