Arguably one of the most charming cities in Europe, if not the world, Venice is around one and a half thousand years old and a magnet for over 12 million visitors a year. It is made up of 118 islands linked by 453 historic bridges, charming canals and pavements and is the perfect destination for couples, as well as families. While there are many things to do in Venice, this guide narrows it down to the absolute best things to do in Venice, whether you're only visiting Venice for a day or making your trip to Italy all about this historical city.
A little bit about Venice and our trip
Venice is facing a harsh reality due to climate change and is said to be slowly sinking at the rate of approximately 2 inches every century. While on our gondola ride, our gondolier told us that Venice's inhabitants have had to move to the 2nd floor of their houses due to water levels rising – and there is no sign of this stopping. Yet another reason to visit before this terrible predicament comes true!
This was my second time in Venice and as a Slovenian (neighbouring country), I never really understood the hype that surrounds this place. In fact, my first visit to Venice was only 1,5 hours long because I thought it was stinky, overcrowded and incredibly expensive and all I wanted to do was get out of there. I also didn't want to spend any money as a student and was not prepared for the number of annoying selfie-stick sellers that would come my way. All in all, I did not give the city a chance.
Fast-forward 7 years later and I am in love. In every single way! True, it might be a little pricier than an average Italian town, but we managed to do everything see below for just under 200 EUR for both of us. We drove from Slovenia to Venice with a car and spent the entire day spoiling ourselves the Italian way (see point 8).
All the pictures below are locations marked on the free Venice map below. You can easily save the map in your Google maps and follow along when you visit. Enjoy the guide to the 10 best things to do in Venice and let me know what you think in the comments below!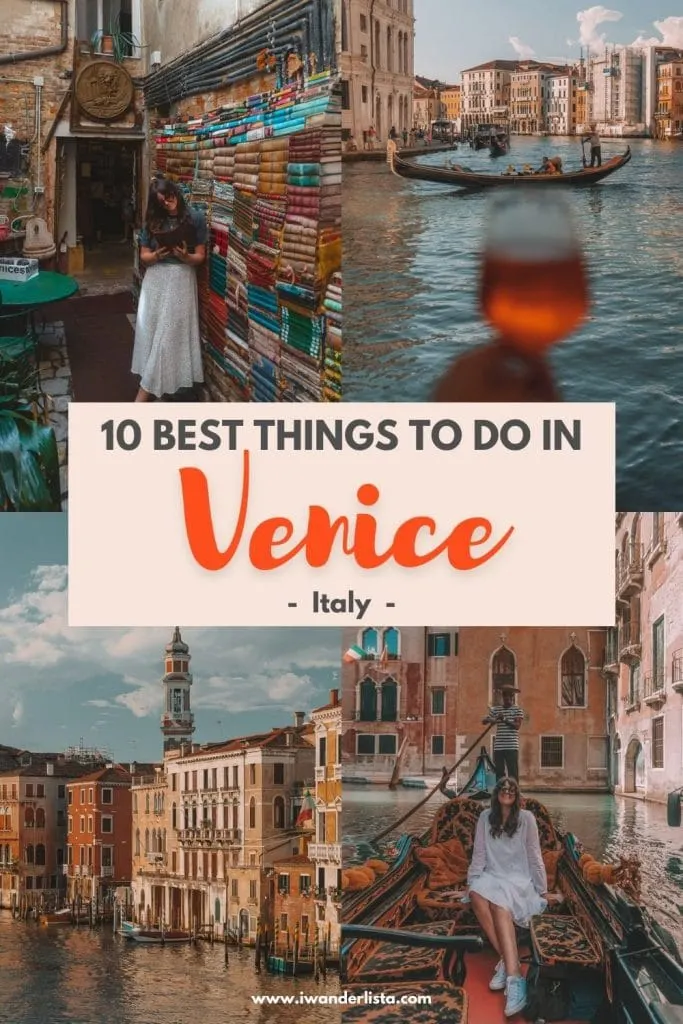 No time to read now?
No worries! Save on Pinterest to read it later.
Save

to Pinterest
The best things to do in Venice Italy
1. Gondola ride
Hands down the most memorable thing to do in Venice is riding the gondola. I've visited Venice before and thought it was super overpriced & decided to skip it. I am glad I visited Venice again because this time around I wasn't going to let money get in the way of my bucket list experience! The price, however, is still quite crazy at 80 EUR for half an hour. All in all, if a trip to Venice is a one time experience, then a gondola ride is a must and you won't regret it!
Tip: pick a gondola ride based on the location. We got our ride just by Hotel dell'Opera. The last thing you want is getting a gondola on the grand canal – it's not even remotely as charming as riding through the smaller canals! Ours had a combination of both.
Extra tip: we noticed that whenever we asked for the price and walked away, they lowered it by 20 EUR. Not sure if this was only due to the pandemic (we visited in July 2020) or if it's something that usually happens, but try it and see if they do the same!
2. Bridge of Sighs
The legend has it that the Bridge of Sighs got its name after the last sigh the prisoners got as they were lead from the examining rooms to their cells in the Prigioni or the execution chamber. This is where they would sigh as they caught their last glimpses of Venice through the tiny cell windows.
Nowadays it's just one of the busiest tourist attractions in Venice. The best way to view it is from Ponte della Paglia bridge (where the majority of the tourists stop), or by the Instagrammable location by the Museo diocesano d'arte sacra Sant'Apollonia. Both of the locations are on the free map for the best things to do in Venice.
3. Rialto Bridge
One of my favourite locations and the best things to do in Venice was the Rialto Bridge. The bridge is the oldest of the four that grace the Grand Canal and arguably the most stunning. It's surrounded by cosy (but quite touristy) restaurants and bars and is the perfect spot to take out your camera, I saved 4 photo spots of this bridge in the map above!
4. Gelatoteca SuSo
I feel like the most basic tourist for recommending you this place, but it really was so yummy, you simply must visit. I had the pistachio and amarena on a hazelnut covered cone and it was icy milky dreams. While this might be better on a food guide to Venice, rather than on the best things to do in Venice guide, it's become a popular tourist attraction and for a good reason!
5. Libreria Acqua Alta
I'll be amazed if this isn't already on your Venice bucket list! The most charming bookstore, with not one, but two Instagram spots. If you happen to visit Venice for a longer time (we did a day trip), then take some time to browse the bookshelves!
If you're looking to buy a nice souvenir, they have some pretty calendars here as well.
6. St. Marks Square
While St. Marks Square might be the gathering place for every Italian pigeon, it's also a beautiful huge square, decorated with wonderful architecture, restaurants and shops. It is said that Napoleon called San Marco "the drawing room of Europe", and for a good reason! Art enthusiasts could spend hours drawing all the intricate details of the buildings that surround the square.
This is also one of (if not the) busiest places in Venice. If you want photos with no people in them, then make sure to visit early in the morning.
7. Doge's Palace
Extraordinary on the outside, as well as the inside, this palace will surely be one of the most memorable things to do in Venice. The Venetian Gothic architecture and the detailing on this palace are truly extraordinary. Allow at least an hour to explore this place and arrive early to avoid long queues.
We were here during the pandemic and there was no line at all. The entrance fee to Doge's Palace is 13 – 25 EUR, depending on which ticket you get. The more expensive ones are the ones where you can skip the lines and are worth getting if you have a shorter visit to Venice.
8. Live La Dolce Vita
Gelato, Aperol-spritz, pizza, pasta, lattés – make sure you make time to sit down and enjoy your visit to Venice! The more I travel, the more I realize it's important to take the time to sit down and let the experiences sink in. Doing as much as possible without taking the time to observe might make you feel like you're not actually experiencing the place! So, promise me you'll take time to do at least one of these!
9. Stroll around
I know this is practically a given, but also one of the best things to do in Venice if you're on a budget. Get lost in the city's many narrow streets, go the opposite where the crowds are going and you'll find many pretty little corners! Venice is the type of city that makes you grab your camera every 2 minutes and it'll be hard not to take a picture of every bridge.
But my absolute favorite area in Venice was around the Ca' del Sol mask shop (which is also a must-visit!).
10. Walk around San Zaccaria
A waterside promenade with wonderful views of the Grand Canal, the Church of San Giorgio Maggiore, and the passing boats and gondolas. Also, a great place to buy a souvenir and relax before heading towards the busier St. Marks Square and the bridge overlooking the Bridge of Sighs.
Everything you need to know before visiting
How to get to Venice
Venice airport is quite close to the island city center. For 14 EUR a boat takes you from the airport to the city. Another option is a bus that drops you at the train station in Venice. From there you can hop on a boat. Other than the boat, the bus runs for almost 24 hours a day.
You might also like
From Slovenia, Ljubljana to Venice with a car
If you're spending your holidays in Slovenia, it's very easy to get from Ljubljana to Venice for a day trip! I've done this trip twice already and the tips below will help you find cheap parking and all the instructions you need when you travel from Slovenia to Venice with a car.
The cheapest way to visit Venice is by NOT parking your car in Venice. Instead, you'll be parking your car on the mainland close to Venezia Mestre Railway Station, and then take a train to the island of Venice. It might sound complicated, but it really isn't!
Optional: pre-book the parking at Auto Garage Touring here. It's slightly more expensive to pre-book a spot, but worth it in the busy season. We travelled in time of Covid-19, so we knew there won't be too many people and did not pre-book.
Download Google Maps.
Set the destination to Auto Garage Touring, Viale Stazione, 8, 30171 Venezia VE, Italy.
Drive for about 2 hours from Slovenia to Venice.
When you arrive at the parking garage, you'll give them your keys, so don't leave valuables in the car. They'll give you a paper to confirm your parking and then you can head to the train station. We paid 9 EUR for 1 day (on weekend). It's 7 EUR per day on weekdays. Compared to 30 EUR on the island, it's a bargain!
The Mestre Railway Station is a 2-minute walk from this parking garage.
Buy the one-way ticket for 1,35 EUR to Venice S. Lucia.
Hop on the 10-minute train ride to Venice island.
Enjoy spending the day, or more, in Venice.
Perfect if you have many things to do in Venice for a day or even if you plan a longer trip.
Getting around Venice
Venice, Italy is the largest pedestrian city in the world. The best and quickest way to get around Venice is on foot. The streets are narrow and tend to be quite crowded, so don't try to use a bicycle or electric scooter – you'll be stuck behind people all the time and it will be very inconvenient when you need to go across bridges, as many of them have stairs
If you're trying to get to a place further away, then you could also use the 'Vaporetto' or water buses. They are quite pricey though (single ticket costs 7,50 EUR and is valid for 75minutes), so we decided to have an Aperol spritz and relax between the walks instead.
I hope you enjoyed this guide on the top 10 things to do in Venice Italy. If you have any questions for me. I'll be happy to answer. Otherwise, feel free to save this post to your Pinterest and you can easily access the guide with the free map when you plan your visit.
Save this article for later: