Slovenia is a small, chicken-shaped country in central Europe. With a population of just over 2 million people, Slovenia is 485 times smaller than the USA. Despite its size, Slovenia prides itself with fairy-tale-like lakes, turquoise rivers, enchanted castles, lush forests, charming seaside and the kindest, most welcoming people you will ever meet! Slovenia is a true heaven for nature lovers and explorers. Approximately 60% of the country is covered in forests, there are many beautiful caves, Alps, wine-regions and picturesque towns. Slovenia is a great year-round destination and has something to offer to anyone coming in summer or winter. In this guide to the best things to do in Slovenia, I will show you the most epic tourist spots in Slovenia that even the locals love going to! What's your favourite?
The best things to do in Slovenia
1. Ljubljana: The Capital
The first destination for this guide to Slovenia and the best thing to do here is Ljubljana. Ljubljana is the capital of Slovenia and a charming central European city with a medieval core. In the city center, you'll find several captivating bridges, and maze-like streets full of small shops and cafes. Ljubljana's old town and city center are closed for traffic, which makes it the perfect city to stroll around in. One day in Ljubljana allows you enough time to see the best sights in the city. So put on your comfy shoes and see the Preseren Square, Triple Bridge, Ljubljana Castle, Dragon Bridge, Robba Fountain, and my teenage favorite: Metelkova Mesto.
2. Skofja Loka
Škofja Loka, or Skofja Loka for those who get confused with the Slovenian alphabet, is a small and charming medieval town near Ljubljana. You won't need a lot of time to explore this pocket-sized town, but it's worth strolling through the center, sip a coffee and take in the surroundings. Just like Ljubljana, Skofja Loka, too, boasts with a castle over-viewing the town. Skofja Loka has not changed its appearance since the 16th century, so get ready for a walk back in time.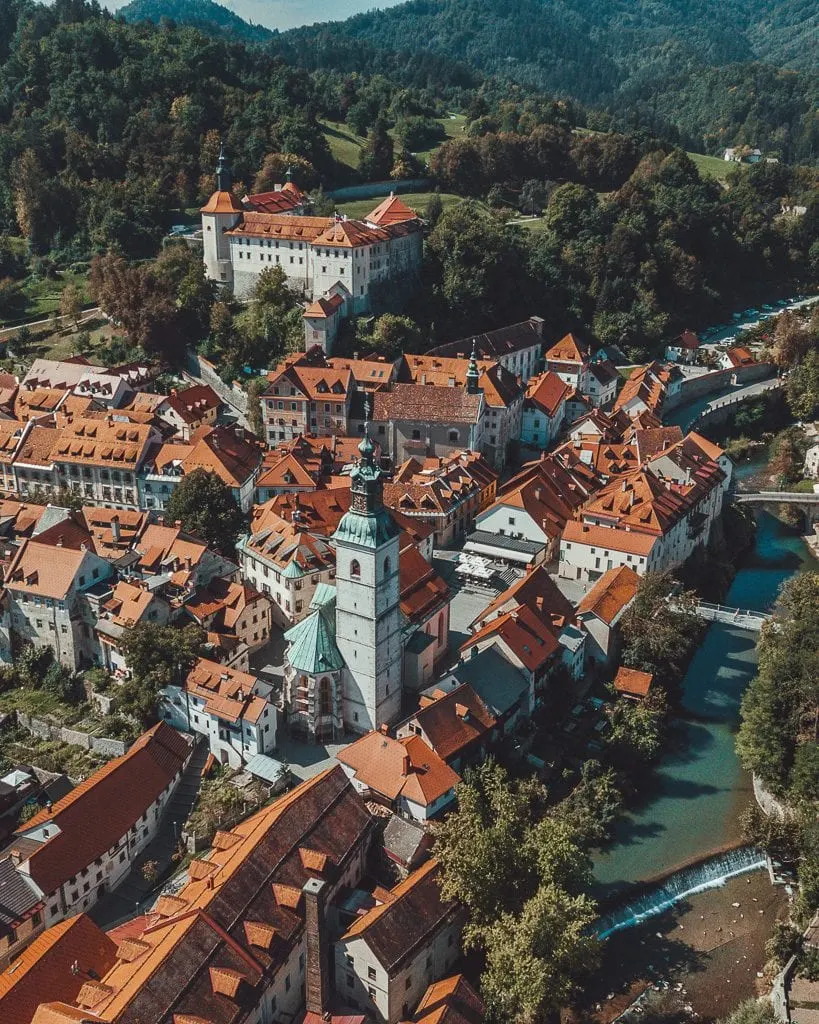 3. Lake Bled
It's simply not a visit to Slovenia if you don't visit Lake Bled! It only takes a 40-minute drive from Ljubljana to arrive at this enchanting destination. This is usually on the top of everyone's list on best things to do in Slovenia, but my favorites to do in Lake Bled are:
Row a boat to the church:
There are many activities and sights to see at Lake Bled, but we can start with the most important one – rowing a boat to the church in the middle of the lake. Boat rental cost at Lake Bled is €20 for each starting hour. It takes about 10 minutes to row from the shore to the church and you don't need more than 15 minutes on the island.
Ring the bell, eat ice cream and head back down. But my favorite thing about rowing a boat at Lake Bled isn't about going to the church at all – it's having a picnic on the boat! So bring a basket with some fruits and your favorite wine (alcohol-free for the driver!) and enjoy your day that way as well!
Hike to the Ojstrica viewpoint:
We found out this year that flying a drone is now forbidden at Lake Bled (a local came to us just after I flew it) and you can face a penalty of up to €5000 if caught without permission! So if you want to get some amazing shots of the lake from above, then put on your sneakers and take the 30minute moderate hike to Ojstrica.
Local tip for finding free parking at Lake Bled:
drive to Bled Jezero railway station and on the right side of the restaurant, you'll see a row of trees. Leave your car there and walk down the road towards Camping Bled, which is just by the lake. It only takes about 5 minutes to walk and you'll save a significant amount of money by parking there. Be early though!
4. Lake Bohinj
Its famous opponent Lake Bled does have the glitz and glamour of an island church, but you will be amazed by Lake Bohinj and the beauty that surrounds it. Lake Bohinj is Slovenia's largest permanent lake and a mere 20-minute drive from Lake Bled.
While strolling around Lake Bohinj would be a bit of a challenge, you have a variety of water sports, including sailing, windsurfing, kite-surfing, and rowing available. Lake Bohinj has some of the clearest waters you'll ever see in a lake and is a perfect location for a swim on a hot summer day.
Amazing viewpoint tip: Known to be a paragliding takeoff point, but also a stunning viewpoint of Lake Bohinj. Here are the exact coordinates on a google map. You can drive up to Kosijev Dom, park your car and walk for about 30-40 mins to the coordinates. Breathe in and take in the view.
5. St. Primoz Church in Jamnik
St. Primoz Church is one of the most beautiful churches in Slovenia, located enchantingly on top of a hill. It's a small local church, yet a popular photographer's destination, due to its ridge-top setting and the picturesque mountains in the background.
Before you add this church to your list, make sure you selected the correct St. Primoz, since, believe it or not – there is more than one! The church in the photos below you will find in a small village of Jamnik. I will start off by giving some practical tips. We made a wrong turn before accessing the church, so I will do my best to explain what you should not do when you arrive!
Quite a few tourists make the wrong turn and go down the road on the right side. Do not do this. You can potentially be stuck there and some people have needed to tractor-pull their car out of there!
There is a small private parking area, which is generally not allowed for visitors. But if you arrive and you see someone there, just ask if it's okay to leave your car.
The locals are super friendly and Irena (the lady who lives in a house by the parking) even invited us in for coffee after we talked about taking photos there. She also mentioned it's okay to leave your car there if you are only going to the church for a short time. The church is only a 10-minute walk away from the parking lot.
6. Zelenci Nature Reserve
Zelenci Nature Reserve is absolutely stunning in winter, as well as summer. I had the pleasure of seeing it in both seasons. However, I would not be able to choose a favorite as it's one of the most stunning things to do in Slovenia! It is situated at the northern edge of the Triglav National Park and has a wooden footbridge, where you can walk to the lake and around the swamps without harming nature.
With water's temperature at 5-6 degrees year-round, it's also home to a wide range of flora and fauna. The water in the swamp is fascinating to watch – completely clear, with small bubbles on the bottom and a variety of sea life.
7. Vrsic Pass
The Vršič Pass is a high mountain pass at an elevation of 1,611m (5,285ft) above sea level, located across the Julian Alps in northwestern Slovenia. The road to the summit is one of the highest roads in the country and one with many beautiful views along the way!
The road, built by Russian war prisoners during the 1st world war, runs through the heart of the Julian Alps and will take you about 30 minutes to drive on. However, I always make two stops on the pass. The first one is at the Russian Chapel and the second one is just a couple of minutes up from the chapel. The road opens up into a beautiful mountain vista, where many decide to take a lunch break.
8. Velika Planina
Velika Planina plateau is considered the most beautiful Slovenian mountain pasture and is ideal for walks, mountain tours, or day trips. At Velika Planina, you can experience the life of a herdsman at one of the rare still-extant herdsmen's settlements. Once you reach the top, you can opt to try some local delicacies or bring your own snacks and water, and have a picnic on the grass.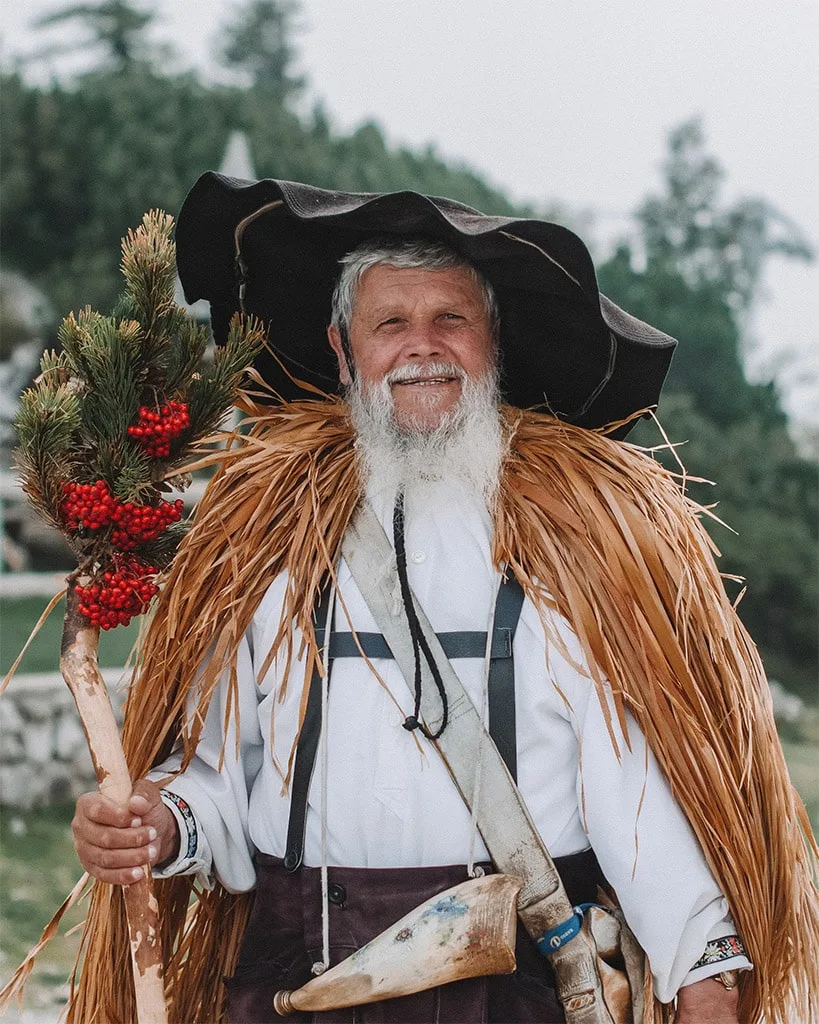 9. Postojna Cave
Postojna Cave is a cave that will literally ruin caves for you. In a good way! If you visit Postojna Cave you will forever be unimpressed by what you see elsewhere. Well, at least I haven't been in one as equally impressive anywhere else in the world…yet! After you enter you will take a train through the cave for about 10 minutes. Yes, you read right, 10 minutes!
The place is gigantic! And once you get off the train and start walking, the surprises will just keep on coming. No wonder Lonely Planet put it on their 500 places to visit list. This wonder does come at a price, €27.50 per person. But as a person who generally prefers to enjoy things entrance-fee-free, I can tell you this will be worth every penny.
10. Sneznik Castle
While Sneznik Castle boasts with a gorgeous interior and rooms depicting the residential culture of the 19th century. However, it was the outside that impressed me even more. The sun setting behind the forest, the castle reflecting in the water, and no one around but the two of us. It was easy to understand why so many people choose this place to get married.
11. Lipica Stud Farm
You'll know you're in for something special the moment you start approaching the Lipica Stud Farm. The avenue of trees lined with white fences welcomes you to the estate, just like they have for centuries.
Lipica Stud Farm is home of the Lipizzan horses, one of the most highly prized and valuable horse breeds in the world. There are around 300 horses currently residing at the farm and we had the pleasure of seeing more than half of those on one hot morning in July.
Accompanied to the field by the hostler (the woman taking care of the horses), we received careful instructions on how to approach the horses once we see them. Slowly, with some stopping and about 15 minutes later, we finally had eye contact. It was an experience out of this world. Dozens of mares and foals stared at us before they started galloping through the pastures.
We observed their gracious movement and continued on to see another herd. They allowed us to approach and what happened next was a thing of fairy-tales! Standing on a field surrounded by dozens of horses.
We absolutely loved spending our time out on the field and connecting with these beautiful creatures. Coming back to the farm, our visit was suddenly cut short due to heavy showers, so we did not have the chance to do more that day. However, next time we will make sure to see their show 'A Tale of Lipica' and maybe even go for a trail and dressage ride through the unspoiled nature of the Karst landscape.
12. Piran
Slovenia's Adriatic coast is small, yet exceptionally beautiful. My absolute favorite town to explore on the Slovenian seaside is Piran. Piran is a small town situated on a long and narrow peninsula. Piran is very photogenic; Tartini Square, the colorful pastel buildings, the maze-like streets, and the orange rooftops. Walk up to the Walls of Piran, for €2 you'll be able to get a view of the entire town.
Piran Salt Pans
Piran Salt Pans encompass smaller Strunjan Salt Pans and the larger Sečovlje Salt Pans. The first record of salt production dates back to 804. This was when there were several small salt pans owned by monasteries in Piran. The Sečovlje Salt Pans now produce salt in order to preserve natural and cultural heritage. The area is beautiful to walk around in and you can even opt for a guided tour!
The reserve is the biggest wetland on the coastline. In the northern part of the reserve called Lera, people harvest salt using a 700-year-old method. They use wooden tools and look after petola, the base of the salt pans that functions as a biofilter.
In our home in Sweden, we have an array of their products, but a favorite would definitely be the Piran Salt, which we have in our wooden Salt Cellar. Got them as a gift from my aunt a couple of years ago.
13. Izola Town
Izola is an old fishing town on the Adriatic coast of the Istrian peninsula. It's small, has a certain Venetian charm with narrow old winding streets and an excellent beach promenade for the summer evenings. Right by the town centre, there is also a stone beach, where locals, as well as tourists, love to take a dip on a hot day. Besides Piran, Izola is my favourite beach town in Slovenia.
14. Otocec Castle
Home to one of Slovenia's most magnificent hotels and most gorgeous surroundings, Otocec Castle is the perfect place to unwind, take a walk, a round of golf, and have a tasty 3-course lunch. This gothic water castle of phantasmagoric proportions is built in the middle of shallow running waters of the Krka river and looks beautiful from any corner or sky. Many famous people have stayed here before and if you're looking for ways to splurge, this is it.
15. Kostanjevica na Krki
You won't need much time to visit Kostanjevica, because this islet is just 500m long and 200m wide. Kostanjevica is also Slovenia's smallest town and, with a charter that dates back to 1252, one of its oldest. The village is perfect for a stroll or an hour of SUPping on the loop of river Krka which surrounds the village.
Tip: if you plan on eating here, only choose Gostilna Kmecki Hram if you are NOT in a rush. The service is very slow. But the food is good and the portions are big!
I hope you enjoyed reading about these 15 best things to do in Slovenia. If you want to read more about Slovenia, then have a look at all my articles here.
Save this article for later: