Slovenia's Adriatic coast might be small in size, yet it is exceptionally beautiful. My absolute favorite town to explore on the Slovenian seaside is Piran, a small town situated on a long and narrow peninsula. Piran is very photogenic; Tartini Square, the colorful pastel buildings, the maze-like streets, and the orange rooftops are an absolute joy to photograph! Here are my personal best things to do in Piran.
The best things to do in Piran, Slovenia
1. The Walls of Piran
Besides being the best spot for a view of the whole town, you only pay €2 to enter the walls (make sure you bring euro coins). To this day, the town of Piran has preserved its medieval character as a clustered town fabric, surrounded by a town wall. You can easily spend an hour roaming to the different parts of the walls and getting the best shots of Piran.
2. Get lost in Piran's maze-like streets
The streets in town are narrow and the perfect place to just walk around and find new corners as you do so. You can start anywhere, but I like to first walk from the parking garage past the pretty cemetery gate, then to Walls of Piran, the St. George's Parish Church. After all these higher viewpoints I make it a challenge to head down the alleys and find Tartini Square. Believe it or not, I keep finding new places and the last one was First of May Square – wow how pretty it was!
3. Piran Salt Pans
While Piran Salt Pans are slightly out of the city, they're worth the trip out. Piran Salt Pans encompass smaller Strunjan Salt Pans and the larger Sečovlje Salt Pans. The first record of salt production dates back to 804. This was when there were several small salt pans owned by monasteries in Piran. The Sečovlje Salt Pans now produce salt in order to preserve natural and cultural heritage. The area is beautiful to walk around in and you can even opt for a guided tour!
The reserve is the biggest wetland on the coastline. In the northern part of the reserve called Lera, people harvest salt using a 700-year-old method. They use wooden tools and look after petola, the base of the salt pans that functions as a biofilter.
In our home in Sweden, we have an array of their products, but a favorite would definitely be the Piran Salt, which we have in our wooden Salt Cellar. Got them as a gift from my aunt a couple of years ago.
How to get to Piran
I strongly recommend you rent a car for your travels through Slovenia. Especially if you plan on visiting several destinations. Public transport takes about 3 times longer and you don't want to waste adventure sitting on a bus. If you have plenty of time, however, then these are your options:
By car from Ljubljana: 1 hour and 15 minutes
By bus from Ljubljana: between 2,5 hours – 3 hours
Where to park your car in Piran
Piran is closed for non-local transport and since the town is so small, there really is no need for a car. You can park in two of the bigger parking houses that are on the outskirts of the center. The first one is Garage Fornace, this one will cost you €17/day unless you stay in a hotel that has a deal with the parking company. There is a free shuttle that takes you to the main square every 15 minutes.
The second is Garaze Arze. The cost is €12/day per day for cars, parking machine only accepts cash. The garage is very narrow, so keep that in mind if you travel with big vehicles. This garage is my preferred choice. There is no free shuttle, but you get to the Walls of Piran much faster.
Best time to visit Piran
The best time to visit Piran is from May to September. The high season is end of June to the end of August. Piran has a few swimming spots, so make sure you bring your swimsuit if you're feeling like taking a dip in the Adriatic Sea!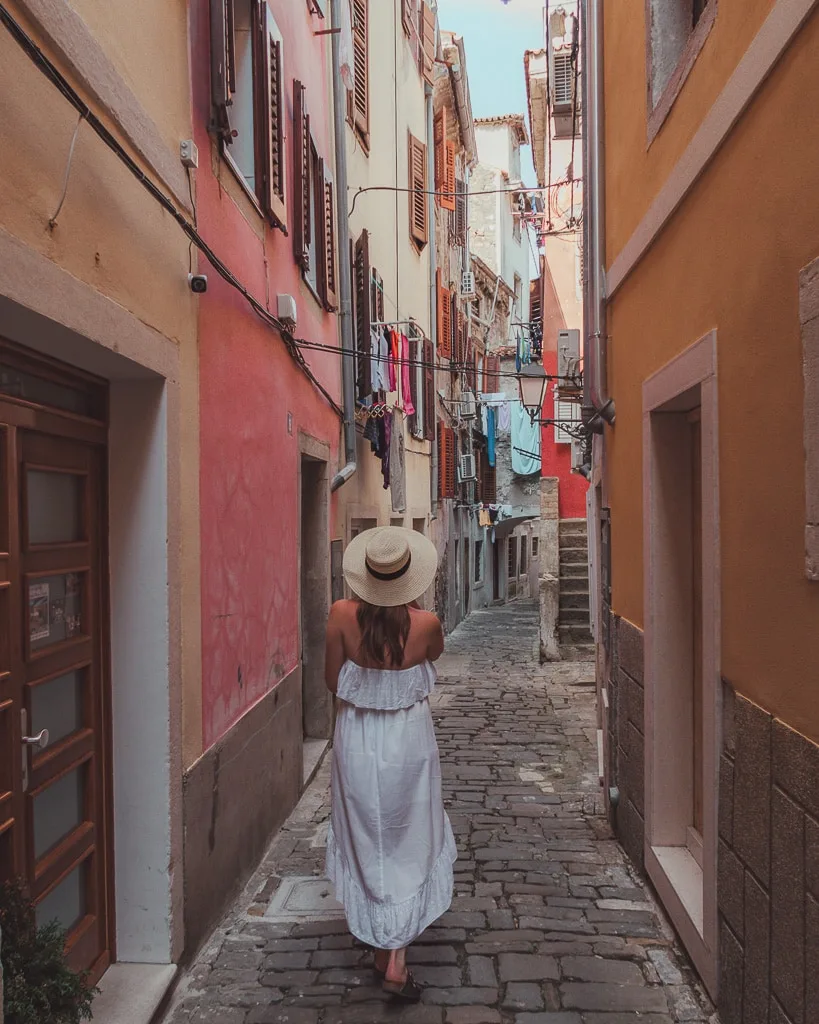 SAVE THIS ARTICLE FOR LATER: