The Philippines are an archipelagic country in South East Asia, comprised of over 7600 islands. The Philippines prides itself on amazing beaches, beautiful nature, interesting wildlife and is one of my favorite all-time destinations to visit in Asia. In our month of travels in the Philippines we visited Cebu, Siquijor, Bohol, Siargao, Coron, and Palawan. There are places we would go back to in a heartbeat and some we would probably skip if we knew what we know now. This itinerary follows the exact footsteps we have taken when traveling there for a month.
A Detailed Philippines Itinerary
Planning Philippines was a real pain and I decided to make my Philippines itinerary as detailed as possible, so you know exactly how you can get around and how much it all costs. The Philippines might be a cheap country, but the flights and travels between the islands are not. Be prepared for those expenses to be high, especially if you are a late booker.
Day 1: Arrival to Cebu
First day in the Philippines should be spent relaxing. After you arrive to the airport, grab a taxi to your hotel and rest up. There is a big adventure ahead of you and you don't want to start it jet-lagged.
Some facts about the airport:
The airport is very fresh and modern.
All ATM's at the airport charge PHP 250 on every withdrawal and the maximum amount you can withdraw there is PHP 10,000 (roughly $200).
You can buy a Smart SIM for 30 days at the airport, we paid PHP 1000 for 47GB – 16+1). There are two bigger companies in the Philippines and neither of them will have you covered in all of the islands. Internet is very bad in the Philippines, so be prepared to have maps and apps pre-downloaded. Hotels also have terrible Wifi.
Download the app Grab (similar to Uber) to ride from the airport to the city. It cost us PHP 350.
Where to stay in Cebu
We chose our accommodation based primarily on the hotel being able to store our luggage. We had 4 suitcases with us (2 big and 2 hand luggage) and we really didn't need to take all of that with us on the islands around Cebu. The ferries will charge per bag, so it made sense to only travel with our hand luggage and a smaller bag.
We booked NS Royal in Cebu City. The room and the hotel were nice, but the breakfast was terrible. I'd still say it was worth the price since they stored our luggage. We slept here for 1 night before making our way lower down Cebu island the next day.
Day 2: Cebu City to Moalboal (by bus)
Bus from Cebu to Moalboal:
From the hotel, we went to the bus station in Cebu South Bus Terminal by Grab taxi. You can just show up at the bus station in the morning and buy your ticket there. They generally don't have a set timetable and wait until the bus is full before they depart.
We paid roughly $2.40 per person for a 3,5-hour ride on a non-AC bus. Having no AC was not a problem at all, the windows are open and the bus drivers drive very fast, so it feels like you have AC 😀 If you forgot to buy water or food then don't worry either. There will be plenty of salesmen hopping on the bus selling all sorts of food and drinks.
After you arrive you will see nothing is as cheap as those bus tickets. Once the bus drops you off, you are most likely traveling to Panagsama Beach. You'll have to take the habal-habal from there and the price will depend heavily on your negotiation. Plan to pay around PHP 100 for the 20-minute ride. The prices are very different for locals vs tourists here and they don't budge too much. Be careful of scammers at the station and don't believe any locals who are trying to convince you to ride with them.
Day 3: Moalboal
Moalboal is in the mid-West of Cebu island and is going to be your point of departure for a few stunning nearby locations. We were very unfortunate with our visit to Moalboal. It was Easter and the majority of the places were either closed or extremely over-crowded with locals. Moalboal is where we also experienced the worst tourist scams and lies by the locals working in the tourist industry. Our story is probably an exception though since we met many people who loved their time here.
Rent a motorbike for getting around Moalboal. We rented ours at Majona's and paid PHP 350 for 24 hours.
Best things to do in Moalboal:
Snorkelling/Diving
Sardine runs
Kawasan Falls
Lambug Beach
Where to Eat/Drink in Moalboal:
Cockonuts (great happy hour offers on cocktails, 6 for $10)
Cafe Cebuano (good comfort food)
Smooth Cafe (yummy veggie food)
Day 4: Cebu to Siquijor (by ferry)
Start the day early and take the habal-habal from Panagsama Beach to Moalboal bus terminal, we paid PHP 150 for the ride. Once you are at the bus station you will just wait for the bus to Bato arrive. Aim to be there at around 8 am, this way you might catch the same bus as we did. After the bus arrives you'll take a variety of transport modes. See the complete description below.
Habal-habal from Panagsama Beach to Moalboal bus station: 20 minutes, PHP 150.
Bus from Moalboal to Bato: 1.5 hour, PHP 103 per person.
Tricycle from Bato to Liloan port: 10 minutes, PHP 150.
Ferry from Liloan Port to Siquijor, Larena: 2,5 hours, PHP 200 per person.
Tricycle from port to hotel. You will most likely have to share it, so be prepared for a tight squeeze. Price and length will depend on where in Siquijor you are staying.
The complete journey from hotel in Moalboal to Siquijor port took us about 5 hours. This journey was the longest we did on the entire Philippines travel and to be honest I was a bit worried that we will make it. But once we started, everything went very smoothly.
Day 5 – 8: Siquijor
This is my favorite island on the Philippines and my favorite on this itinerary. I would come back here in a heart-beat and spend even more time than we did. Siquijor is known to be the island of black magic and mystery, but to me it was the most perfect tropical paradise.
We booked a room at Charisma Beach Resort and to our surprise, the property was much better in real life than the photos. It had a pool and direct access to the beach. The breakfast was good, the room was clean and the AC and WiFi worked great. When we come back to Siquijor, we would definitely stay here again.
Getting around in Siquijor:
Renting a motorbike in Siquijor is easy. We asked at our hotel and they were able to arrange it the next day. We paid 400PHP per day, which gave us plenty of freedom to do whatever we wanted while staying on the island.
If you don't feel comfortable driving a motorbike, you could opt for waving down tricycles. But beware, there are not so many on the island when it gets dark, so if you live further out make sure you pre-book your ride.
Best things to do in Siquijor:
Cambugahay Falls
Century Old Balete Tree
Lugnason Falls
Fountain of Youth
San Isidoro Labrador Church
Swimming and sunbathing
Where to Eat/Drink in Siquijor:
Luca Loko – delicious breakfast
Monkey Business – great vibe and yummy food (banana fries FTW!).
Dolce Amore – pizza was to die for! Everything else was not worth it. PS: breakfast here was really bad.
Beach Bar and Lounge – perfect for a sunset beer. Not on google maps, but on your drive from Charisma towards Poblacion it will be on your right.
I also wrote a more extensive guide to Siguijor Island, read here.
Day 9: Siquijor to Bohol (by ferry)
Make sure to start your day early when you travel from Siquijor to Bohol. The ferry tickets are on a first-come-first-serve basis, so you could end up without one if you're too late. We arrived to Larena port at 10.50am and the ferry departed at 12.30. This ferry was very expensive compared to other ferries. We paid PHP 700 for the ticket per person and PHP 55 for some ridiculous terminal and luggage fees. The ride took about 1.5 hours.
Once arriving to Bohol, we took the taxi to our hotel near Alona Beach.
Day 10 – 11: Bohol
Besides Cebu, Bohol is an island we would not come back to. While it was amazing to see a tarsier with our own eyes and see the rolling chocolate hills, there isn't that much more to do in Bohol. This island was also the most expensive and over-crowded, due to a large amount of Chinese and Korean tourists.
Best things to do in Bohol:
See tarsiers
Man-made Forest
Chocolate Hills
I wrote a little more on what to do in Bohol here.
Day 12: Bohol to Cebu (by ferry)
We took the Super Cat ferry from Bohol to Cebu. The cost was PHP 480 per person. There is also an airport on Bohol island, but the flights come at a much steeper price. Once we got back to Cebu, we took the taxi back to the NS Royal Hotel (where we left our luggage). We stayed there one more night and checked out the next day.
Day 13: Cebu to Siargao (by domestic flight)
We left our hotel in Cebu with all our luggage this time and boarded our flight to Siargao with Philippine Airlines at 11.45am. Make sure you book an early flight to Siargao, the airport is notorious to having issues and lots of flight cancellations, which usually happen in the afternoon. Domestic flights were super expensive, especially for us with heavier luggage. We paid PHP 5500 ($110) per person for a one-way journey from Cebu to Siargao.
Siargao airport is very small. After collecting our luggage, we took a van to the Airbnb, PHP 300 per person. I would give you a link, but the hosts don't have their house up for rent anymore since they decided to live in it instead. We got very lucky though and had a completely newly renovated house to ourselves. I'd recommend checking out Airbnb in Siargao, there are plenty of nice places.
Note: if you want a cheaper way to do the Philippines itinerary, then make sure you book everything far in advance.
Day 14 – 19: Siargao
Siargao was another favorite. The island is covered in palm trees. The vibe is very surf-oriented and the restaurants and accommodation reminded me of those in Bali. This island is not yet very popular, hence the WiFi and electricity are awful here and the ATM's very unreliable. Make sure you bring enough cash before you come to Siargao!
Getting around in Siargao:
Most of the roads are very broad and empty here and the only way to get around is by renting a motorbike. The cost of renting a motorbike is around PHP 350 per day. They could give you a discount if you rent for more days. Don't forget to ask for the helmets – no one wears them here, but you don't want to be an irresponsible tourist. Especially not on an island that has very poor medical coverage and most foreigners prefer to fly to Cebu City or Manila City for serious injuries.
Best things to do in Siargao:
Ride your motorbike through palm tree covered roads
Try surfing at Cloud 9
Tayangban Cave Pool
Maasin Bridge, where the famous palm swing is located
Magpupungko Tidal Flats & Lagoon
Pacifico Beach
Guyam Island day trip
Where to Eat/Drink in Siargao:
Mama's Grill – very popular Filippino grill place
Shaka Cafe – delicious smoothie bowls
Kermit Siargao – pizza was yuuuum!
Common Ground Pacifico – amazing lunches
Bravo Beach Resort – if the electricity goes out, this place has good food and internet/power
Day 20: Siargao to Coron (by domestic flight)
Getting from Siargao to Coron was not the easiest task and not the cheapest either. But the only convenient way is to fly and this is what we did. It took 2 domestic flights to get from Siargao to Coron. The views on the second flight were absolutely stunning though. The landscape in Coron was totally different from what we saw on the other side of the Philippines.
The flight from Siargao to Cebu cost PHP 3300 per person and the second flight PHP 5600 per person. These two flights are doable in one day, as long as you leave Siargao very early.
This is the route I recommend the most on this Philippines itinerary.
Day 21 – 23: Coron
Coron is a very touristy island and there is only one way to do your trip here right. DO NOT book the letter tours (A, B, C, D). Choose a private tour provider and see the sights undisturbed by masses of drunk teenagers. We had no idea private tours existed, but after walking around town for 2 hours to find a tour, we were very happy to have come across Red Carabao. They do Coron Castaway experience, where you spend one or two nights on a private beach, surrounded only by the people in your group.
We paid PHP 8000 per person for a private 2D1N tour. We were only a handful of people on board and it was an experience I would definitely do again.
Best things to do in Coron:
Private tour of the islands
Hike Mt. Tapyas for sunset
Go diving/snorkelling
Visit the Maquint Hotsprings
Paddle a kayak in Siete Pecados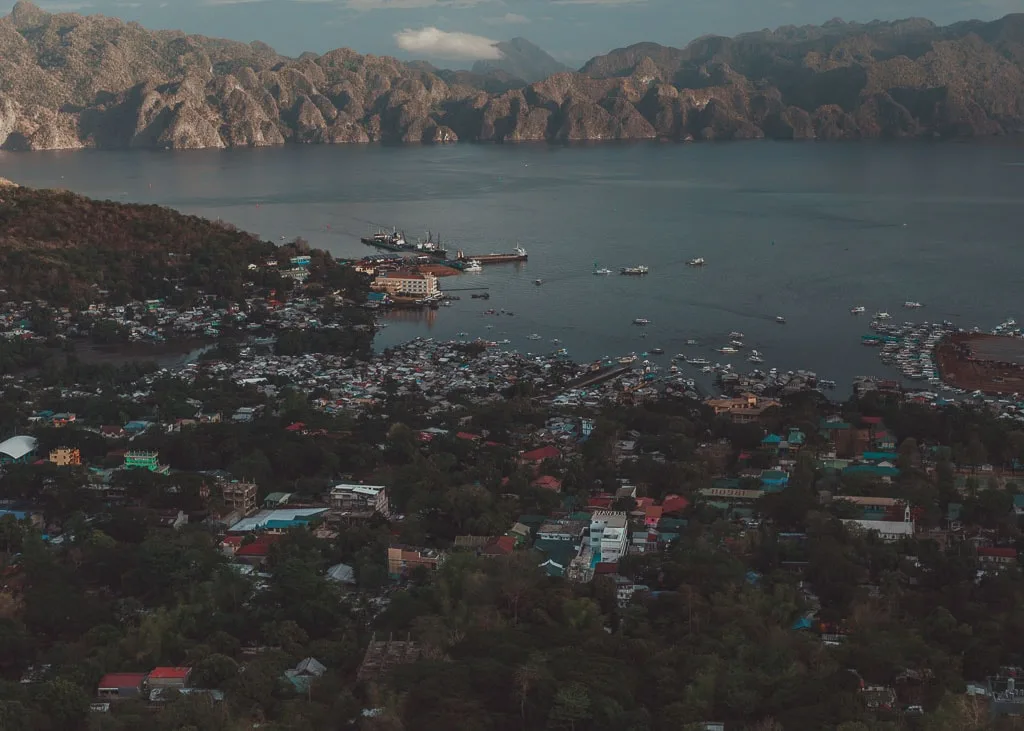 Day 24: Coron to El Nido (by ferry)
The ferry from Coron to El Nido was the worst and very expensive. We took the 12.00 Montenegro line and it cost us PHP 1790 per person. The ferry was very bad. Water leaked, the waves were horrible and it took about 4 hours to get to El Nido. If you tend to get seasick, I'd recommend you take a pill before boarding this ferry.
Day 24 – 28: El Nido
The best way to end this month, and this Philippines itinerary, is in El Nido. El Nido is on the island Palawan, and even though Palawan has a lot of stunning locations, El Nido should definitely be the one you visit first. The accommodation and the WiFi will be terrible here, but the restaurants and nature are so stunning, you'll forget all about it.
The best way to do the island hopping tours here is to, once again, do a private tour. Doing a private tour in El Nido (more on the link) will mean that you can design your own itinerary and travel to otherwise super crowded islands totally undisturbed. We were 4 people on a private tour and had 2 islands completely to ourselves.
Best things to do in El Nido:
Private boat tour of the islands
Duli Beach
Lio Beach
Where to Eat/Drink in El Nido:
Frendz Hostel – has cheap specials every night on the rooftop and good food on ground floor restaurant
Happiness Cafe – delicious falafel
Day 29: El Nido to Puerto Princessa (by van)
We booked a van through our hotel and got ready for a terrible, long ride. They squeezed so in so much luggage to the van it was impossible to breathe or stretch the legs. It took around 6 hours from El Nido to Puerto Princessa, but we were happy once we arrived. We booked a hotel near the airport and slept in nice accommodation for the first time in weeks. It's a good idea that you don't plan to fly on the same day as you do this drive. A lot can go wrong and it's always good to have a whole day dedicated just for travels.
Day 30: Puerto Princessa to Manila, leaving Philippines (flight)
We woke up nice and rested and checked out of the hotel in Puerto Princessa. This is the last day in the Philippines and you are most likely traveling to Manila to depart home or another destination.
Philippines Travel Budget
While the Philippines are not an expensive country if you look at local prices, there is a big difference to the prices they have for tourists. Food, local transport, and activities will cost you a lot more if you do it the Western Way. The best way to keep the costs down is to bargain hard, go to supermarkets with set prices and take public transport.
Domestic flights, hotels and private tours were our biggest expenses, but without them, we would only see a fraction of the Philippines and most probably a very crowded one.
We spent around $3000 for 1 month in the Philippines (two people). Throughout our travels, we booked average hotel rooms and Airbnb's that cost around $60 per night and decided to allow more budget towards experiences. We saved a few $$ by buying lunch at a local bakery, instead of a restaurant. You can keep these costs even lower if you stay in shared accommodation, book in advance and take shared tours. Hope this Philippines itinerary and budget helped you!
Save this article for later: