Seoul, the capital of South Korea, still remains my favorite city I visited in Asia, ever. Full of beautiful places, clean streets, organized transportation, and interesting people – it is bound to leave you wanting more. We visited Seoul for one week and are already aching to go back and discover more and see Seoul in every season. Here are the best things to do in Seoul, no matter what time of the year you visit. If you, however, decide to visit Korea in spring, then make sure to check out this article as well.
Best things to do in Seoul South Korea
1. Rent a Hanbok
Hanbok is a traditional Korean dress for semi-formal or formal attire during traditional occasions such as festivals, celebrations, and ceremonies. Hanbok is the traditional attire of the Korean people. It was worn daily up until just 100 years ago and it was originally designed to facilitate ease of movement. Now, it is only worn on festive occasions or special anniversaries. As a tourist, you will likely wear hanbok while visiting Seoul's palaces and Bukchon Hanok Village.
You might also like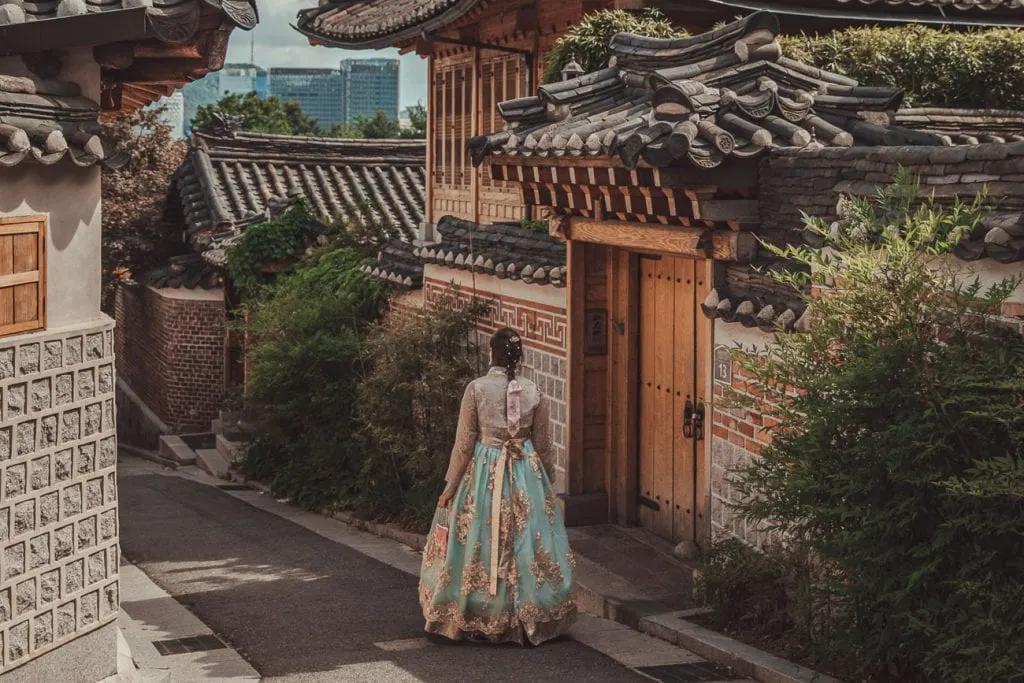 2. Gyeonbokgung Palace
Gyeonbokgung Palace, despite being destroyed several times, is the largest and greatest of Seoul's Five Grand Palaces. Gyeongbokgung, which means "palace greatly blessed by Heaven," was built in the heart of Seoul surrounded by Mount Bugaksan and Mount Namsan. The palace was the main royal palace of the Joseon dynasty. You can easily spend 2 hours here as it's absolutely stunning. make sure to rent a hanbok and you even get a free entry!
3. Bukchon Hanok Village
Bukchon Hanok Village lies in a hilly neighborhood north of Cheonggyecheon Stream and between two royal palaces, Gyeongbokgung Palace and Changdeokgung Palace. Bukchon means "northern village" and in this quaint neighborhood, you will experience the Korean village environment, composed of lots of alleys and hanok (traditional Korean house). The village is preserved to show a 600-year-old urban environment. overlooking modern skyscrapers.
4. Dongdaemun Design Plaza
Dongdaemun Design Plaza (DDP) is the newest and most iconic landmark of the Korean design industry. DDP serves as a key venue for design-related shows and conferences, exhibitions, and other events and gatherings. Designed by world-renowned architect, Zaha Hadid, DDP is the world's largest atypical architecture. When strolling around we also came across a really nice market and a lot of yummy-looking food in the food trucks. It's easy to spend a couple of hours here.
5. Starfield Library
Starfield Library is filled with over 50,000 titles to its name. Occupying a whopping 2800 square meters in size, the brightly lit two-story athenaeum has rightly been named Starfield Library after long being referred to as the Open Library. Starfield Library is located inside the COEX shopping mall/exhibition center, one floor below ground. It's the perfect spot to work on your laptop, read a book or take some Insta-worth shots. I mean – look at those shelves!
6. K-Pop Street Performers in Hongdae
After getting some Korean Barbecue, head to Hongdae's most creative street, Eoulmadang-ro, here is the Google location. This is where you'll see all sorts of singers, dancers, and bands performing on the streets, We visited this street on our first night in Seoul and were absolutely blown away. We loved every second of it and came back twice!
7. Ihwa Mural Village
A decade ago, the neighborhood was set for demolition to clear away what was considered an aging and unattractive slum to make way for new development. It was one of many "moon villages", or villages where the residents had set up their houses on the hills back in the days after the Korean War, mostly because they were poor and couldn't afford to live in better and flatter areas of the city.
However, in 2006 they transformed the poor neighborhood into an artistic tourism landmark with its interesting metal sculptures, colorful mural paintings, and mosaics on the walls and staircases by local artists. In 2013, artists have again assembled to re-decorate the area and add more displays, together with contributions from local university students.
8. Insadong-Gil
Insadong-Gil is known as an artsy area filled with galleries and traditional restaurants, teahouses, and cafes. There are about 100 galleries in the area and you can see every example of traditional Korean fine art from paintings to sculptures. You will also see a lot of shops with creative souvenirs here, so if you haven't already bought enough – then save some luggage space, because the artists there sell some really nice things.
9. Gwangjang Market
Gwangjang Market is one of the oldest and largest traditional markets in South Korea, with more than 5000 shops and 20,000 employees in an area of 42,000 square meters. The narrow market alleys are filled with food, souvenirs, clothes and so many snacks you are bound to buy a few crazy options. This is the perfect place for foodies – we saw dishes and ingredients here that were extremely outside the box, so get ready for a culinary experience like no other!
10. Themed Cafes
In our week in Seoul, we managed to see Pink Pool Cafe, Poop Cafe, 2d Cafe, Raccoon Cafe, Cat Cafe… You get the point; Seoul is your go-to destination for themed cafes and if you think of any crazy though – they probably made a cafe about it. So get your camera out and get ready to do some cafe-hopping in South Korea, it will definitely be one of the best things to do in Seoul!
You might also like
Hope you found this article on the Top 10 best things to do in Seoul useful! If you've never been, then you might find it useful to read a little bit about the things you should know before you visit South Korea as well. For us, it was one of the favorite destinations we ever visited and I can definitely recommend you to go there!
Save this article for later: