Öland is Sweden's second-biggest island and is separated from the rest of Sweden by a 6km long bridge. With 500km of coastline, striking nature, rich history and amazing wildlife – there is no surprise that Öland has been the Swedish Royal Family's summer getaway destination for over 100 years. Öland is one of those places that truly leaves you in awe and wish you booked a longer stay. There is an abundance of things to do, places to see and beaches to swim at. We spent 3 days on the island discovering as many of its precious corners as possible and in this guide to Öland, you will be able to find out the best of what the island has to offer!
30 Best things to do in Öland
Since Öland is a very long island, I will be splitting the best places to see in two parts so they are easier to follow along. The first 15 are in the southern half and the last 15 are in the northern half.
The southern part of Öland is filled with amazing, raw, flat landscapes and plenty of sea views, fields and windmills. It's also where we stayed and I would definitely recommend you do the same. The northern part of Öland is a lot greener and a little more reminiscent of the typical Swedish landscapes, but with amazing stone beaches that you won't see pretty much anywhere else in the country!
We saw a lot more than just the 30 places listed below, but these are my favorite from our visit to Öland!
1. Långe Jan
Built in the 18th century, probably by Russian prisoners of war, this lighthouse is one of the most popular tourist sights in Öland and Sweden's tallest lighthouse. Located in a nature reserve at the south cape of the island, you'll also be able to visit the birding station nearby and enjoy the beautiful views that surround the lighthouse.
2. Naturum Ottenby
Naturum Ottenby is a nature reserve located right by Långe Jan. It's one of Sweden's largest and most well-known places for birdwatchers. The entire area surrounding the nature reserve and the lighthouse is absolutely stunning, especially at sunset!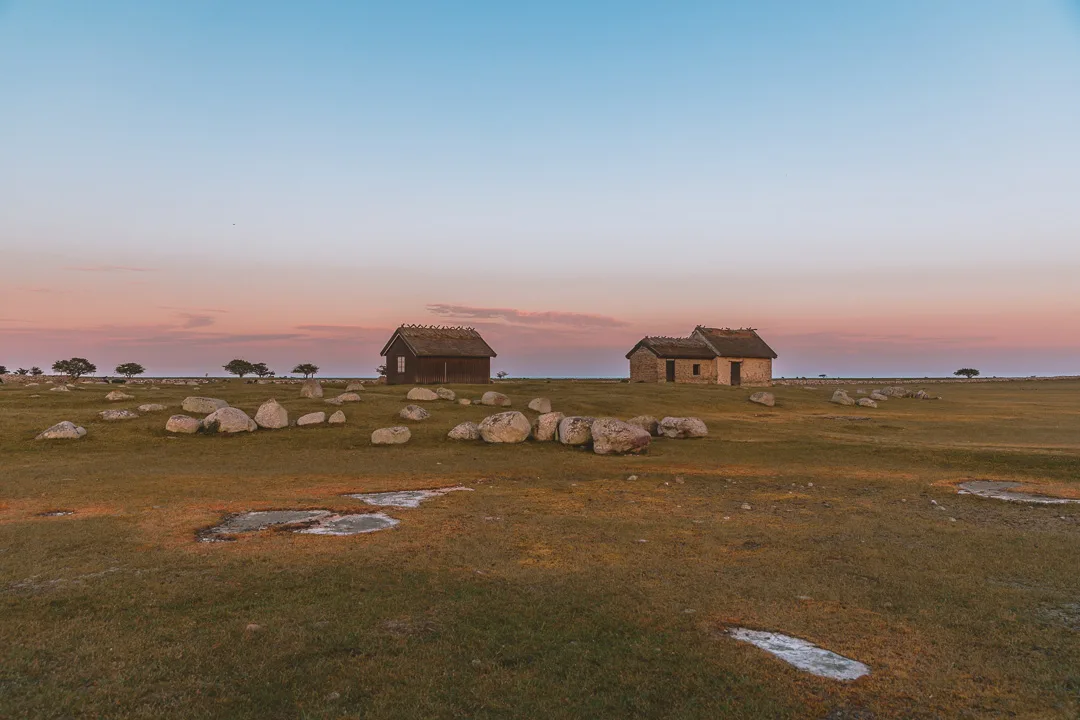 3. St Johannes Kapell
Built by merchants in the 13th century, this chapel was both a place of worship and a closely guarded warehouse. It is located just a few hundred meters from the lighthouse and the traces of the chapel are under the little hill behind the cross.
4. Eketorp Fort
Eketorp's ancient residents sought protection from the invaders by constructing high walls and building homes and barns inside of them. Definitely one of Öland's most beautifully recreated fortresses from the Iron Age and Medieval times, which today works as a museum where archeological artefacts are being displayed. The entrance fee to the fort is charged in the summer, but if you get there outside of season you can wander around free of charge.
5. Gettlinge Gravfält
Öland's largest Iron Age grave field, which consists of many different types of graves. There were more than 200 graves here, but 25 of them were excavated and in one of them a man was buried with his sword, shield, spear and lance.
6. Bårby Borg
Built by people seeking protection during the Iron Age, 400 – 700 AD, this fortress was semi-circular and had high walls and buildings inside.
7. Mörbylånga
Probably the coziest little town on Öland, Mörbylånga not only has cozy cafés and restaurants, it also has a beautifully located windmill just by the coast. On this coast, you will also see plenty of swans!
8. Ölands Örtagård
If you're into buying herbs and locally produced goods, then make sure you stop by here! Besides a herb garden, there is also a shop where you buy anything from strawberry vinegar to local tea. We bought the Blå Jungfrun tea and it's delicious!
9. Capellagården
Besides being a school for craft and design, Capellagården also hold exhibitions, sells local produce and has a small shop with lovely art pieces.
10. Karlevistenen
The Karlevi Runestone is commonly dated to the late 10th century and also one of the most prominent runestones. On the stone, it constitutes the oldest record of a skaldic verse that is still in its original form. Karlevistenen is also Ölands oldest runestone and was most probably put up around the year 900.
11. Stora Alvaret
A beautiful hiking and biking trail in the south part of Öland, 37km long and 15km wide. Stora Alvaret has a rich fossil record and is a limestone plain that was created by glacial action from earlier ice age advances, about 500 million years ago.
12. Sandby Borg
I know what you're thinking, another ringfort? Well, yes – Öland has at least 15 and since they're generally placed in beautiful locations, you'll get a great view and a little bit of history at each! Sanby Borg might have the most grim one of them all, though as this place was a scene of a massacre in the late 5th century AD, where many mysteries still surround the fortress.
13. St Knuts Kapell
St. Knut's Chapel indicates that the Gråborg castle was of great importance during the Middle Ages. The chapel, originally about 18m by 7m, was built in the 12th century and the chapel building has probably been surrounded by a small cemetery as both skeletons and tombstones have been found nearby.
14. Gråborg
If you walk a little further down the road from St Knuts Chapel, you'll see Gråborg – the remains of Öland's largest ancient castle.
15. JAGS Museum
A museum and Gustaf-Jon's world of fantasy created by characters from fairy tales, myths, history and the Bible. The museum has a permanent Gustaf-Jon exhibition, as well as temporary visiting artist ones.
16. Lerkaka Kvarnar
The mill row in Lerkaka is Öland's most beautiful and best-preserved mill row, located just by the road in, you guessed it, Lerkaka.
17. Ismantorp Fortress
Is it just me or does the Ismanstorp Fortress look like it's fresh out of an episode of Stargate? Ismantorp is the largest and probably the oldest of the ringforts on Öland. It is approximately 300 meters long and has nine gates. It was never permanently occupied and the construction of it took place around 200 CE. Inside the ringfort are 95 houses arranged in 12 blocks around a central open area with a circular building.
18. VIDA Museum & Konsthall
The VIDA museum and art gallery spreads over 2000 sqm and offers not only amazing art, but a great shop as well.
19. Solliden Palace
Solliden is the Royal Family's summer paradise and was built by Queen Victoria in 1906 with inspiration from Italy. The palace and gardens make for a great stroll on a sunny day and there is a new exhibition with a royal theme every summer. There is an entrance fee of 125kr for adults here.
20. Borgholm Castle
Borgholm Castle is the most beautiful castle ruin in Scandinavia and a great place to wander around for an hour or two. The castle features many hallways and pretty views, as well as a great exhibition. The entrance fee is 100kr for adults and I can say it's worth every penny!
21. Borgholms Kallbadhus
Despite being destroyed by the storm twice already, the Borgholm Kallbadhus has been rebuilt very quickly both times. Here you can swim, have some fika and enjoy life just like King Oscar II who visited the Kallbadhuset in 1893 and said "this is the most beautiful bath I've had this summer!"
22. Borgholm Church
This church has a very interesting, elongated shape due to it being merged with a school. The construction of the church began in 1872 and today it sits in the centre of the town Borgholm.
23. Kapelludden
A beautiful area, rich in birdlife and important cultural remains. The lighthouse (which was under construction during our visit) and the ruins of Saint Brita's chapel. When putting this location on the map, make sure you visit the one on the right side by the sea, so you don't end up at the camping spot on the other side.
24. Ormöga Kamelranch
I know, camels in Sweden?! Yes, since 1991 this camel ranch has been offering camel riding, which makes this place a great destination for a family. Bear in mind that you can only hang out with the camels in the summer season and the entrance is 80kr + 80kr for riding.
25. Sandviks kvarn
Besides a good place for lunch, this mill is one of the biggest ones I've ever seen! At this mill you can even play mini-golf, so it's the perfect stop before you head to Jordhamn.
26. Jordhamn
Cue in Ölands most beautiful views and stoney beaches. Here you'll even see a special mill which was used for grinding limestone – a newer version which was powered by wind and an older one powered by oxen. If you're driving from Sandvik mill, you'll even spot beautiful and interesting stone houses by the beach on your left.
27. Byrums Raukar
These strangely beautiful stone pillars have been carved out for millions of years by the sea's movements towards the limestone. They make for a great place for some interesting pictures!
28. Neptuni Åkrar
Neptune's fields is a nature reserve in the north of Öland, which consists of a long stretch of stoney beach covered with the blue Echium vulgare which blossoms in June and July. It's a great place for a walk and a great place with a wide view of Kalmarsund and the Blå Jungfrun island.
29. Blå Jungfrun nationalpark
This isolated island makes for a great day trip from Öland and is only accessible via a tour boat from Oskarshamn and from Byxelkrok daily during the summer. Make sure you come prepared though, as there are no restaurants or cafés on this island.
30. Långe Erik
It feels only natural to end this list with Erik in the northern part of Öland, if we began with Jan in the south, right? Tall Erik was built in 1845 and is located on a little island connected with a bridge. Here you can take a walk around the island or sit on the beach and sunbathe.
Eat & Drink
A must-try in Öland are definitely 'kroppkakor' or 'body cakes', as silly as this translation is. It's a potato dumpling filled with meat, served with cream and lingonberry jam on the side. I would definitely recommend you order a portion with two of them – neither of us could finish three of them and we got there hungry! Another Öland specialty is 'lufsa, made and served with pretty much the same ingredients. I think 'lufsa' is a little better than 'kroppkaka', but definitely worth testing both during your trip to Öland!
Tip: There are plenty of cafés and restaurants on the island, but plan your visits ahead! We really struggled to find a place to eat outside the main towns. Almost everything also closes early (even on weekends) so if you do miss dinnertime, make sure you at least have something to eat from the supermarket.
Here are some recommended places:
Nyqvists Cafe – breakfast, fika
Lilla Bageriet på Ön – bakery
Evas kroppkakor – kroppkakor
Ninnis Kroppkakor – kroppkakor
Pizzeria Linda – pizza
Sandviks Kvarn – try 'lufsa' here for lunch
Sandviks Fisk & Hamnkök – seafood place
Öland map with all locations
Where to stay
We wanted to book unique accommodation in Öland, so we went for a Windmill Airbnb! The Airbnb cost us around $70 a night and while it didn't have running water, it was really enjoyable and I can definitely recommend it! Just make sure to book far in advance, it's a popular place!
There are plenty of other options as well, though. A lot of people drive here with their RV, decide to camp in many designated camping areas, book a cottage or a fancy hotel. Since the island is quite big you'll have plenty of choices. Link to Airbnb here (not affiliated).
How to get to Öland
If you're traveling from outside of Sweden, there are no bigger airports near Öland, so you will have to drive for about 4-5 hours to get here from Arlanda (Stockholm), Landvetter (Gothenburg) or Kastrup (Copenhagen) airports. The nearest smaller connecting airport is in Kalmar on the mainland. I strongly recommend renting a car for your trip to Öland, since the island is very big and there is no convenient public transportation on it. In the three days we spent on the island, we drove about 1200km that weekend. This included the journey from and to Gothenburg, as well as driving around the entire island.
Öland is much easier and cheaper to get to than Gotland (the biggest island in Sweden). It's connected to land via a 6km long bridge called Ölandsbron, that you don't need to pay anything extra for! The bridge starts in Kalmar on the mainland and takes you all the way to the island in a matter of minutes. I recommend downloading an offline map for Öland, since we did experience some patchy internet there.
If you want to stay in one place on Öland and don't have the need to drive around the entire island, then you could also take a ferry from Kalmar or Oskarshamn during the summer. A lot of people decide to make it a cycling holiday instead and stay in one area of the island most of the time there. You can also rent a car on Öland, there are plenty of rentals available.
Best time to visit
The best time to visit Öland is from late May to September. In the summer months expect plenty of local tourists, since the island is very popular amongst the Swedes. If you visit in autumn, you'll be able to attend the Harvest Festival, which is one of the biggest events in Öland. We visited in early June and the weather was perfect and there were no crowds anywhere! If you visit in July or August you will also be able to swim, since the water won't be as cool as it is in the beginning of summer.
Save this post for later: