Spring usually arrives in the Northern hemisphere at the mid-end of March, and no one is happier about spring in Sweden than Swedes! As days start getting longer and the spring flowers and trees start to bloom, everyone will be out and about this time of year. The streets, parks and outdoor cafés with sunny spots get filled up pretty fast on weekends, but on a weekday you might be able to get that prime sunny spot at your favorite restaurant or under the prettiest cherry blossom tree. In this article, I've gathered the best places to see spring in Sweden whether you're visiting one of the bigger cities or the countryside around them.
10 Best Places to See Sweden in Spring
1. Kungsträdgården – Stockholm
Kungsträdgården is Swedish for "King's Garden" and this is by far the most popular spring attraction in Sweden. The park is located in central Stockholm and features a pretty row of cherry blossom trees, outdoor cafés, art galleries and restaurants. If you want to see Kungsträdgården without the crowds, then make sure you go there early on a weekday.
2. Seminarieparken – Gothenburg
From the East coast to the West, here is Gothenburg's most famous spring spot – Seminarieparken. This park features beautiful cherry blossom trees with a pastel yellow building in the back. If you want to see more beautiful cherry blossom spots in Gothenburg, then make sure you have a look at this article as well.
3. Trädgårdsföreningen – Gothenburg
If you happen to be in Gothenburg and want to see beautiful blooming flowers, then Trädgårsföreningen (or Garden Society of Gothenburg in English) is the way to go! The park features many flowers, but my favorite are the tulips that start their bloom in the beginning of May.
4. Alnarpsparken
For one of Sweden's best park walks and spring picnic locations, don't forget to visit Alnarps park! Located in the southern part of Sweden, it's one of the prettiest places to see an abundance of Wood anemone, or as Swedes say: 'vitsippa'. This is the perfect place for seeing spring in Sweden in full bloom at the end of April.
5. Norrvikens Trädgårdar – Skåne
Besides being one of the most popular places to get married, Norrvikens Trädgårdar makes for the perfect spring setting with its beautiful buildings and lush gardens. This is one of the very parks in Sweden where they charge an entrance fee, so if you plan your visit here make sure you don't arrive too late.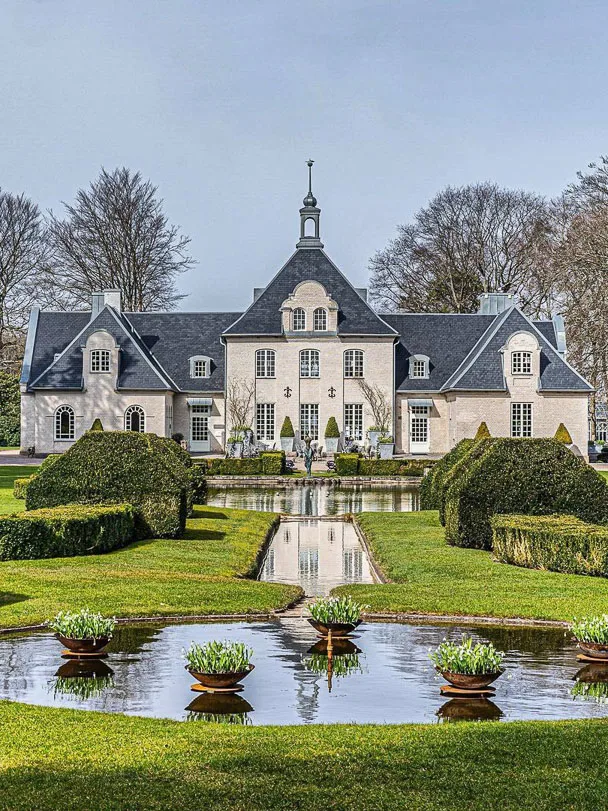 6. Sofiero Slott – Skåne
This is the second place on this list that charges an entrance fee and is also home to one of the most beautiful gardens for spring in Sweden. Besides walking around by yourself, they also host a number of events at Sofiero Castle and Gardens, so make sure you check their website before visiting to see what's happening every week in spring.
7. Kirsebergs Torg – Malmö
There are a few locations where you can see beautiful spring blooms in Malmö, but this one is one of my favorites! Kirsberg is a district in northern Malmö and its square has some of the prettiest locations for the cherry blossom photos, as well as wisteria and other spring flowers – it's called 'cherry mountain' for a reason and cherry blossoms at the start of spring are it!
8. Rapeseed fields – Skåne
Since Southern Sweden (Skåne) has a lot to offer even at the start of spring, the late spring is no different! In May rapeseed fields start to bloom and you won't be able to drive through this region with seeing a sea of gold. I visited Skåne in time for the rapeseed season and here is everything you need to know.
9. Körsbärsdalen – Skåne
Körsbärsdalen, or Cherry Valley in English, is best to visit in May when the cherry blossoms start blooming. The area is perfect for a walk and a picnic, so make sure you bring a coffee thermos and some snacks with you!
10. Gotland Island
If you get a chance to travel to Gotland island, then make sure you arrive in time for the poppy seed blossoms! It's usually just at the end of spring and the beginning of summer, so plan your visit well and make sure you have a car to drive around with since the island is very big!
Save this article for later: