Ven is a small island, located between Sweden and Denmark. It's easily accessible from both countries and in this guide, I will tell you all about Ven Island when visiting from Sweden. Ven island is known for its beautiful nature, cliffs, beaches, yellow bicycles and cosy cafés. It's perfect for a one-day trip or staying overnight. We stayed here for 2 nights and felt like we could easily do everything we wanted if we stayed only 1 night.
Everything you need to know before visiting
How to get to Ven Island
Ven island is located west of Landskrona city and is easily accessible with a 30-minute ferry ride. You can get to Landskrona by both car or public transport.
By car: If you're traveling from Malmö, it'll take you about 40 minutes to drive to the parking by the ferry terminal. You can park your car at the 'Skeppsbrokajen' parking, free of charge for 3 days. Other parking places the municipality marked are found on this map.
By public transport from Malmö: take the train to Landskrona station. Once you arrive, walk out to the bus terminal and take bus number 3 to Landskrona Skeppsbron Station, which will drop you off right by the ferry terminal. The trip takes around 1.5 hours.
You can check the timetable, prices and buy your ferry tickets online in advance here, or you can buy them at the ticket counter located at the ferry terminal. Bear in mind though, those who booked in advance get to board first and Swedes generally like to book in advance.
The price for one adult is 90kr one-way.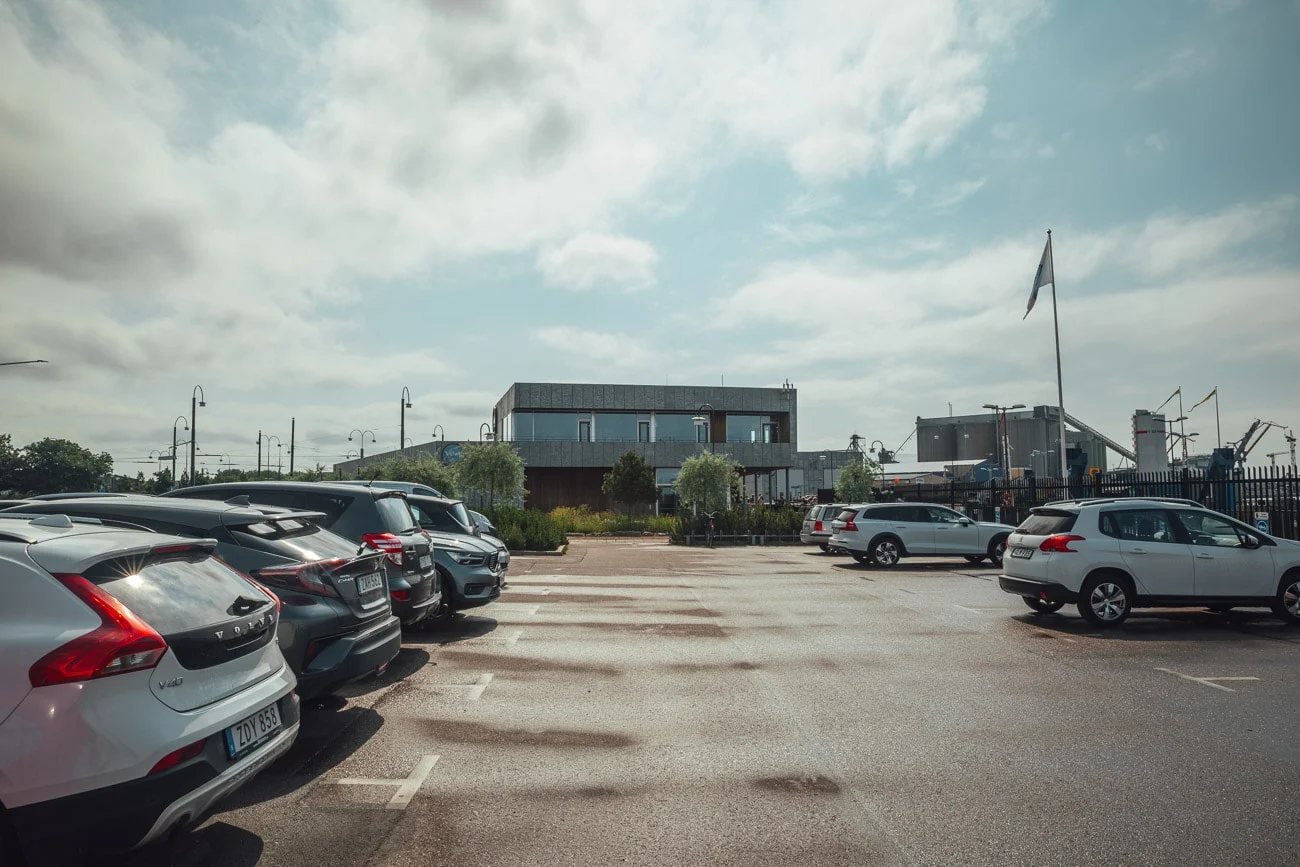 Getting around
The best way to get around Ven island is by bicycle. The island is pretty much car-free, so you'll find the most relaxing way to spend your time here is by cycling around all the small cozy paths.
The iconic Ven yellow bicycle rental is just 300m from the ferry terminal, but there is a rather steep hill to get there. If you're arriving for a day trip, then just walk up the hill and rent the bicycle there.
If you're spending the night and have some more luggage with you, then I recommend you take the bus to your accommodation (you can't miss it since it's timed with the ferry), leave your luggage at your hotel and then take the bus to the bicycle rental place.
There are two buses on Ven island, and you can buy the bus ticket straight from the Skånetrafiken app. The ticket is valid for 60 minutes and costs 40kr for two people. The bus drivers will drop you anywhere along their roads, so just let the driver know you want to get off at the bike rental and you'll be out and cycling in no time!
The bicycle rental is rather pricey (see prices here) and for one day of the 7-speed adult bike with a basket, you'll pay 150kr. Extra days are cheaper, at 70kr per extra day. There are a few steeper hills, but nothing too extreme. If you're not feeling up for exercise, then you can also rent an electric bicycle, at 250kr a day.
For a more traditional Ven experience, rent a tandem bicycle for 230kr a day (110kr for each extra day).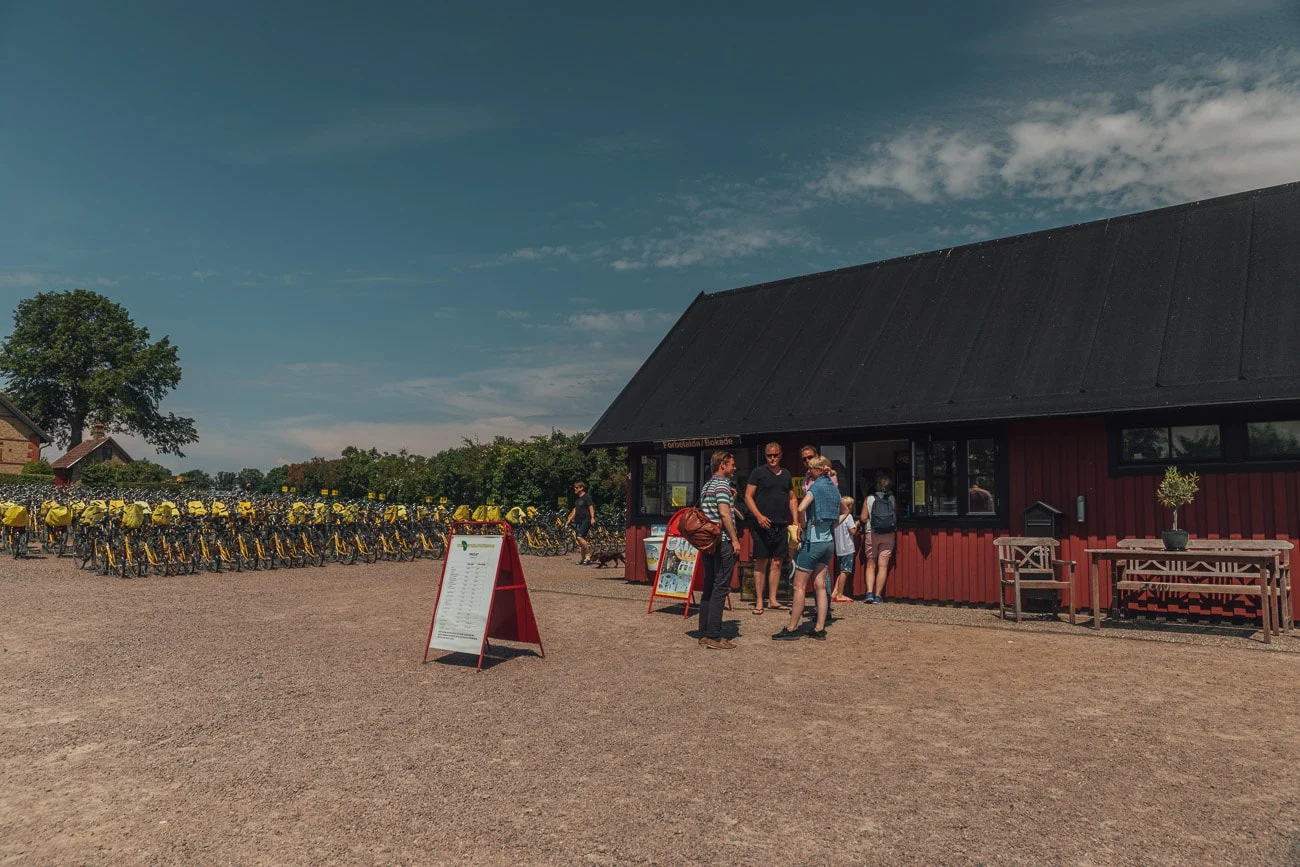 The best things to do on Island of Ven
1. Bike around
This is the most obvious choice, of course. But the island has two cycling routes, the blue and the red one (you'll see those on the map you can get at the ferry terminal). The blue one is the small island tour and takes 50 minutes and the red one is the big island tour and takes 90 minutes.
I can tell you right away that a very time-optimistic person wrote those times. If you take in the stops you'll be making to take pictures and stare at alpacas, then count on both of these to at least double in duration.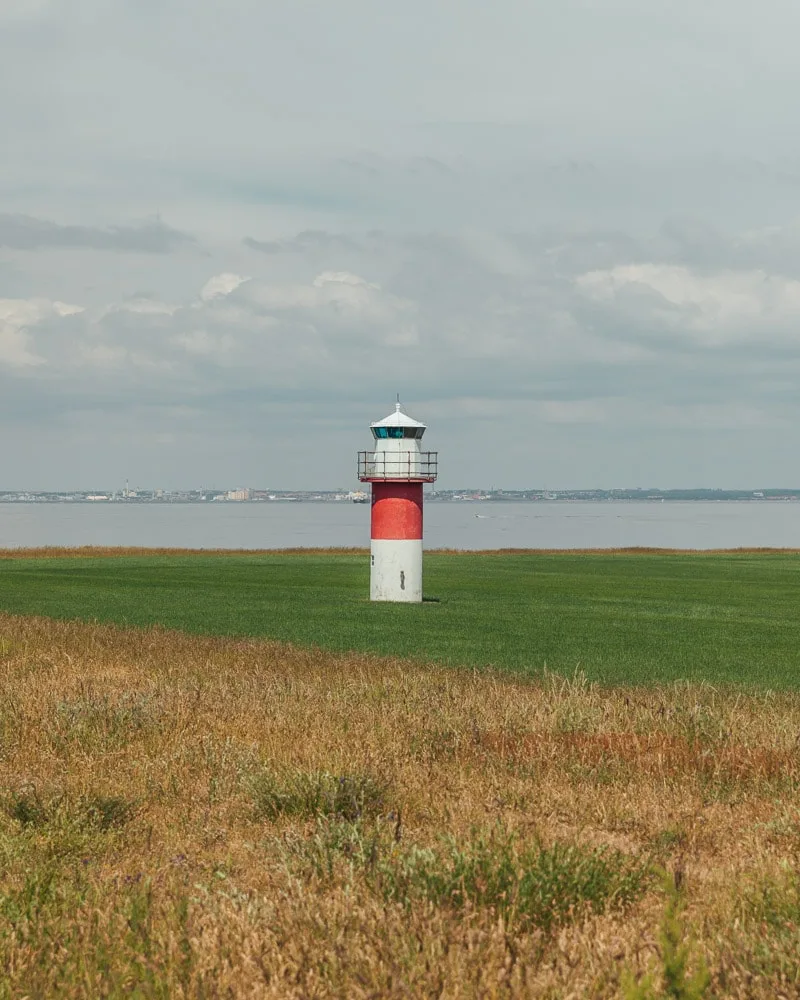 2. Visit the alpaca farm
Not too long after you'll start your bike tour, you'll see alpacas feasting on the grass. You can either book a trekking trip with them, or just observe across the fence (we did the latter).
3. St. Ibb's Old Medieval Church and Viewpoint
While the church itself is interesting to look at, it's its location that will make you want to spend some more time there. The viewpoint, called Kyrkbacken has beautiful views of St. Ibb settlement and harbor. Bring something to drink or eat here and enjoy the view from one of the benches at the top.
4. Tycho Brahe Museum
The Danish astronomer Tycho Brahe lived and worked on Ven and created the world's most modern astronomical research institutes right on the island. It was on Ven he identified and named 777 starts and performed calculations that would remain valid for 300 years.
While museums are generally not my thing, this one had a yard full of medieval games you can try playing, so I'd say you can easily spend 2 hours here.
5. Spirit of Hven Distillery
Besides being able to stay in the hotel here, you can also book guided tours of the distillery, whiskey tastings, or gourmet tastings (different spirits).
6. Enjoy a few hours at the beach
There are a few beaches on the island of Ven, but the best one is at Kyrkbacken. There are also some small shops there if you'll feel like having an ice cream on a hot day.
Where to Stay
If you're planning to stay overnight, then I can tell you right away, 1 night is enough to both relax and see everything the island has to offer. There is simply not enough to do on Ven island to spend more time here – unless you are on a family trip for camping and swimming.
We stayed at Turistgården House of Ven and really enjoyed our time here. The room was simple, but clean and the breakfast buffet had all the Swedish classics you could wish for, including Kalle's caviar. The hotel even has a restaurant and I can highly recommend having dinner here.
Where to Eat
Ven island is small, so making a list of best restaurants here would be a bit of a joke when there only are a handful to choose from. But there are some that look very cozy and some that are more worth the visit than others.
Agnes Tapas – fish and chips for 100kr that tasted good and filled our bellies. Located just next to the ferry, perfect if you arrived just in time for lunch.
Hven Glass – right at the ferry terminal you'll also be able to get some ice-cream, perfect on a hot day.
Pumpans Café & Restaurang – perfect place for a pizza or fika craving. Slightly pricier at 160kr for a pizza and 60kr for a cheesecake.
Hven Durum – bakery in a very cosy setting and perfect for taking some fika with you to the beach.
House of Ven – perfect for any meal of the day, but especially dinner. We loved the meatballs and Wallenbergare. The prices are slightly higher, at around 170kr for a dish.
Tycho Brahe Café – just next to the museum you'll see the café and this was one of the cheapest places we ate at during our 3 days on Ven. With a large portion of pasta salad at 85kr, it doesn't get better than that.
Handlar'n – the local food store if you're on a budget and want to take some food on the go.
Save this article for later: