Taking photos in autumn is a real treat for photographers! And since autumn in Sweden is stunning, I decided to gather all my best autumn places in Sweden right here in this post. After my autumn Sweden videos have gained tens of thousands of views on TikTok and my autumn Instagram photos are more popular than my latest travel pics, these aren't just great for a casual visit, but also very camera friendly. So, get out your camera, wrap up in cozy autumn clothes and head out to these 10 stunning autumn in Sweden places from mid-October to late November.
Top 10 Places to See Autumn in Sweden
1. Lund University Library
By far the most popular place to see autumn in Sweden! In my 8 years in Sweden, I have never seen so many people taking photos in one place! While Lund Library is gorgeous year-round, it sparkles a little brighter in autumn.
No time to read now?
No worries! Save on Pinterest to read it later.
Save

to Pinterest
The green leaves turn orange, red, and yellow and the entire building feels like it's straight out of a fairy tale.
2. Kungsparken in Malmö
Parks and forests all tend to look beautiful in autumn, but there is something special about Kungsparken in Malmö during autumn in Sweden. The little pond reflects the fall colors so perfectly, that it looks like a painting. Take an hour or two here and walk around the park and since it's in the city center, you won't steer too much away from the city.
3. Röttle Village
My personal favorite and the best place for a day trip from Gothenburg during autumn in Sweden. Pack picnic food in a basket and head to Röttle. There are a few things to see in this village, so take at least two hours to fully enjoy this place.
Besides the beautiful views from the bridge, there is also Västanå Nature Reserve to roam around in, a waterfall to enjoy and a bunch of little red houses grazing the grounds of Röttle.
4. Alnarp Castle
Alnarp castle is located just a 15-minute drive from Malmö and in autumn it turns into a mystical autumn castle fit for a movie. The castle is surrounded by nature and a lot of people go for walks in this area. We arrived when everything was closed, but we still managed to see it in all its autumn glory from the outside. Autumn in Sweden goals?
5. Stensjön Lake
A beautiful lake in the outskirts of Gothenburg, close to Gunnebo Castle and connecting the hiking trails from the Delsjön area, is the perfect place to spend an hour or two while visiting Gothenburg. The small red cabin near the parking lot is very photogenic and with barely any people around, it makes for the perfect autumn in Sweden shot.
6. Riseberga Park in Malmö
During our trip to Malmö, we also stopped by Riseberga Parken in Malmö after seeing how gorgeous the colors in autumn were! While you will probably like most of the parks in autumn in Sweden, this one takes the cake in coziness! Especially with the little wooden bridge near the main road – how charming!
7. Malmö City Library
I know you're probably thinking 'why see a library in autumn in Sweden'? But let me tell you, this library has the most amazing view of the park next door and the architecture and the nature work so harmoniously in here that you simply must visit the library if you find yourself in Malmö!
There is no entrance fee to the library and anyone can visit. When you come inside, just turn right and walk until you see a staircase on your left. Go up one level and voilá – gorgeous autumn colors appear.
8. Liseberg during Halloween
Liseberg is actually an amusement park in Gothenburg, but during the autumn season, it gets a full-on pumpkin and Halloween blast! The entire park is decorated with over 30,000 pumpkins and autumn decorations.
Combine both photography and fun during your visit to Liseberg in Halloween and you'll not only end up with some pretty autumn in Sweden photos but also experience the amusement park during its scariest time!
9. 72 Hour Cabin
The 72 Hour Glass Cabin is not open year-round, so if you book at the end of September you might get slightly chillier mornings, but the autumn colors will start appearing making it all worth it! We were the last guests in the cabin for the season and we literally arrived when leaves were still green and departed the morning after in a true yellow mist.
10. Sarek National Park in Lapland
I have personally never been to the Swedish Lapland, but it's one of my biggest wishes to see Sarek National Park covered in autumn colors! The landscape is epic and a true photographer's playground. So, which of these best places to see autumn in Sweden is your favorite?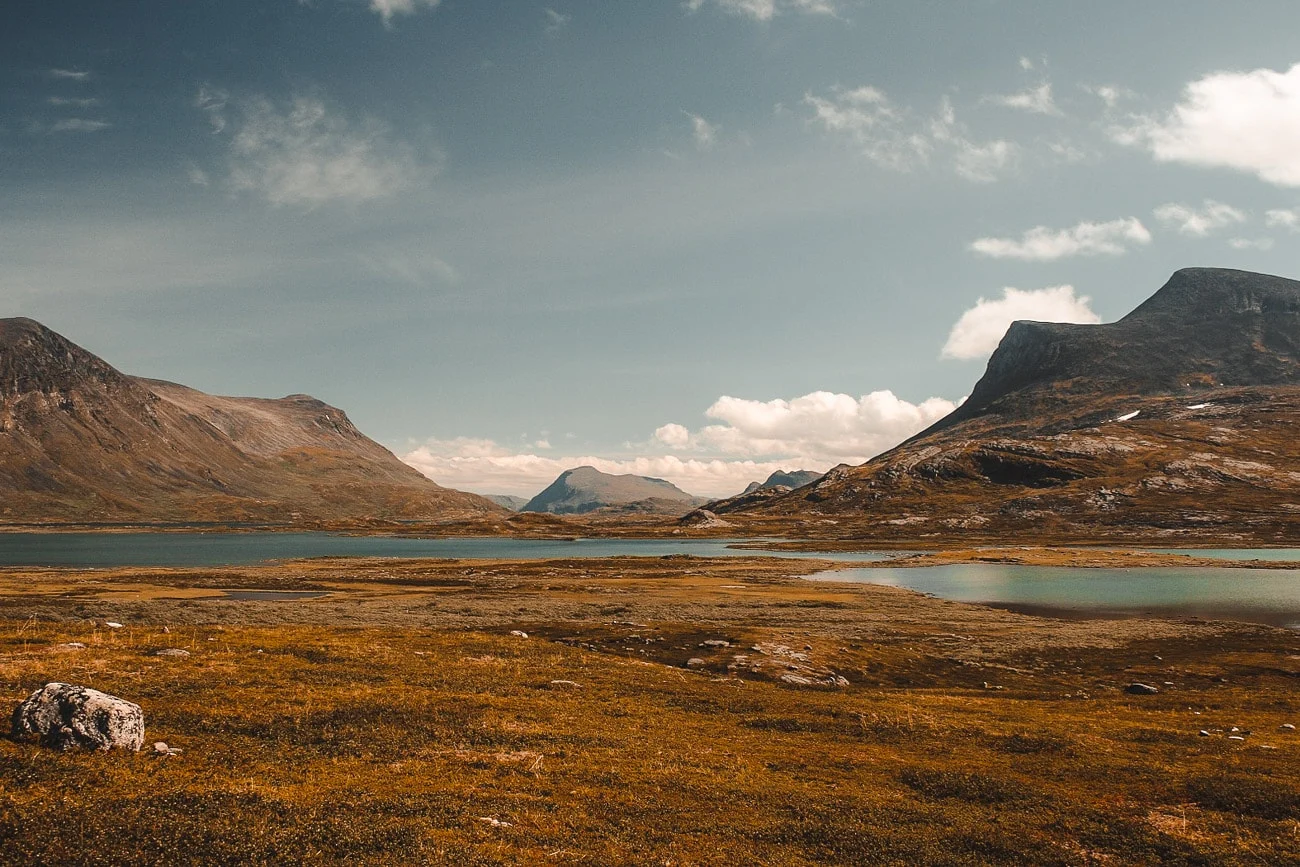 Save this article for later: