Gothenburg is Sweden's second-largest city and home to over 500.000 people. Perfectly located on the west coast of Sweden, the city boasts with beautiful archipelago, cosy city parks, a trendy art scene and some of the country's best restaurants. Gothenburg is the perfect city to spend a long weekend in and a great place to add to your West Coast Road trip in Sweden. I've lived in Gothenburg since 2013, so here are the best things to do in Gothenburg from a local's perspective!
Best Things to do in Gothenburg
1. Haga Nygata
It's simply not a visit to Gothenburg if you don't visit Haga. Famous for its face-sized cinnamon buns, you'll find it's the perfect place for a stroll and a Fika. If you happen to be in Gothenburg on the 4th of October, then be ready for some queuing here, as the 4th of October is Cinnamon Bun Day!
2. Liseberg Amusement Park
Liseberg is Scandinavia's biggest amusement park and my top place to visit as a local! It is usually open from late spring to late summer and then again for special events such as Halloween and Christmas. So if you happen to visit Gothenburg when Liseberg is open, do not miss your chance to go on a few fun rides, stroll in the park and compete in 5-kamp!
3. Paddan Tour
A true Gothenburg classic is this live guided tour with Paddan boats. Open for the season between early April to mid-October, it's the best way to see the beauty of Gothenburg from a waterside perspective. The tour costs roughly $20 per person, departs 2-3 times per hour and you'll board it at the centre of the city at Kungsportsplatsen. Get ready to learn a little bit about the city's history, while you ride beneath Gothenburg's many low bridges!
4. The Garden Society of Gothenburg
The Garden Society of Gothenburg, or Trädgårdsföreningen, is one of the best-preserved 19th-century parks in Europe. It makes for the best picnic place in the city centre and also has many different sections for you to enjoy your day at the park in. Don't miss the rose garden and the palm house!
5. Palm House at Trädgårdsföreningen
Palm House, or Palmhuset in Swedish, is home to many exotic plants and tropical warmth. It's located in the middle of Trädgårdsföreningen, in the center of Gothenburg. In Palm house, you will find many photogenic corners and even a section with chairs and tables, in case you decide to have your fika indoors instead of in the park. The entrance is free, and the opening times are June – August: 10.00-19.00 and September – May: 10.00-16.00.
6. Feskekôrka or Fish Church
It's simply not a visit to Gothenburg if you don't see the infamous 'Fish Church', definitely one of the best things to do in Gothenburg! I know the name is a little confusing but fear not – it is not an actual church. It's actually an indoor fish and shellfish market hall. While you could come here and just observe itss interesting architecture, it is also where the locals get their catch of the day or have a seafood lunch.
7. Gothenburg Southern Archipelago
When you plan your visit to Gothenburg, make sure you don't forget a day to get out of the city. Easily accessible with public transport boats, the only difficult decision you'll have to make is which island to visit! Take the tram to Saltholmen and take a pick between the many islands you can travel to for just $3 one way! In general, Brännö tends to be very popular, but my favorite is Vargö – an island that is a nature reserve and located the furthest out to sea.
8. Volvo Museum
In case you didn't already know – Gothenburg is home to Volvo Cars and this museum is a museum for all things Volvo! It's run by Volvo Car Group and Volvo Group and has been open to the public since 1995. Besides products on display, you'll also see a comprehensive archive of historical documents and images and be able to buy Volvo souvenirs to keep a memory of your visit to one of Sweden's most successful companies!
9. Skansen Kronan
For one of the best views of the city, make sure you don't forget to walk up to Skansen Kronan. Located on the hill Risåsberget in the Haga district and the inside of it has a unique hall, which can be used for weddings, parties or conferences. Make sure you wear comfy shoes when walking around Gothenburg. And the walk up to Skansen Kronan is no exception – you'll have to go up quite a few steps to see the beautiful view!
10. Avenyn
The main boulevard in Gothenburg, Avenyn, runs from Kungsportsplatsen to Götaplatsen where the landmark statue of Poseidon lies. When I first visited Gothenburg, I won't lie, I expected more from Avenyn and wouldn't necessarily say it's one of the best things to do in Gothenburg. In reality, it's not the cosiest street in the city and doesn't have the city's best restaurants or bars (as many guides claim). The street is not easy to miss as it's broad, has lots of trams, buses and cars driving through it, but it does have good nightlife! So, if you're even a little bit of a party animal – you'll love Avenyn for its clubs. Some of my favorites are Yaki-Da and Park Lane.
11. Götaplatsen
I mentioned Avenyn just above this section and while the street itself isn't the main attraction of this area; Götaplatsen, which is located on top of Avenyn is! Götaplatsen is a public square in Gothenburg and is the city's cultural hub. If you're into the arts, you'll be able to visit the Gothenburg Concert Hall, the Gothenburg Museum of Art, the Gothenburg City Theatre and the City Library.
12. Gothenburg Museum of Art
As Sweden's third largest Art Museum, you'll find plenty of art to admire here! This art museum has a really great impressionists collection – Paul Cezanne, Claude Monet, Vincent Van Gogh, among others. You'll also see a separate room dedicated to Pablo Picasso and some great old European and Scandinavian masters. My favorite here is the Hasselblad Center – lots of great photography exhibitions there!
13. Lilla Bommen
Lilla Bommen is essentially a small harbour, where you can see plenty of boats and a nice view of The Lipstick and the Gothenburg Opera House. It's one of the easiest and best things to do in Gothenburg since you can just stroll there in a few minutes from the city centre.
14. Gothenburg Opera House
While you're visiting Lilla Bommen, don't forget to have a look at the Opera House as well! Formed as a ship, it was completed in 1994 and there you can see many musicals, operas, concerts and more.
15. Gothenburg Botanical Garden
No matter the time of the year, you can't miss visiting the Botanical Garden. It's one of Europe's largest and best botanical gardens and offers a vast and impressive collection of plants. It's especially lovely in spring and fall. The Botanical garden is open every day, all year round and the general admission is free; admission for the greenhouses is 20 SEK (free for children under 18).
16. Masthugg Church
A lovely church with a wooden roof inside resembling an upturned Viking ship from 1914, known as a sea navigation landmark in Gothenburg. As a local, I can tell you this is one of the best things to do in Gothenburg and the best place to watch a sunset on a warm summer evening. You'll see plenty of locals bring something to drink and a picnic here in the summers.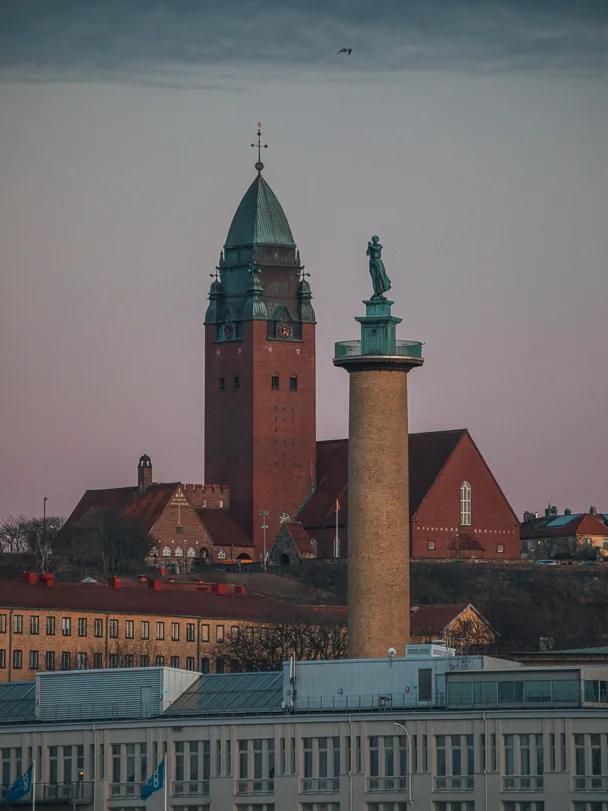 17. Sweat Church and Pöl Harbour at Jubileumsparken
While the area itself is dodgy to say the least, there are a couple of highlights here! The first is the free public sauna called Svettekörka aka Sweat Church. You can book the sauna online, but make sure to book far in advance as it's a popular place for the locals. Just a few steps from the Sweat Church is a swimming pool called Pöl Harbour (yes, it sounds like Pearl Harbour). The pool itself is not very big, but it makes for a perfect short dip and sunbathing session on a hot summer's day.
18. Röda Sten Konsthall
Besides being an artsy area to relax and have lunch or fika at, at Röda Sten Konsthall you can see exhibitions and performances by both Swedish and international artists. The admission is 40kr for adults and free for everyone under 25 years. You find the opening times here.
19. Eriksberg
Take the free ferry from Stenpiren to Lindholmspiren (the one with a green flag) and walk from the ferry stop all the way to Eriksberg. Eriksberg is an area on Hisingen island in Gothenburg where for over a century the area was dominated by shipbuilding. Then a crisis in the 1970s destroyed the industry and the area has been rebuilt into a modern neighborhood. The apartment prices are some of the highest in the city here and one of the highlights of Eriksberg is the Eriksberg crane, 84-meter high gantry crane, which stands as a remnant of the area's shipbuilding past.
20. The East Indiaman Götheborg III
The ship is a replica of the East Indiaman or Götheborg I that sank outside Gothenburg in 1745, after only three journeys to China. The ship crashed into a rock and remained stranded, while most of its cargo, consisting of tea, porcelain, spices, and silk was salvaged. You can book a tour of the ship and take part of everything from knot-tying lessons to stories of the ship's past. Make sure to visit soon though, as the ship now has a new owner and will soon sail away to another place.
21. Slottsberget
My personal favorite view in Gothenburg! While visiting Eriksberg, make sure you take a walk up to Slottsberget, where wonderful views of the harbor, the crane, and the Älvsborgs bridge can be seen from.
22. Spårvägsmuseet and Lisebergslinjen
Gothenburg's trams are seen all over the city and if you're a fan of urban transport, then this Tram Museum will be for you! The museum itself has a great collection of public transport memorabilia, but the most impressive aspect of it is the large depot filled with vintage trams and buses. If you want to skip the static museum and go for a rolling one, then hop on board the Lisebergslinjen- the rolling heritage tram museum that you can catch in the central part of Gothenburg between the Central Station and Liseberg via Kungsportsavenyn.
23. Kuggen in Lindholmen
Undoubtedly one of the most interesting buildings in Gothenburg, built for the Chalmers University of Technology and the Lindholmen campus. I did my master's on this campus and Kuggen was my library and study area. The building makes use of green building technology on four different levels: adaptive ventilation, adaptive lighting, interactive heating, and cooling systems, and effective daylighting. But besides it's green-built, it's also a cool place to take pictures!
24. Slottsskogen
Gothenburg's biggest city park, perfect for festivals (Way out West happens here), relaxing, exercise and picnics. Here, you will definitely find something for everyone – including the only zoo in Sweden that has free admission. It is also one of the few places where you can light up a grill and hang out with your friends while playing volleyball or kubb.
25. Magasinsgatan
My favorite street in Gothenburg, filled with trendy cafés, restaurants and shops. Take a stroll and have a coffee at Da Matteo, lunch at the Jinx Food Truck, drinks at Basque and Italian dinner at Tavolo.
Hope you enjoyed this list of 25 best things to do in Gothenburg! If you have any questions about any of these, I check the comments regularly. Enjoy your visit!
Save this post for later: