One of the best ways to explore Sweden is by doing a road trip. The country is vast and while there is a lot to see in all corners, this guide will show you the absolute best things to do on a 7 day West Sweden road trip, as well as its biggest city, Gothenburg. West Sweden is a great place for explorers, adventurers and nature lovers. While Gothenburg offers some luxury, shopping and sightseeing, it's really all about nature on the West Coast. So if you like hiking, lakes, the sea, rugged landscape and dense forests – then this is the place to go!
Day 1 – 2: Gothenburg
Depending on when you arrive, you can easily take a relaxing 2 days or one full day to explore the second-largest city in Sweden, Gothenburg. The city often gets compared to London and quite honestly, having lived in both cities, I see no resemblance whatsoever. London is hectic and touristy and Gothenburg is relaxed, hipster-y, and filled with kind people, delicious fika, and awesome bar culture.
Don't rent a car during your stay in Gothenburg – the city is very walkable and public transportation works great. Parking in the city is extremely expensive ($3 per hour in most areas) and you will end up being stuck in traffic a lot. I do, however, recommend renting a car if you plan to leave the city to all the destinations below. The moment you leave the city, the public transportation will take much longer and be much more costly. Read more about my tips for transportation HERE.
Best of Gothenburg in 2 days
Spend a night at Hotel Pigalle or any other central hotel, have a hearty breakfast, and put on your comfortable shoes.
Some of the best sights in Gothenburg:
The Lion Stairs – great views of the canal
Haga – the home of the giant cinnamon bun and many quaint design shops
Avenyn (or The Avenue in English) – most touristy street in the city with many cafes, bars, restaurants and shops
Gothenburg Museum of Art – amazing art and photography exhibitions
Liseberg – amusement park and my absolute favorite place to visit in the city, I am there about 5 times a year
Palmhouse – located at The Garden Society park
Paddan Tour – a great way to see the city and learn more about it
Fish Church – a great building to see from the outside and if you're into fish you'll even want to go in
Sweat Church – a free sauna in an area called Frihamnen
Where you should eat and drink:
Burgers: Diné Burgers (my fav!), Tugg Burgers, Lucy's Burgers
Fika: Brogyllen on Hamngatan or DaMatteo on Magasinsgatan
Lunch: JOS, Bee Bar, Harrys, Bombay, Tilda's Krog
Dinner: Levantine, Tacos & Tequila, Enoteca Maglia, Caleo
Cocktails: Stranger Stranger, Heaven 23
Wine: Olssons Vin, Basque, Hotel Dorsia
Beer: Andra Långgatan is a street filled with bars and cheapest beer in town, Holy Moly and Ölstugan are my favorites
TIP: download an app called 'The Fork' for discounts on food bills in specific restaurants. We ate at many places half the price and the app is very user-friendly.
Day 3: Dalsland
Rent a car in Gothenburg on the day of your departure from the city and drive about 1,5 hours to North towards Dalsland. Dalsland is known to be as Europe's most accessible area of wilderness and a perfect addition to your West Sweden road trip. The ride there will be scenic and you will drive past many charming towns, forests, and lakes.
The first stop you should make in Dalsland is The Aqueduct in Håverud. Here you will see a free-hanging bridge and the only place in Sweden where the railway, canal, and roads meet. It's definitely a feast for eyes and a separate adventure on its own, given the time of year. In summers you can kayak and picnic and in the colder months, you can hike and enjoy the views.
After The Aqueduct, drive to Sörknatten's North Parking. Once you park the car, the walking trails will be well marked and you can choose three different ones. We went for the one with the most typical Dalsland view marked as 'Predikstolen' on the signs. It took us around 15 minutes to reach the top and the views from there were absolutely stunning.
After you feel like you soaked enough of Dalsland's views of forest and lakes, hike back to the car and start driving towards Baldersnäs Herrgård. Here you will be able to unwind in the most Swedish way ever – by spending a night at the 72 Hour Cabin.
The 72 Hour Cabin
We spent 1 night at The 72 Hour Cabin and had an amazing time. You can, of course, book it for 72 hours if you feel like you need some more time to unwind, but we felt a night was just right. Take some time for yourself here and really try to relax. Take a swim, row a boat, go to the sauna, and walk around the manor grounds. It's very tranquil there and you are bound to feel relaxed.
Dinner will be served at the main house, the manor, and you will definitely be in for a treat – the restaurant, Öjentorps Kök, is certified by Taste of West Sweden. Prepare yourself for culinary masterpieces and dishes inspired by the Dalsland wilderness. After dinner, walk back to your cabin and fall asleep under the stars.
Day 4: The Weather Islands
You just woke up in your very own tiny cabin in the middle of Swedish nature. Treat yourself to a morning stretch by the lake and head up to the manor for a big and yummy breakfast. After eating and getting ready it's time for a drive to Hamburgsund. The next experience on your road trip in Sweden and its West Coast is The Weather Islands.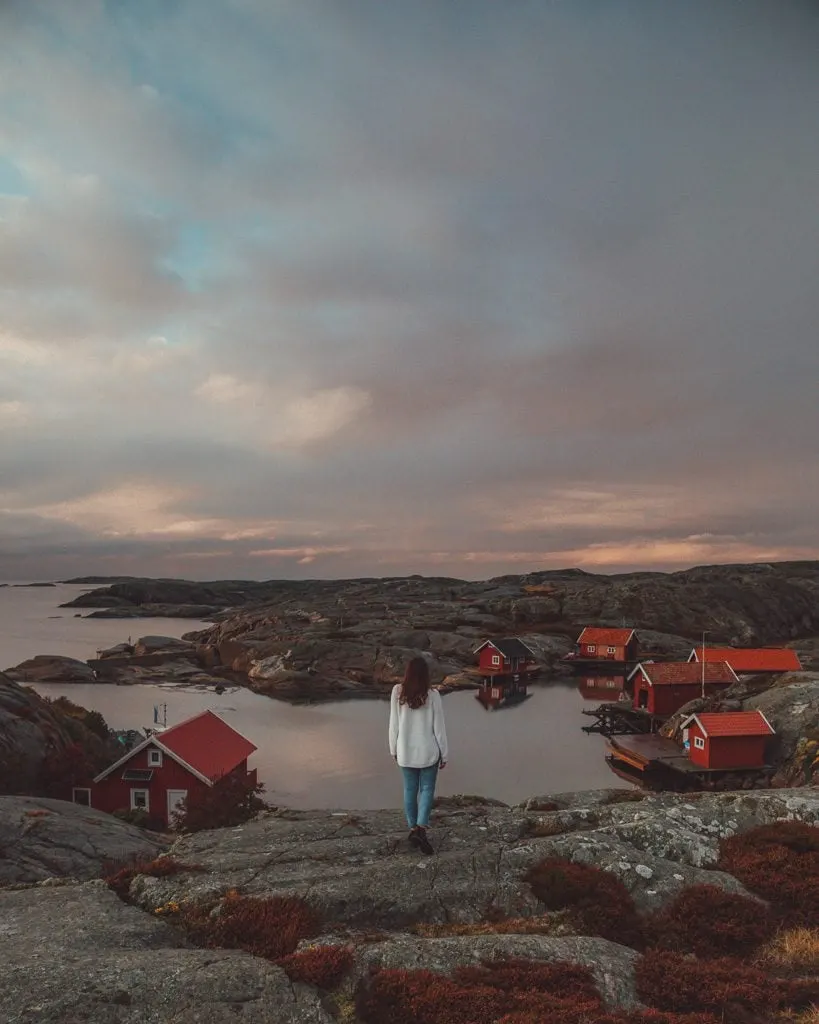 The Weather Islands are a rocky and remote archipelago, which consists of a few hundred islands located in Tanum. The archipelago is about 13 km west of Fjällbacka and about a 2-hour drive (1,5 hours by car & 30 min boat) from Gothenburg. The Weather Islands are what the West Coast is all about – sun, wind, rain, fish, and rocky, rugged nature. You can visit the islands year-round and you will find activities for any time of the year.
Book an activity together with your stay (we did a lobster safari and it was super fun!) and enjoy your time in this remote, peaceful and beautiful West Coast archipelago. One night is a perfect amount of time to spend here and boats come and go from the mainland several times a day.
Day 5: Tanum and Fjällbacka
Depending on what time you decide to leave The Weather Islands, you could visit Tanum before you drive to Fjällbacka – or you can do it the next day. Visiting the Rock Carvings in Tanum makes for about a 1-2 hour trip if you don't decide to hike and spend a long time at the museum.
Rock Carvings in Tanum
Images were essential in an illiterate society, and the rock carvings in Tanum are no exception. In reality – the word carving is actually not the best word to use, despite it being in the official name. The drawings were actually chipped or ground into the rocks with a hard and resilient stone. The red color has later on been done by the museum to facilitate the studying of the rocks.
The carvings are an important piece of history from the Bronze Age and the Vitlycke Museum is free of charge to enter and the best place to learn more about the carvings. Parking at all locations is also free of charge and you can get a handy map for all the rock carving locations at the museum by the till.
Fjällbacka
Fjällbacka is a small fishing town in Tanum. It's mostly known for its charming location and being Ingrid Bergman's paradise on earth. While the town is quite small in size, it does have a lot of charm to make up for it! We loved strolling, taking a fika and hiking up the rock mountain, which overlooks the town, for sunset. In the summer months, Fjällbacka attracts a lot of visitors. However, it's almost just as lovely coming in the colder temperatures.
There are plenty of cozy Airbnb's around town, so if you want to stay local – then this is your best option.
Day 6: Smögen
After your night in or near Fjällbacka, start making your way down to Smögen. Now you should get ready for one of the best sights on your road trip to Sweden and the West Coast. Smögen is one of West Sweden's best (not so well) kept secrets and my personal favorite. While Smögen is mostly known for its colorful fishing huts, it's a great place to visit especially in the summer. The small town grows from its 2,000 inhabitants to a whopping 30,000 in summer.
We visited at the end of September on a Sunday, so most of the shops and cafes were unfortunately closed. However, visiting outside the peak tourist season means you get to stroll on the famous Smögenbryggan all by yourself! We loved the vibe there and definitely plan to return next summer.
Where to stay in Smögen
This is definitely my top thing to do on a West Sweden road trip! We were quite late with booking accommodation in Smögen, but we found a really great place just a 5-minute drive away from the pier – First Camp Solvik. They have a lot of types of accommodation, but we decided to book a bungalow by water for up to 6 people. We had our own kitchen (and made a yummy pasta dinner that evening) and a beautiful view from the terrace. They are perfect to book also if you are traveling with family or friends.
Day 7: Pilane & Return to Gothenburg
The last day on your road trip through West Sweden has arrived. Depending on when your flight or next transportation is, you have a couple of options. You could drive from Smögen to see the Sculpture Park in Pilane on island Tjörn or start making your way back to Gothenburg.
Pilane Sculpture Park
Beautiful landscape, interesting sculptures, culture, history and great views of the archipelago are what Pilane Sculpture Park is all about. The artists used the landscape in a thoughtful, interactive way and it's easy to spend a couple of hours here. Even though the entrance fee is a little hefty, at $14 per person, it does make for an interesting excursion and art gazing. Anna – the giant head – is the biggest star of the show. However, there are also plenty of other sculptures to look at and interact with. Besides Anna, the 'Weeping Girl' by Laura Ford was my favorite. The park is open between May and September.
After Pilane you have an approximately 1-hour ride back to Gothenburg. Hope you found this 7 day west Sweden road trip helpful and if you have any questions just write a comment below.
Save this article for later: