If you're looking for a winter escape to Slovenia, then you're in for a treat! From mountains to ice walls, Slovenia in winter is just as magical as it is in summer. In this guide, you will discover the top 15 most stunning places to see in Slovenia in winter, carefully picked out by a local.
1. Zelenci Nature Reserve
Zelenci spring is a nature reserve and only a 5-minute walk from the parking lot by the road. With water's temperature at 5-6 degrees year-round, it's also home to a wide range of flora and fauna. I was fascinated by the clarity of the water here and could see clearly all the way to the bottom. I visited on a workday morning and had the rare luck of having this place all to myself.
2. Russian Chapel
Russian Chapel is a memorial on Vrsic Pass which was built by Russian prisoners of WWI during their construction of Vršič pass road. It's beautiful and quite eerie there. I had a lucky strike again this day – just as I was leaving the man with the keys to the chapel was on his way up with a couple of Russian tourists. He invited me in as well and I got to ring the wishing bell!
3. Vrsic Pass
Probably my favorite road in Slovenia – great mountain views from the start and you'll want to make plenty of stops along the way to observe the beauty of the Alps. This road elevates to 1611m and is the highest pass in the Eastern Julian Alps.
4. Kobarid
Kobarid is a small town in NW Slovenia and while it takes quite a while to drive up there, you won't regret that you made a stop here, regardless of what your plans around are.
5. Kozjak Waterfall
One of the most scenic hikes with the greatest rewards is offered by Kozjak waterfall. You'll park your car in a lot about half an hour away and start making your way towards the fall. The hike goes past a field, a WW1 defense line, a beautiful river, another waterfall (nope, not there yet!), a lush forest, and all the way to the final destination surrounded by rocks. Bear in mind that you are not allowed to swim here and respect the nature around you.
6. Shortest Village in Slovenia
During your drive on Vrsic Pass, you will pass some stunning locations, but this little village is probably the cutest!
7. Kanal Ob Soci
Kanal gets quite crowded in the summer, with people coming from all over the world to jump from the bridge. The surroundings are stunning year-round though, so you won't want to miss this one on your trip to Slovenia.
8. Soca River
Soca River is very popular for summer sports, such as rafting. In the winter it still offers great views and its stream will lead you along the most beautiful hiking paths there is.
9. Vrata Valley
Vrata Valley is mostly known for being the starting point for those climbing Mt. Triglav. However, it's also the place where Triglav, the highest peak in Slovenia, looks the most impressive. From here you can see the whole North face, as well as the summit almost 2000 meters above you.
In Slovenia, there is a saying that you're not a true Slovene unless you climbed Triglav. While I only have my passport to prove my citizenship, I was incredibly happy when I saw the sunrise over the mountain tops here – definitely a great way to kick-start the tour! The viewpoint was very easy to reach, just a 5-minute walk from the parking lot.
10. Pericnik Waterfall
Pericnik Waterfall is one of the highest and most beautiful waterfalls in Slovenia. The 52m waterfall is located in the Vrata Valley in Triglav National Park. The waterfall is easy to access, with only a 10min walk from the parking lot. In the summer the waterfall's unique feature is that you can walk behind it – if you don't mind a little mist on your skin 🙂
While the waterfall is truly beautiful year-round, it turns into a true icy wonder in the winter. This makes Pericnik Waterfall a must-visit when you are in Slovenia during winter! Once the icicles have formed, you will see a whole curtain of ice. The ground surrounding the waterfall is very slippery in the winter though, so be careful when you visit.
11. Planica Ski Jump
Slovenia is a country that loves skiing and winter sports in general. This is why we went to see Planica, home to the world's highest ski jumping center and many world-record-setting jumps. During my tour, they were just getting it ready for the season and it was amazing to see where all the winter action happens!
Fun fact: Planica is also home to the steepest zip line descent in the world.
12. Ledeno Kraljestvo, Mojstrana (Ice Kingdom in Mojstrana)
Probably one of my favorite hidden gems in Slovenia in winter is Ledeno Kraljestvo in Mojstrana. It will leave you speechless regardless of age and is the perfect place to visit when the temperatures drop. The ice exhibition takes about 1 month to create and is equally stunning during the daytime or at night.
Entrance fees to the Ice Kingdom in Mojstrana:
6 € for adults
4 € for children
1 € for pre-school children
Check their Facebook page before visiting to make sure they are open. They update regularly and are responsive on messages. When the temperatures are higher they close the ice kingdom, this is why you should plan your visit here at least a day in advance.
13. Mangart Views
Mangart is one of the highest peaks of the Slovenian Julian Alps and boasts with an elevation of 2679 meters. While there is a beautiful 2-hour hiking trail available to reach even more beautiful views, we opted for parking before the trail start and take in the views from there. There is a bench available on the road stop and it makes for a perfect picnic with a view!
The road leading to one of the best views of Mangart is not open year-round due to avalanches, so bear in mind that you will need to research this before you go.
14. Virje Waterfall
Virje Waterfall is the perfect spot for photography lovers, as well as those looking for a calm hike with plenty to see. It is easily reached by foot from the nearby parking lot in just 5 minutes. Here you will see the river Glijun fall into a 20m wide and 12m high multi-stranded waterfall.
There is a high probability you will be alone at this waterfall. If you're interested in photography, then make sure you don't forget your tripod!
15. Triglav Mountain
If you feel brave enough to tackle a mountain climb wiring winter in Slovenia, then don't miss out on hiking to the top of Triglav in winter! Bear in mind that this is not for the inexperienced hikers though, so make sure you find a great and experienced guide.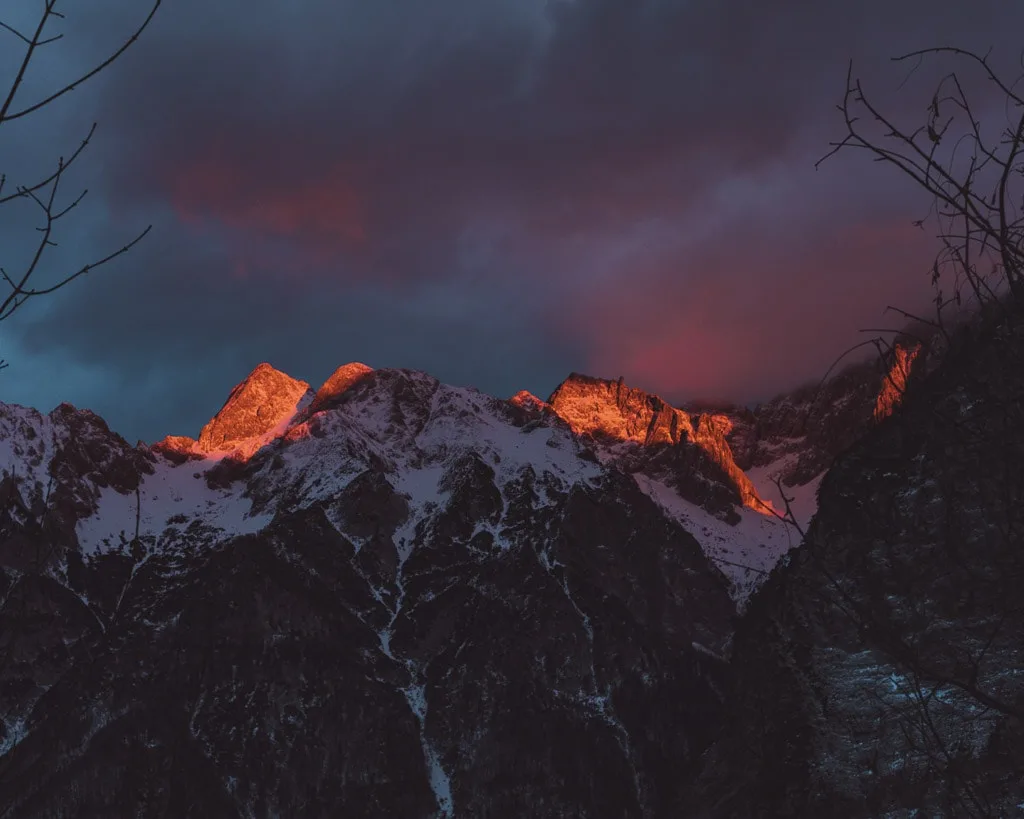 Save this article for later: